Ketchikan High School students interested in a career in medicine have been gaining valuable experience by observing medical professionals at work.
KRBD's Leila Kheiry shadowed a couple of job shadowers during a visit to the medical-surgical department at PeaceHealth Ketchikan Medical Center.
Nurse Marvin Stickwan is getting ready to discharge a patient who just had knee-replacement surgery. Students Donald Rayner and Bryce Mattson are tagging along, watching carefully as Stickwan goes through the process, including changing the dressing on the patient's long, stapled-up surgery wound.
After the discharge is done and the patient is wheeled out of the hospital, Stickwan heads straight to the computer to write down all the details. Charting, apparently, is everything.
"If I didn't chart it, it didn't happen," he said. "That's the motto for nursing. For any healthcare, really."
The surgery discharge process was the main event for this job-shadowing experience. During a previous visit, the two young men observed an MRI. Each time brings something new to see.
Rayner said that helps, because he plans to study medicine after high school, but "I don't have a particular field I'm interested in quite yet. I just want to get as diverse a range as I can in the field."
And that's the point of the program: Expose students to various health care career options so they're better prepared for college.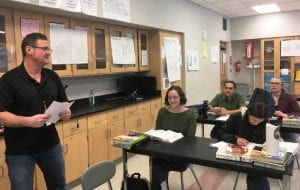 David White teaches Ketchikan High School's medical terminologies class. He said the kids are motivated students. They have to maintain a high GPA, and take prerequisite biology classes. The classroom work involves wading through a huge textbook.
"It covers pretty much all of the body systems and the 1,200 Latin-based medical terms that go with those body systems," he said.
The course is a cooperative effort with the University of Alaska Southeast Ketchikan Campus, which means most of the students also get three college credits.
The new thing, though, is job-shadowing, which White restarted after a hiatus of about four or five years. Students are shadowing two days a week, rotating between different hospital departments and a couple of local clinics.
Kaelyn Cadiente is currently shadowing at Creekside Family Health Clinic. She said she hopes to become a pediatrician.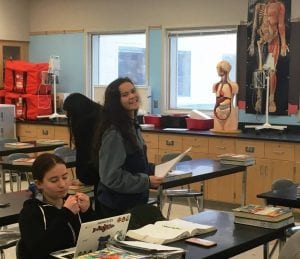 "It's been really great. It's a really hands-on experience there," she said. "They let you go into their check-ins and stuff. And they taught me how to do vitals – blood pressure and all that stuff."
They even let her draw blood.
"From one of my supervisors," she clarified, not a patient. "Because that's illegal."
The other clinic involved in the program is Optimum Health, which provides physical therapy services.
Caity Pearson is shadowing in the hospital's emergency room. She recently watched while a patient was prepped for a medevac. Elizabeth Knight is in labor and delivery. She's watched pregnant women getting induced for labor.
And Bailey Fousel is observing in the hospital's pharmacy department.
"The most interesting part is the IVs," she said. "They've shown me how they do the chemo(therapy) a few times, which is a closed system so there's no needles or any way they can really be exposed to it."
White said the hospital and clinics were eager to get the job-shadowing program back in place. He said it can be difficult here to recruit and keep health care workers.
"Let's face it: Ketchikan is for some and not for everybody," he said. "I think what happens is, people stay for a couple of years and then decide Ketchikan is not where they want to be."
So, if they're able to encourage local kids to study medicine, and perhaps return home to work, that benefits everyone in the long run.