School calendars for the next two years are up for final approval by the Ketchikan School Board on Wednesday.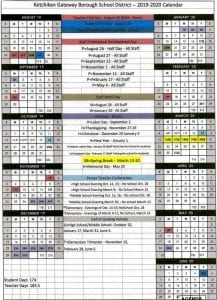 The calendars have some changes from previous years, according to a memo from Ketchikan School District HR Director Rick Rafter. They include an extra day for the Thanksgiving holiday break. And, a half-day professional training on safety was moved to the beginning of the year rather than before spring break.
Both calendars show the start of school in late August, with school ending in early June.
In her report to the board, interim Superintendent Beth Lougee writes that a sexual harassment and assault work session has been planned with Norm Wooten of the Alaska School Board Association.
The work session will be 5 p.m. on March 12th. It will focus on board policies related to sexual harassment, ethics, non-discrimination, and public comments and complaints.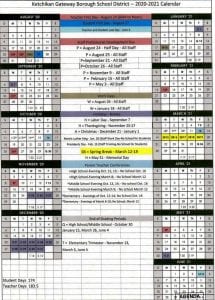 Also Wednesday, the board has an executive session scheduled to discuss contract negotiations with paraprofessionals, cooks and custodians. Wednesday's meeting starts at 6 p.m. in borough assembly chambers at the White Cliff building. Public comment will be heard at the start and end of the meeting.
The school district also has scheduled a budget presentation and public forum starting at 6 p.m. Thursday at the Ketchikan High School Library. The forum will include a review of the district's budget, and an opportunity for public input as the district starts work on its 2020 spending plan.