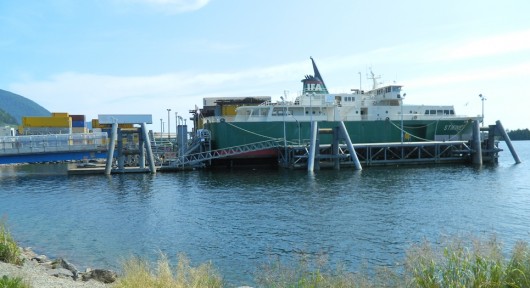 Serving Prince of Wales Island and Ketchikan, the Inter-Island Ferry Authority is a financial success story, relatively speaking.
But, public transportation rarely, if ever, pays for itself, and the IFA's state subsidy, like the larger state ferry system, has been targeted for a cut.
Dennis Watson is general manager of the IFA. He said the service's success stems from its simplicity.
"We have two boats and we only run one at a time, and we run a point-to-point route, which means that we begin at one point, go to another, and go back to the point where we started," he said. "And we're able to do this within a 12-hour day, which allows us to use one crew per day, so we can operate relatively efficiently."
At the end of the day, though, the IFA still needs a subsidy of about $250,000 a year to operate. Watson said the IFA earns about 75 to 80 percent of its budget from fares.
That's far better than the approximately 33 percent the Alaska Marine Highway System was able to pull in from fares last year, and some have suggested the IFA should be a model for the larger system. But Watson said comparing the two services is like comparing apples and oranges.
"It's our simplicity that allows us to do what we do and do it economically," he said. "The Marine Highway is very complex, with some routes having several stops and larger boats, and some 24/7 boats that are expensive to operate. The closest thing they have to what we do is the ferry to Metlakatla."
The state ferry Lituya provides daily round-trip service between Ketchikan and nearby Metlakatla. That service, along with all state ferry runs, is due to end Oct. 1st if a 75-percent cut to the Alaska Marine Highway System proposed in Gov. Mike Dunleavy's budget stands.
The IFA's subsidy also is on the governor's chopping block, and Watson said that could seriously affect the independent ferry service. He said they ran the numbers about six years ago. It showed that without the subsidy, they wouldn't be able to operate.
"Because it is six years later, we are going to run these figures and check them out with today's data and see what it looks like," he said. "I don't have a whole lot of hope for it right now, but maybe we will find a silver bullet there somewhere."
In addition to the state subsidy, Watson said other funding is at risk. State funding is used as a match for federal highway money for maintenance. And, he said, it's unclear whether the IFA would be able to continue using state-owned ferry terminals on both ends of its route if the state system shuts down.
"We operate and pay for everything in Hollis. In Ketchikan, we're kind of mixed and matched with the Marine Highway System because the Lituya uses the same dock that we do, so we share facilities over there," he said. "We don't know exactly what things would look like if there's a divestiture."
And, Watson said, the IFA depends on the Alaska Marine Highway System for part of its customer base. In the summer, especially, independent tourists travel from the mainland by ferry. He said many of them make side trips to Prince of Wales on the IFA, and that boosts revenue considerably.
POW residents, too, use the IFA to connect to the larger state system. Just recently, for example, several high school basketball teams ferried to Juneau for the Region 5 tournament. They started on the IFA, then transferred to the Malaspina.
Janelle Wehrman is athletic director for Southeast Island School District, which serves many smaller communities on Prince of Wales. She said the IFA is significantly less expensive that flying, and more reliable if the weather turns.
So, what would cutting or ending service mean?
"Ultimately, worse-case scenario, it could mean that we would not be able to participate off island," she said. "At least, not as much as we do currently."
Wehrman said the broader implications for POW are also a concern.
"Here's the thing, for us on Prince of Wales, many of us have to go to Ketchikan regularly for medical care because we have such limited resources for that here on the island," she said.
A round-trip ticket on the IFA is about $100 for a walk-on passenger. A flight, she said, can be three to four times that.
The governor's office has said they plan to bring in a consultant to look at the state's ferry system and come up with a plan to privatize it.
Southeast Conference has been working toward just that kind of plan for several years, and Watson heads up the steering committee.
He said there are aspects of the IFA's operations that could be adopted by the state ferry system to make it more efficient. More roads could shorten some ferry routes, for example.
And, he said, there are almost always ways to cut a budget.
"But there's a difference between cuts and finality. The way it looks to us, once we get to the end of September, that's the end of it," he said. "And everybody worries that even if there's some thought of reorganization, that (if) you shut down a massive operation like that, it's very hard to start back up."
Watson said he hopes there's more to the governor's plan for Alaska's overall marine transportation system than what's been revealed so far.