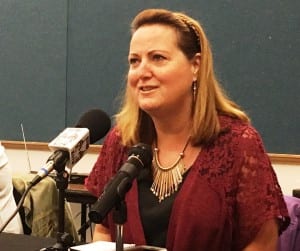 Citing love, Ketchikan City Council Member Julie Isom has announced her resignation from the council, effective May 16h.
In her March 18t resignation letter, Isom writes that "falling in love and serving on the council are a lot alike. I didn't plan on it. I didn't want to do it. It drives me crazy. It makes me scream. It makes me cry. But it was the right thing to do and it has taken me on an extraordinary journey."
Isom writes that she'll be relocating to another area of the state, and therefore will not be able to fulfill her duties to the Ketchikan City Council. She says she appreciates the work the council has accomplished, and is proud of the decisions she's make as a council member.
Isom adds that she plans to return to Ketchikan when she retires.Isom was elected in 2016 to a three-year term, which ends this October. The council can appoint someone to fill her seat until the fall local election.