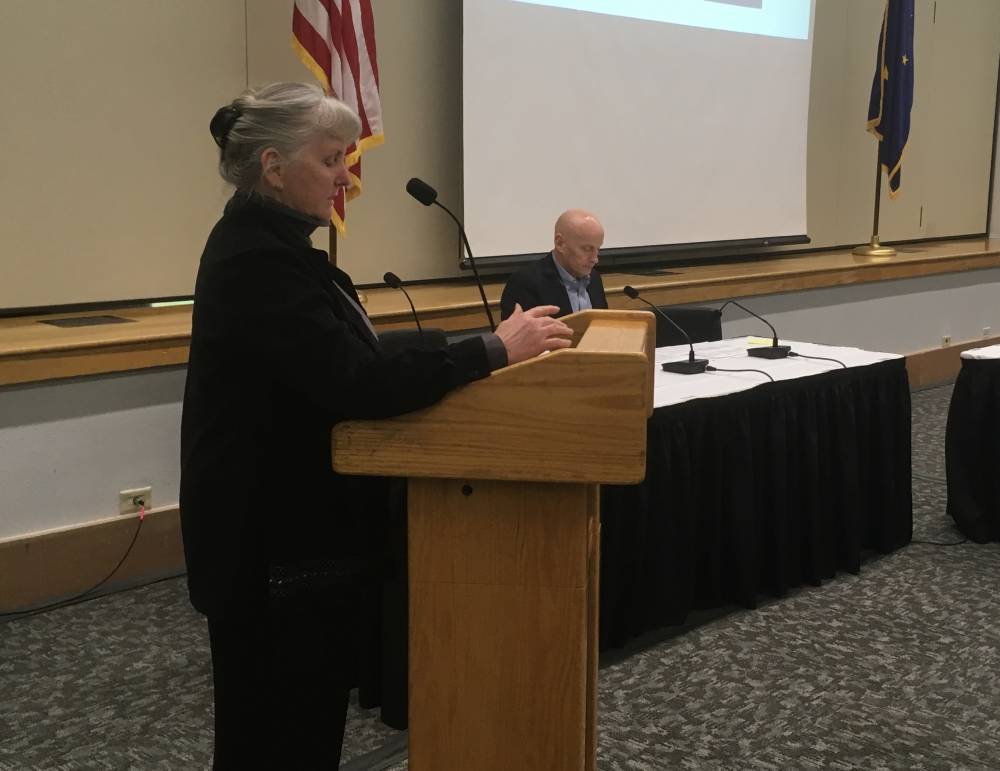 More than 50 people testified Saturday in Ketchikan during a House Finance Committee town hall meeting. It was one of a series of meetings the committee scheduled throughout Alaska over the weekend.
Each speaker was given two minutes to give their thoughts on the state budget. The vast majority were adamantly opposed to Gov. Mike Dunleavy's proposed budget. Even those who support some budget cuts said they disagree with the level of Gov. Mike Dunleavy's reductions.
"I want to make it clear to the Dunleavy administration: It's not like you have a roomful of Democrats that showed up in Ketchikan concerned about this. There are conservative households who are really concerned about the Dunleavy budget. And the person who put it together – I have eggs in my refrigerator that have been in Alaska longer than she has," said Kathy Bolling, a lifelong Alaskan, referring to Dunleavy's budget director, Donna Arduin.
Arduin moved to Alaska from Michigan in late November.
Bolling, like most who spoke, was concerned about cuts to education and state infrastructure. She said spending on those items are an investment in the future, and she's happy to have her PFD used to make that investment.
Speaker after speaker echoed that sentiment. Some added that the state should re-implement an income tax. Michael Queen of Kasaan on Prince of Wales Island remembers paying an income tax before it was repealed in 1980.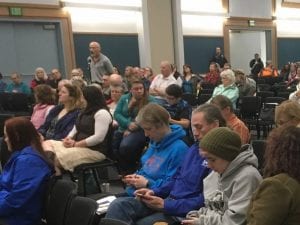 "When I grew up, we had a thing called good citizenship and paying your fair share and everybody contributing to a common good," he said. "And paying income tax wasn't a huge burden."
The meeting was chaired by House District 36 Rep. Dan Ortiz. He gave a 20-minute presentation before opening the floor for comments. Ortiz noted that funding the state budget at the same level as last year would mean a Permanent Fund Dividend of about $630 per person.
A full PFD of $3,000 per person – which Gov. Dunleavy campaigned on – would mean all the cuts the governor proposed would remain intact.
Ortiz notes that it's not feasible to implement new taxes this year, so the Permanent Fund's earnings are the only immediate source of money to make up for budget cuts.
Roger Stone was one of a handful of speakers who spoke in favor of some budget cuts. He said somewhere between Dunleavy's budget and the status quo is room for compromise. He added that the Permanent Fund was created in order to pay for state services when resources no longer provided enough revenue.
"Somewhere along the line we got in the idea that, gosh, we've got so much money in the Permanent Fund we can pay a dividend," he said. "All of a sudden, the Permanent Fund became this sacred cow that nobody could do anything with except pay the dividend. That was not what the Permanent Fund was created for."
Some of the biggest cuts in the governor's budget include schools, the Alaska Marine Highway System, Medicaid, and senior services. The ferry system was mentioned by nearly every speaker as a key service for Southeast. Education, too, was a huge concern, as was health and senior services.
Some other cuts speakers opposed include grants for homeless services, funding for public media, and programs that help convicted criminals reintegrate into society.
Like the rest of the state, the majority of Ketchikan residents voted for Dunleavy. In a separate interview before Saturday's meeting, Ortiz said he believes some voters didn't realize what a full PFD would mean in terms of reduced services.
"I admit, myself, sure I'd like to have $3,000 PFD. We all would," he said. "But I think we're beginning to recognize that some of the significant costs that goes along with that might not be worth the $3,000 PFD."
Other House Finance Committee meetings over the weekend were scheduled in Juneau, the Mat-Su Borough, Bethel, Anchorage, Sitka and Fairbanks.
Comments at those meetings are not official public testimony, although an opportunity for written testimony was provided.