Thanks to grants from two local organizations, KRBD has been able to complete some much-needed equipment upgrades.
Last spring, Ketchikan Community Foundation awarded KRBD $2,150 for a new computer and monitors for the KRBD news director's office. The old computer was so outdated, it could no longer accept software upgrades and experienced repeated problems.
CoastAlaska's IT Director Kevin Hurtley came to Ketchikan in March to install the new system. Thanks to the KCF grant, KRBD's news director now has a new Dell Windows 10 computer and two 24-inch monitors with a display-to-display port, in order to work with multiple open programs simultaneously.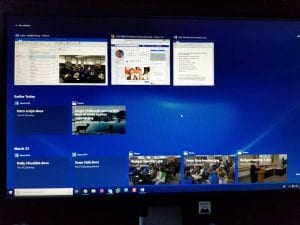 That completed Phase 1 of the station's upgrade project. Phase 2 was paid for through a $5,000 grant from Ketchikan-based First Bank. A major part of that project involved replacing equipment in the signal room, commonly called the "rack room" due to multiple pieces of equipment stacked on racks.
The First Bank grant funded two UPS components, which are a key part of a backup system to ensure our signal continues to deliver information during a power outage. Those components failed during a recent outage, and as a result, KRBD was off the air for about six hours.
The First Bank grant also paid for a new Windows 10 computer for KRBD's Program Director; and a microphone grip and microphone windscreen for outdoor news coverage.
KRBD thanks both Ketchikan Community Foundation and First Bank for their generous support of community radio in southern Southeast Alaska!