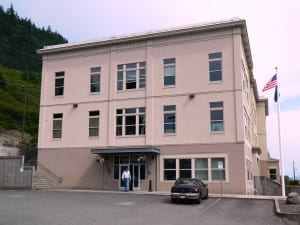 Two ordinances related to borough and school district spending are in front of the Ketchikan Gateway Borough Assembly on Monday.
The assembly also will consider a request to delay adoption of a rezone affecting a lot on Gravina Island
The first finance-related ordinance increases the spending authority of the Ketchikan School District by about $2.5 million. That's primarily to pay for new costs associated with the teaching contract approved in November. That contract provides pay raises and increased benefits, including back pay for the previous fiscal year.
The second ordinance includes various appropriations, as the borough's fiscal year approaches its end. Those include about $80,000 for school building insurance; $100,000 for a previously approved new South Tongass fire engine; about $600,000 from the airport's passenger facility fee and airport enterprise fund to pay for airport improvements; $50,000 for Forest Park Service Area pavement and culvert work; and $50,000 to finish the Public Works maintenance building.
The Gravina Island rezone prompted a lot of public comment during a previous meeting. It calls for a residential lot to become commercial, so that the owners can operate a tour business on the property. Neighboring property owners objected.
The assembly eventually approved a first reading of the rezone, but asked borough staff to include special limitations. Since then, the property owners have agreed to meet with neighbors and talk about the special limitations for commercial use of the property.
Staff has recommended that the item be brought back to the first meeting in June. The assembly will consider Monday whether to delay voting on the rezone.
Also Monday, the assembly will hear a FY2020 budget presentation from borough staff.
The meeting starts at 5:30 p.m. in borough assembly chambers at the White Cliff building. Public comment will be heard at the start of the meeting.