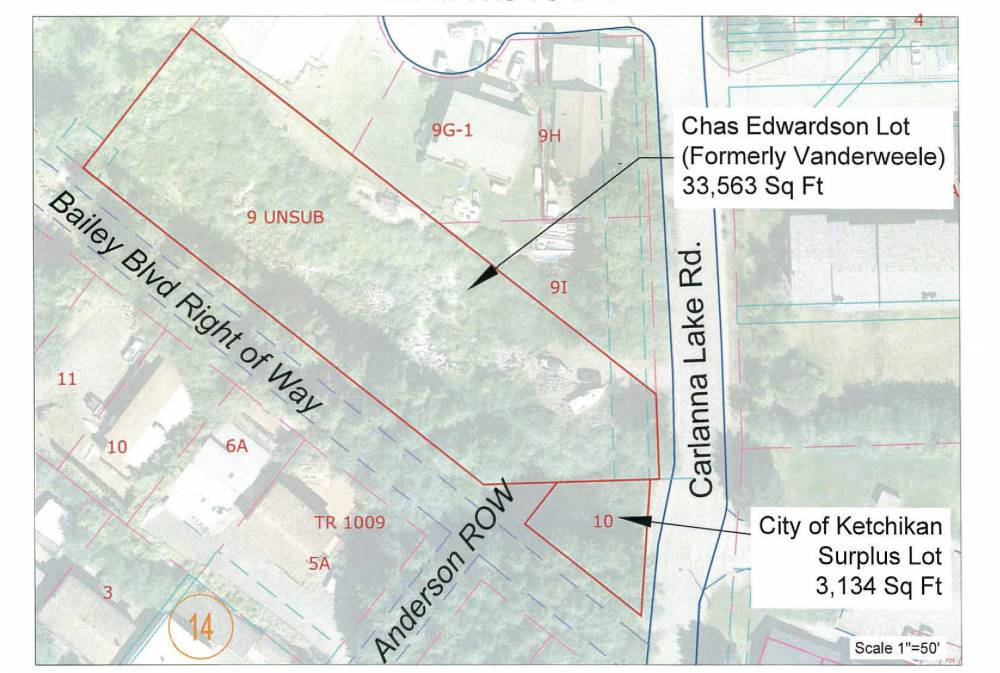 A local developer wants to purchase an unused city-owned lot on Carlanna Lake Road, and has offered the city $500 – significantly less than the assessed value of $10,000.
The Ketchikan City Council will consider the offer from Chas Edwardson during its regular meeting on Thursday.
According to a memo from Public Works Director Mark Hilson, Edwardson has purchased the adjacent Vanderweele property off Carlanna. That property is the only lot that connects to the approximately 3,100-square-foot city lot that Edwardson wants to purchase.
Edwardson told the city he plans to develop the entire property, whether or not he is able to purchase the city's lot.
Hilson writes that the city acquired the lot in 1975 while building the road. The irregular-shaped lot has remained vacant. City code requires that it be sold for assessed value, unless the council chooses one of three options Hilson listed.
The council could declare the lot surplus and authorize a sale by competitive bid for no less than the appraised value plus costs; approve an ordinance to allow a bidding process with no minimum value, or a minimum that's less than the appraised value; or approve an ordinance that accepts the offer of $500.
Accepting the $500 offer would require a supermajority of at least five yes votes, Hilson writes. Normally motions require at least four votes to pass.
Edwardson has told city officials he will attend Thursday's meeting.
In other matters, the council will hold a public hearing on whether to protest a liquor license renewal for the Moose Lodge. Citing unpaid sales taxes and building code violations, the council voted during its last meeting to move forward with a protest. The hearing provides an opportunity for Moose Lodge representatives to prove they are addressing the problems.
The council will decide Thursday whether to withdraw the protest, or submit it to the state Alcohol and Marijuana Control Board.
Thursday's meeting starts at 7 p.m. in city council chambers at City Hall. Public comment will be at the start of the meeting, following public hearings.