Alaska Power and Telephone is encouraging customers throughout Southeast to buy electric vehicles.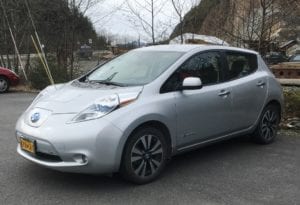 AP&T serves Prince of Wales Island, Gustavus, Skagway and Haines. In those communities, the company has launched an incentive program, providing $1,000 credit to customers' utility bills if they purchase an electric vehicle.
Jason Custer is vice president of business development with AP&T. He said the program also applies to company employees who buy EVs. The company itself already has invested in one EV for its fleet on Prince of Wales Island.
"In the months coming up, we are going to be adding more electric vehicles in all of our service areas in Southeast Alaska," he said. "The reason for that is, we want to encourage our employees to become ambassadors for electric vehicles, to drive them themselves either at work, as their personal vehicles, to learn how they work, to share information with our customers and help educate and build capacity."
Custer said AP&T's electric vehicle was the first on Prince of Wales Island. He said it's been used for about a year, and so far it has saved the company money in fuel and maintenance costs.
"Electric vehicles don't require oil changes, and their engines are less complex," he said. "There are less moving parts, things that can go wrong, things you have to fix."
Custer said residents in areas with few electric vehicles often are concerned about how well EVs will work for them.
"One of the challenges, especially in an islanded location, is taking that first leap of faith in acquiring an electric vehicle when maybe there isn't any public charging infrastructure yet," he said.
Custer said the state is working on a grant program to help pay for public charging stations. That could help in places with long trips in between communities, like Prince of Wales.
Electric vehicles are considered an environmentally friendly alternative to gas-powered vehicles. Like many electric utilities in Southeast, AP&T's power source is primarily hydroelectric.
Custer said the ongoing drought in Southeast is affecting Prince of Wales, too, but weather patterns will change at some point, and a new hydro project is opening up soon.
"We're currently completing construction of a new 5-megawatt hydro project on Prince of Wales – the Hiilangaay hydro project near Hydaburg," he said. "When that project is complete, it's going to add a significant amount of renewable energy to the grid system."
In fact, he said, it will add more energy than the current customer base requires. So, there will be energy available for electric vehicles.
Custer said the EV-incentive program is in response to interest from customers, along with auto-industry trends, volatile fuel prices and improvements to the range of electric vehicles.
The incentive program started April 4. It runs through the end of 2020.