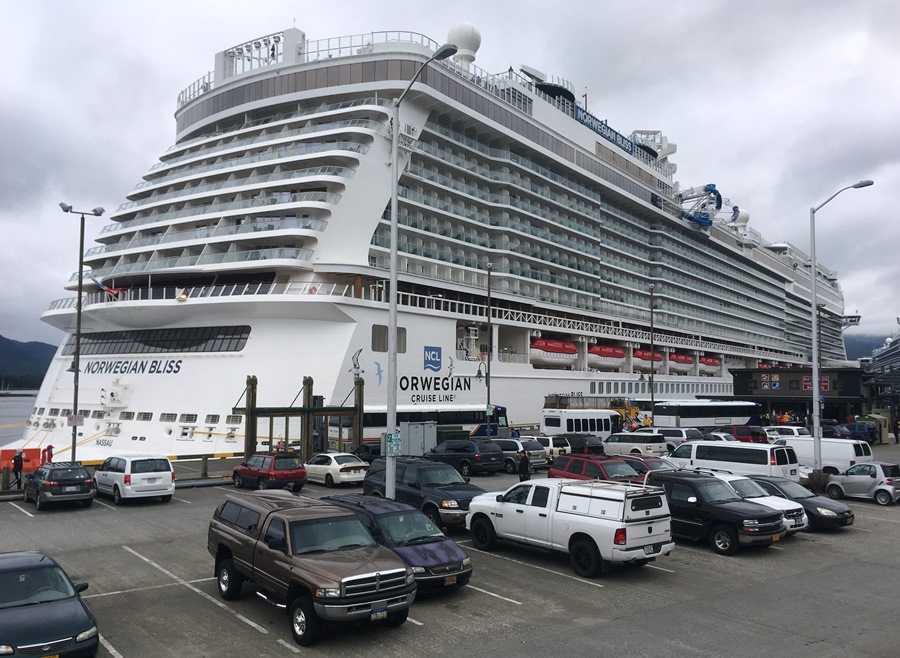 A state contractor working on downtown Ketchikan road construction has come upon some previously unknown structural issues on Front Street, leading to work delays as the busy summer cruise season kicks off.
The first big ship of the season arrives in Ketchikan early Saturday morning. The Ruby Princess will bring about 3,000 passengers.
During Monday's Ketchikan City Council meeting, Port and Harbors Director Steve Corporon gave a rundown of the road construction issues, as described to him by contractor SECON.
"There's already been some structural issues down by Mission and Front, and SECON had told us last week that the Mission Street crosswalk probably won't be open until mid-May at the earliest, probably a little bit later," he said. "They also have some structural issues downtown at Front and Mill, and they're going to be having to close that area down for probably about a week."
Because of those closures, Corporon said the Ruby Princess will dock at Berth 4 instead of Berth 2 on Saturday. That will make bus traffic safer, he said, but some people won't be happy.
"This is the first real public announcement that we're making this change," he said. "First ship out of the box, and we're already going to have some wailing and gnashing of teeth. But we'll deal with it."
Council Member Dick Coose said he's concerned about the next few weeks. He suggested that SECON meet regularly with city staff and the bus companies.
"And make sure there is no more of these things that we can't work out, because pretty soon you don't have a choice," he said. "We just need to work it out before it's a problem. That's all I'm saying."
The first week of the cruise season is relatively light. After the Ruby Princess, there are no ships again until May 1st, when the Star Princess brings about 2,600 passengers. Then there's another two-day break before the Carnival Legend arrives on May 4th. The first multi-ship day is May 9th.
The council also talked about some concerns Alaska pilots have expressed about one of the mega cruise ships coming to Alaska this season. Simulations showed that the Royal Princess has some maneuverability issues at low speeds, especially if the wind is blowing more than 15 knots.
Corporon said whether the ship can come into the Tongass Narrows will be up to the individual pilot on board. And, he said, the city has the right to refuse mooring.
"I have no jurisdiction on transiting through between the airport and the shipyard, which is one of the narrowest spots," he said. "But if necessary, I can say, if I feel conditions are such that they shouldn't be attempting to moor, we can say we don't want them to moor."
Council Member Sam Bergeron referred to an accident in 2016 when the Celebrity Infinity crashed into Ketchikan's Berth 3 while attempting to moor.
Corporon said the wind was blowing about 40 knots when that happened.
"I don't think they would attempt to put one of the neo-Panamax into Berth 3 or Berth 4 if it was blowing 40," he said. "They would most likely go ahead and skip."
Neo-Panamax is another term for the mega cruise ships. They are longer and wider than cruise ships that have been coming to Alaska in recent years. The first of those mega ships to arrive in the state was the Norwegian Bliss, which visited Ketchikan weekly throughout the 2018 season.
This season, Ketchikan and other Alaska ports will see four mega cruise ships stopping regularly: The Bliss, the Norwegian Joy, the Celebrity Eclipse and the Royal Princess.
An estimated 1.2 million cruise passengers are expected to come through Ketchikan this season. That's an increase of about 7 percent from last year.
Traffic construction notices are updated by SECON nearly every day. KRBD updates our traffic construction announcements when we receive notices. You also can check the SECON Ketchikan Facebook page for new information.