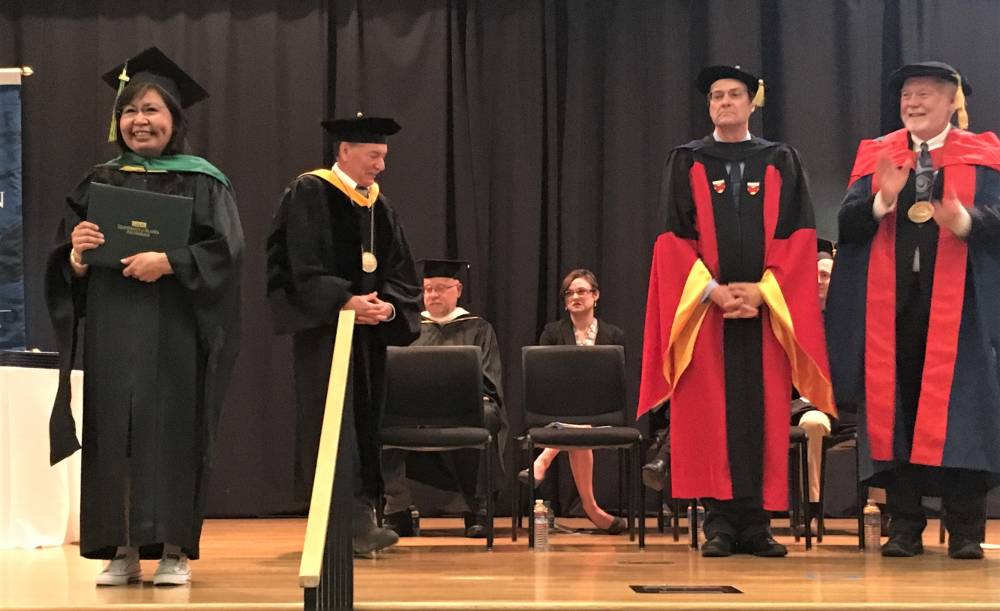 Saturday's University of Alaska Southeast Ketchikan Campus graduation ceremony featured a small group, but feelings ran large as friends and family gathered to celebrate the graduates' accomplishments.
Of the 16 UAS Ketchikan students graduating this spring, nine attended commencement ceremonies at Ted Ferry Civic Center. Ketchikan's celebration was one of three held over the weekend.
UAS Chancellor Rick Caulfield and other UAS officials attended all of them.
"Last night we had a commencement at our Sitka campus, which was a delight," he said. "Later this evening we'll return to Juneau, and tomorrow afternoon we'll have our commencement ceremony in Juneau as well. I call this our Tour de Southeast with Alaska Airlines."
Many UAS students work full time while also attending classes, and many also take online courses from outlying communities. Orin Pierson traveled from his home in Petersburg to attend Saturday's commencement. He was the featured student speaker.
"Thank you so much for inviting me to speak. It's an amazing honor. And it's also so nice to see everyone in person," he said.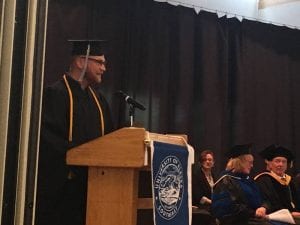 Pierson focused on the importance of community. He said earning his degree would have been much more difficult without support from his friends and neighbors. He said they are his team.
"It's that compassion and that hospitality that's been such an important part of helping me reach this degree," he said. "Now I'm resolved to reflect that back. I look forward to a lifetime of repaying so much kindness to my community. It's the one form of student debt that I welcome."
He encouraged his fellow graduates to be part of that chain reaction of kindness, and to step up to serve others in their community.
Pierson earned a bachelor's degree in liberal arts, with concentrations in English and history. He plans to continue his studies, and hopes to eventually become a teacher.
AJ Pierce was the featured commencement speaker. Pierce works for the Southern Southeast Alaska Building Industry Association and is a member of the Ketchikan Gateway Borough Assembly.
Pierce told the graduates that each of them is unique, with their own talents and abilities. She encouraged them to cut their own path, which requires patience, trust, faith and hard work.
"I did not include luck in that, because when you say luck that means nobody gets the credit. Not God, not you, not your family," she said. "I have found in my own personal journey that there's no such thing as luck and our lives are laid out for a purpose. Walking in that personal faith is what brings us to our adventures."
Pierce said some of the best opportunities are found off the beaten path.
Two students were recognized as "Outstanding Graduates." One of them was Pierson. The other was Margaret Baca, who earned a bachelor's degree in elementary education.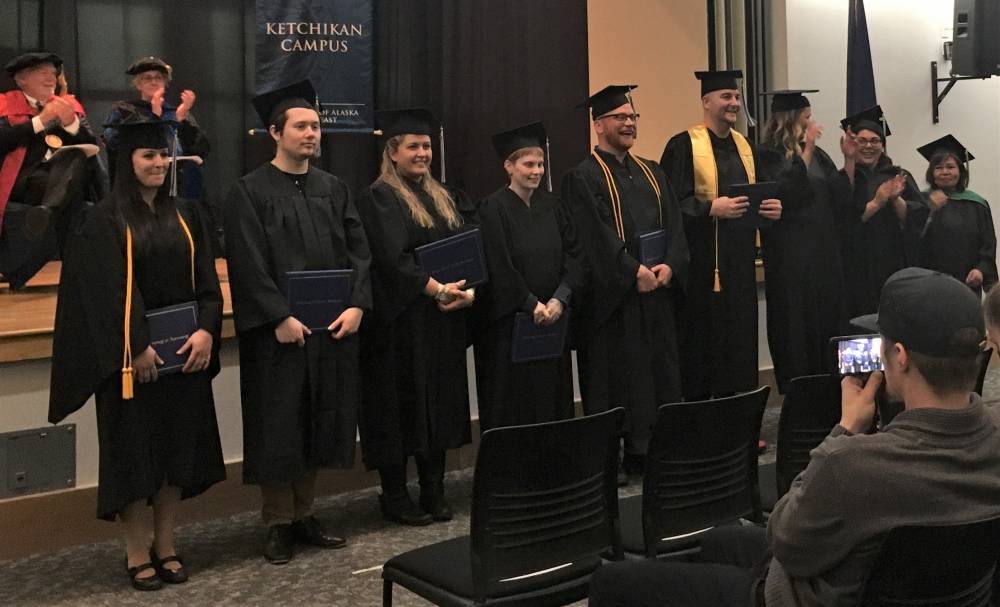 The 2019 UAS Ketchikan graduates are:
Leah Canfield, master's in social work;
Adam Krick, master's in education and educational leadership;
Taylor Helland, graduate certificate in secondary education;
Margaret Baca and Andria Michaels, bachelor's in elementary education;
Cynthia Bashaw, bachelor's in social science;
Gabriel Duckworth, bachelor's in social work;
Orin Pierson, bachelor's in liberal arts, interdisciplinary studies;
Sidney Hartley, Erica Nickich and Caila Rodriguez, associate of arts;
Rhea Bromley, Angela Heck, Brehanna Johnson and Sarah Wright, associate of applied science in business administration; and
Trenton Young, associate of applied science and certificate in health information management.a