A retired sled dog adopted by a Ketchikan family escaped in early April, and was on the run for weeks. Local dog lovers banded together, used social media to track Shaggy, gained his trust and eventually were able to get a leash on the two-time Yukon Quest finisher.
Anyone who's had a husky understands they are escape artists. They love to run. Given a chance, they will quite happily run away. Sled dogs can take that to a whole other level.
Shaggy is a shining example of sled-dog energy and endurance. It took nearly three weeks before he was tired enough to let himself get caught.
Kasia Polanska helped coordinate the search for Shaggy. She said when she first saw a Facebook post about his escape:
"It just seemed like a typical dog-at-large, so it will probably end soon," she said.
But it didn't. Four days later, Shaggy was seen at the southern end of Ketchikan's road system. That's about 15 miles from where he started. Nothing to a sled dog.
Let's back up a bit and talk about Shaggy. He's 11 years old, and was raised by musher Matt Hall. Shaggy is a wheel dog and finished the Yukon Quest twice. When it was time for Shaggy to retire, Hall asked Eleanor Wirts if she would like him for her Fairbanks mushing tour business.
"So, Shaggy's been here for probably three years, at least three, maybe going on four," Wirts said in a phone interview from her dog yard. "He's super, super sweet, loves people and he's a hard worker. So it was a good transition to go from running thousands of miles a year to hundreds of miles a year."
This spring, Wirts said she was starting to think it was time for Shaggy to make another transition from working dog to house pet. A couple from Ketchikan was visiting her business, called Just Short of Magic. One thing led to another, and Rick and Sarah Hines decided to adopt Shaggy and bring him to Southeast.
Rick Hines said one of their dogs – a husky – had just died, and they wanted a canine companion for their other dog, Levi.
Shaggy had been with them about a week, and Sarah took both for a car ride because Levi had to visit the vet. Rick said Shaggy was in a harness that clipped into the seatbelt.
"As she was hooking the leash to Levi to get him out of the car, Shaggy came out of his harness and took off," he said.
That was April 8. Hines said they started searching, and posted on Facebook. He said the response and help from the community was amazing, and he's grateful for all the time people dedicated to finding Shaggy.
Polanska was joined by a few others early on. She and a friend drove around looking for Shaggy, left out food and set a dog trap in the area he first ran to. But then he came back to town.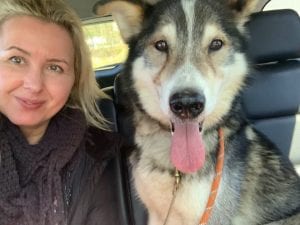 That was week one.
Abby Bradberry got involved at the start of week two. She owns three huskies. When Shaggy first went missing, she, like Polanska , figured he'd get caught soon or come back. She said that's what most huskies do when they've run off their excess energy.
"So, really didn't put much thought into it but then the following Saturday, he was still gone but now in town," she said. "So, I went out walking with one of my huskies and he came right up to us."
Shaggy really likes other dogs, especially huskies. That played a role in his capture, but we'll get to that later.
Bradberry's dog and Shaggy played a bit, but she wasn't able to get hold of him, and he took off. This was about the time more people got involved, driving around on their lunch breaks, reporting sightings, and feeding him.
Polanska said the efforts were coordinated on social media.
"It was absolutely amazing, and just the best use of Facebook that I can think of," she said.
We're into week three now, and nearing the end of the Shaggy Saga.
Wirts said she had been traveling and didn't know about Shaggy's big adventure until around this time. She got a call from Polanska, asking for advice.
Wirts said she was headed back to Alaska anyway, and decided to change her flight to come through Ketchikan. Wirts said she was pretty sure Shaggy would come to her. If that didn't work, she said Shaggy's original owner, Matt Hall, was willing to fly down.
"So I had me sort of in the driver's seat to give it a whirl," she said. "If in fact Shaggy wouldn't come to me, I knew he would to Matt because they were very, very close."
That turned out to be unnecessary.
Wirts had recommended a light tranquilizer that could be given to Shaggy in food, and the searchers gave that a try.
At the next sighting, they were able to get him into a safe place. He already seemed tired. They gave him the food, and he started to relax.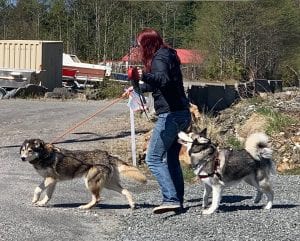 Polanska said that while Shaggy rested, another volunteer arrived with her husky. They approached Shaggy.
"And she, about 20 minutes later, she started walking toward us with two huskies leashed," she said. "So that was an unbelievable thing."
Wirts said Shaggy is not a shy dog, and she doesn't believe he was scared. She thinks Shaggy was having fun. But, he also missed his pack.
"I've never seen a dog need it like that," she said. "I've dealt with a lot of dogs and I've rehomed dogs. There's always a transition period, but they usually transition really well. That's why a lot of dog mushers do it and that's why a lot of people have retired sled dogs as pets."
Not Shaggy.
Hines said everyone realized that he needs his pack. So a few days after he was safely caught, they put Shaggy on a plane back to Fairbanks and his dog yard at Just Short of Magic.
Wirts said she kept him separate from the other dogs for a couple days to make sure he was healthy and rested.
"Then one night early in the evening, he was out there howling and kind of up close to the kennel fence and I could tell: 'I don't think you want to be in there anymore.' So I brought him out in the yard and had him say hi to his old neighbors," she said. "Everybody gave big wiggles and wags. Shaggy literally hopped right up on top of his house, I clipped him in, he laid down and put his head on his paws and that was it. Done."
Shaggy was home.
And that's where he will stay. Wirts said she'll keep Shaggy for the rest of his life. He can even continue pulling a sled part-time if he wants, because he clearly still loves to run.