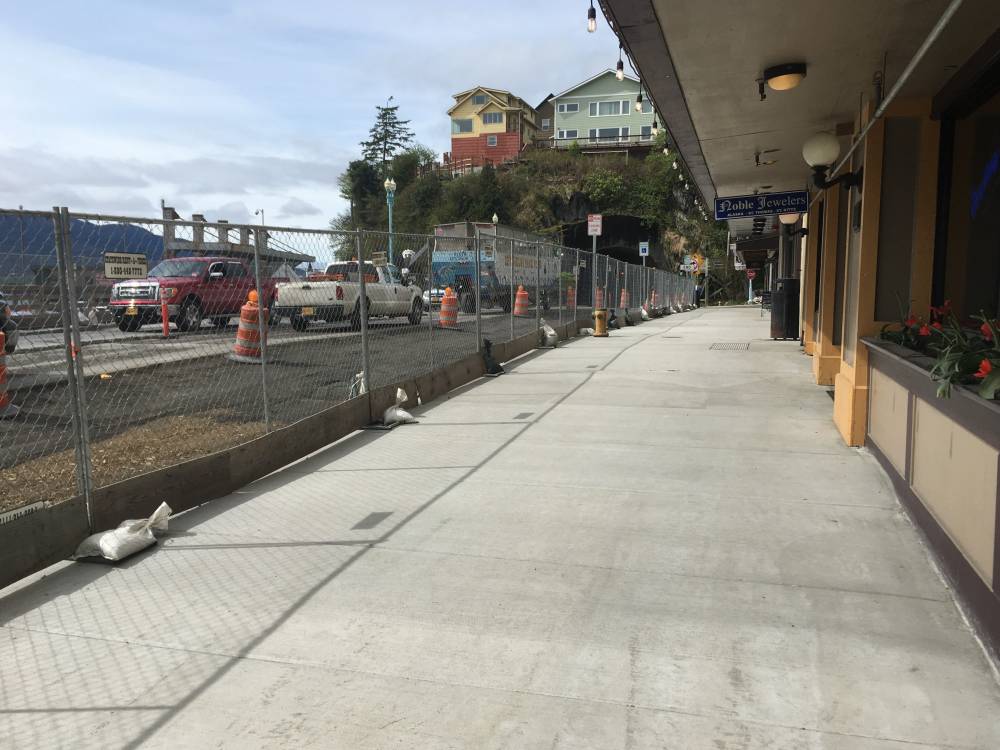 People who go through downtown Ketchikan on a regular basis are showing signs of construction fatigue.
Alaska's First City is in the second – and final – year of the state's multi-stage reconstruction of the main road through town. But it feels like longer.
Crews are asking Ketchikan residents to be patient.
Project engineer Mandi Pelham said she knows it doesn't look that way now, but they're on the home stretch.
"Everybody is going to see this road being torn up and will be like, 'What's going on?' It's actually – there is an end and we're just right there," she said.
The end is Aug. 31. That's the completion deadline for the whole project, which runs along the state highway from Deermount to the downtown tunnel.
It's been challenging for downtown businesses. The project started in fall of 2017, when contractor SECON tore up sidewalks on the south end of Stedman Street, then rebuilt them in time for the 2018 spring tourist season.
That's when road repaving started – mostly at night. So, there was more tearing up and rebuilding all last summer. Once that was done in fall of 2018, crews started tearing up sidewalks on the other end of Stedman, as well as on Mill and Front Streets.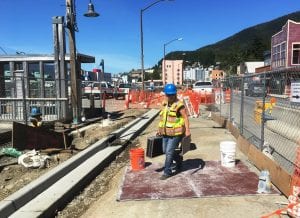 That work was done in time for this year's tourist season. But now they're starting on the nighttime road work for that section.
So, there's been continuous construction on the primary corridor through Ketchikan's busy downtown that, for some people, seems like forever.
"It was a rather good show. I definitely had front-row seats to the whole show," said Dustin Pomeroy, who works at the Fox Hole, a Front Street business. "Man, it was hectic for everyone – the construction workers and the locals."
He was referring to the sidewalk work, since the road work there isn't done. Pomeroy said it hasn't affected the Fox Hole's business too badly.
"Our locals love us. Come on," he said. "This is more family stuff. They'll go through the hoops to come and say hello. It wasn't too bad."
And, Pomeroy said, the new sidewalks are wide and beautiful. Depending on where you are along the route, they are seven to 15 feet wide.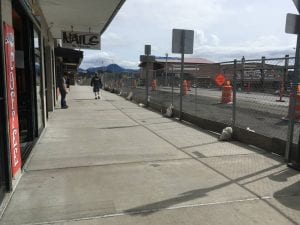 He did have an interesting moment to share from the first day a large cruise ship arrived on April 27.
"Within the first day of laying concrete, a lady from the cruise ship actually hopped the border and walked through the wet concrete with her high heels and she got upset with the other people, even though there was a border up," he said.
Pelham said they scheduled May 1 for the transition from daytime to afternoon and night work, not realizing that the first ship would arrive a few days before that.
"Yeah, that was an interesting day," she said. "The flaggers were really stressed. Now we just avoid them. Coming in at 3 p.m. and starting work, we'll have some interaction with them, but they usually leave by 5. And then on Fridays we don't work at all, which are the heavy cruise ship days."
And fencing is up now to keep pedestrians away from active construction areas.
The road work, which begins most days at 3 p.m., starts with removing the existing asphalt and making any needed repairs to the substructure. Pelham said they have found some unexpected things under the road – old foundations, concrete culverts, etc., which led to some delays.
But, she said, they're still on schedule to finish by the end of August.
On Mill Street, the site of the old Spruce Mill, road work will involve removing pilings.
"This is where it's going to get interesting," she said. "Part of the contract is the contractor has to come back and dig down four feet from finished grade, and remove all the timber piles that were left here back in — whenever the mill was here. They just filled it in over the piles, and over the years, it had settled, creating all the bumps in the road."
Fill settles. Pilings don't. The result was a roller-coaster effect for anyone driving along Mill Street. Pelham said they've already taken out about 60 pilings for a small area of the project.
So, there's plenty of work to accomplish before paving the new road can begin.
"Which could be mid-June-ish," she said. "This is all weather dependent, really."
To get the most life out of the new road, they need to follow temperature requirements, and they shouldn't pave in the rain.
Pelham said she understands people's frustration as this long project nears its completion. But some members of the public have become confrontational with flaggers and crew.
"We're in the home stretch here," she said. "Please be respectful, patient. We're trying our best. If they have any questions or concerns, please call. We'll try to address them."
And just remember: August 31. It should all be over then.
The state Department of Transportation office in Ketchikan can be reached at 225-4510.