More than 250 people participated in the Totem to Totem half marathon in Ketchikan last Saturday. The annual 13.1-mile race began at Rotary Beach and ended at Potlatch Park near Totem Bight. Runners and walkers competed individually and in two and 4-person relay teams.
Sean Vail won the men's division with a time of one hour, 27 minutes and 31 seconds. He was closely followed by John Morin, who arrive seven seconds later. According to race director Gretchen Klein, the men broke the course record by 23 seconds. Fifty were entered in the men's division.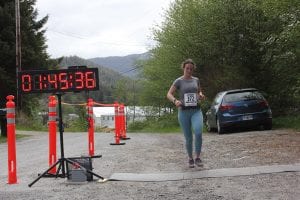 Seventy-four competed in the women's division. Geneva Peters finished first with a time of one hour, 45 minutes and 37 seconds. She finished 9th overall.
Fourteen school teams competed along with their coaches and mentors. Teams were from Houghtaling Elementary, Point Higgins Elementary, Holy Name Catholic School, and Tongass School of Arts and Sciences. Houghtaling Team 1 finished first with a time of two hours, one minute and 42 seconds. Several students competed individually.