In the aftermath of Monday's fatal mid-air floatplane collision, Ketchikan residents did what they always do. They helped.
First responders, volunteer rescue crews, good Samaritans, nurses, doctors, local businesses and individual residents came together after the floatplane disaster to rescue and treat survivors, recover those who died, mourn with families, and provide financial assistance where they can.
An impromptu noon prayer gathering at the local hospital brought out 150 people on short notice the day after the crash.
Organizer Rhonda Bolling says it shows the community cares and is here for everyone affected.
"Prayers are powerful. They're very powerful," she said. "I don't know if there's other things we can do. Word will get out if there's other things. I'm sure so many things will come out."
Bolling's prediction that more help would follow came true. Over the next couple of days, many locally owned businesses announced they would donate proceeds from a day's sales to the family of 46-year-old Randy Sullivan, the Mountain Air pilot and Ketchikan resident killed in the crash.
One of those businesses is Cape Fox Corp., which owns Cape Fox Lodge and restaurant, and the Dockside Galley. Tim Lewis is the Cape Fox business operations manager. He says the day's proceeds ended up at a little over $24,000.
Was that the biggest sales day ever?
"It's up there," Lewis said. "It's definitely up there, especially for something that's not a holiday."
And there were no cruise ships in town that day, so it was a 100-percent local effort.
Lewis says staff that had the day off came in to work, which was good because the wait time at Cape Fox restaurant was more than an hour. Dockside Galley's wait time exceeded three hours at one point.
Lewis says Cape Fox management and board had seen a notice about an account set up for donations to the Sullivan family, and decided to participate. They posted something on Facebook, and it all took off from there.
Lewis says he doesn't know the Sullivan family, but that isn't a factor.
"They're local. They do business in this town. They've been here for a long time. It's our community," he said. "I couldn't imagine that happening to me, my family, or (the family of) somebody close to me, so we felt we needed to step up and help out. And we're glad to see there's a lot of businesses that are now doing it, so we're really excited about that."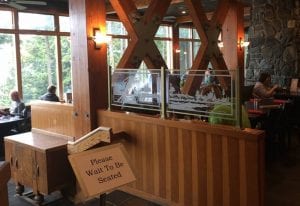 Other businesses joining the effort include restaurants, veterinary clinics, car repair shops, coffee shops, bars, and a marijuana retail store.
Memorials are planned this weekend for Sullivan. Local pilots have organized a "Missing Man Formation" flyover in his honor, starting at 6:30 p.m. Saturday. People on the ground can watch from Ketchikan's downtown dock.
Then on Sunday at 4 p.m., a memorial gathering will take place at the Ted Ferry Civic Center.
Sullivan's sister, Trina, wrote in an email that the family thanks Ketchikan for the outpouring of love and support. She writes that, "We are all touched beyond words. Randy was loved by many and he is deeply missed."
Those who wish to donate directly to the Sullivan family can do so through an account set up at Wells Fargo.