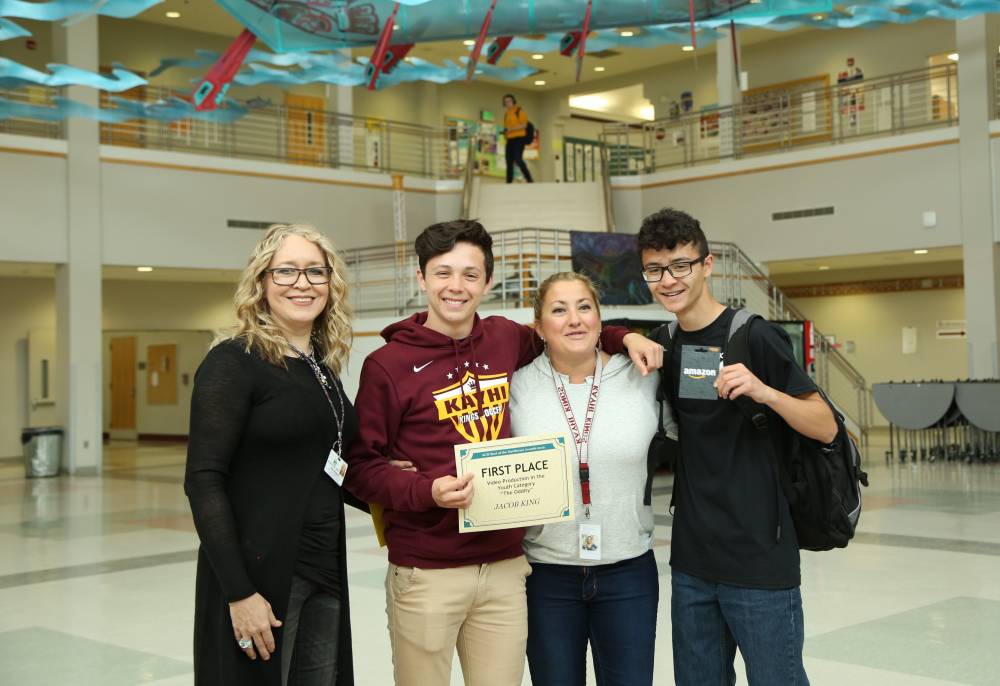 A short film produced by Ketchikan High School students and aired on Ketchikan Public Utilities TV has won a regional broadcasting award.
"The Oddity" took first place in the youth category during the Best of the Northwest Media Awards, according to KPU. The film was created in teacher Allegra Machado's iLife class last year. Students involved were Jacob King, principal editor; and Dwight King, Sam Winburn, Luke Reynolds, and Colby Elliot.
Jacob entered "The Oddity" into KPU's 2018 Ketchikan Film Festival. According to KPU, it was so well received that they paid the entrance fee to submit the film for the contest. Contest submissions are required to have been aired on television. KPU aired most of the film festival submissions, which made "The Oddity" eligible to win.
On Thursday, KPU presented Jacob King with an award certificate and a gift card.
In addition to the student piece, KPU won first place for Overall Excellence from the Best of the Northwest Media awards for 2018. KPU was also awarded first for Overall Excellence from Alliance for Community Media/Hometown Media awards for 2018.
KPU's entry for both competitions was a 20-minute compilation highlighting KPUTV's body of work for 2018. That included arts coverage, its drug documentary, sports, celebrity chef, music, interviews, and event coverage.
Ketchikan Public Utilities Telecommunications Division is owned by the City of Ketchikan.