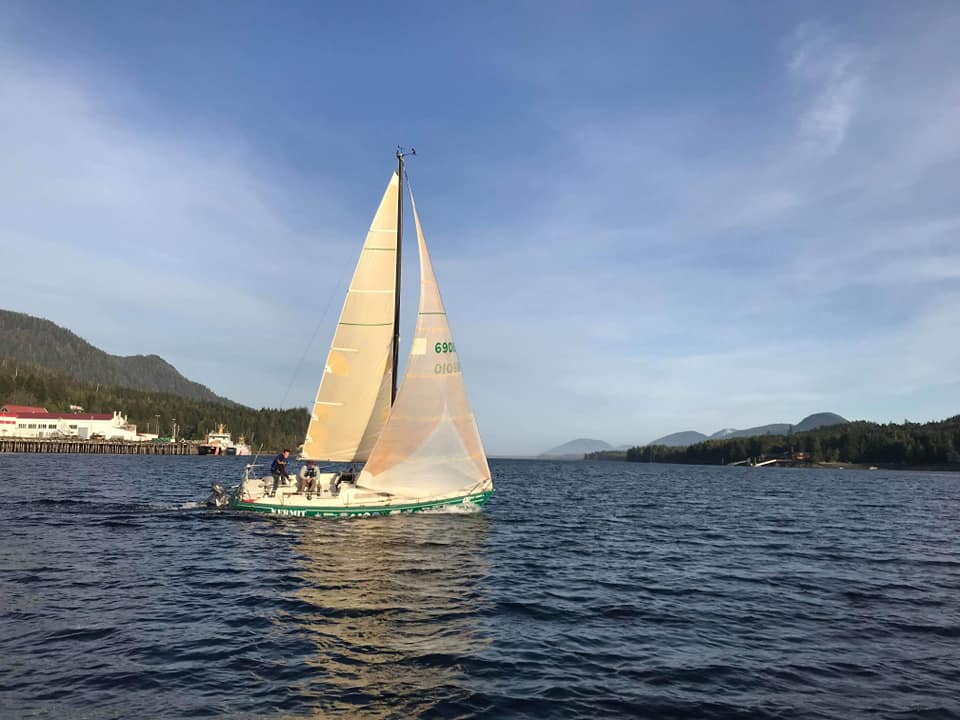 The Ketchikan Yacht Club is sponsoring a local team for this year's Race to Alaska, a 750-mile engineless boat race from Port Townsend, Washington, to Ketchikan.
This year marks the fifth Race to Alaska. The prize each year has remained the same: $10,000 for first place; a set of steak knives for second.
But for everyone who participates, the biggest prize is adventure. The rules are simple: Teams or solo racers get a boat – any boat – and get themselves from Port Townsend to Ketchikan without using an engine.
They can sail, paddle, row, whatever. As long as it's wind or human-powered.
It's not an easy race. The course goes through challenging waters. Last year, 37 teams started and 21 finished.
Ketchikan Yacht Club team captain Mackenzie Dahl knows how challenging the race is.
"A lot of people thought it was impossible," he said. "That it couldn't be done or it was too foolhardy, and why would you want to do it?"
The first year, though, proved it could be done. So for the second year, Dahl joined Team Salish Express, which finished 13th. It took six days and 20 hours.
"And it was great fun. But it takes some time to recover from it. You don't necessarily want to do it again and again and again," he said. "But definitely 2019, we decided that we want to do it again."
This year, Dahl is captain of the Ketchikan Yacht Club team. He'll be joined by Mike Ferrari of Ketchikan and former Ketchikan resident Brian Lieb, now of Juneau.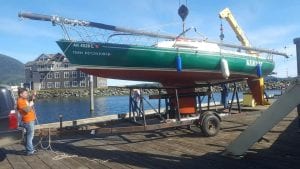 Ferrari was on the 2016 Team Ketchikan, another Race to Alaska finisher. Lieb is new to the race, but an experienced Southeast sailor.
They'll be making the trek on Kermit, a single-hull sailboat. They removed the engine – per the rules of the race. But Dahl said they added a little something to help when the wind is not working in their favor: Pedals — kind of like a stationary bike — hooked up to propellers.
Dahl said it's becoming a common modification for boats participating in the Race to Alaska. Kermit will have two, so two people can pedal in tandem.
"If we can get our butts close enough together," he said.
Dahl said he loves sailing because it requires focus. You have to pay attention to what's happening with the boat, the water, the wind.
"I always equate it to riding a horse. You've got this boat that's heeled over, and it's using the wind. It's completely silent, it's just charging through the waves and it's got its own movement," he said. "You're just along for the ride."
And like horseback riding, you're not always in control. Case in point: All three team members gathered in Ketchikan for some practice runs on the Kermit. It's a borrowed boat, so they're not as familiar with it and Dahl said they learned a lot about the boat's limitations, and their own.
"We had a spectacular crash out in front of all the cruise ships," he said. "We wound up ripping a sail. Yeah. We had a spectacular crash in front of the cruise ships, and I was really disappointed that I didn't see any Instagram feeds of 'Sailboat crash in Ketchikan,' because it was quite the yard sail. It would have been a really great picture."
Dahl said the boat is smaller, and not as forgiving as vessels they each are used to sailing.
"The Kermit is a Santa Cruz 27 and it was made in 1978," he said. "It was designed as the fasted little sailboat that could in the mid-1970s."
Dahl said it's a good size for the Race to Alaska, and that kind of boat has finished the race before.
Finishing is good, but Dahl said the goal is to win the race. Other teams have that same goal, of course, and some have more modern racing boats.
His big strategy?
"Don't fall off, he said. "Stay on the right side of the boat."
Really, though, "The race is a lot about skill and it's a lot about luck."
With good luck, good wind, hitting the tides right, keeping the equipment from breaking, and relying on their experience sailing the Inside Passage, they could win.
The fifth annual Race to Alaska starts June 3.
The yacht club is using the race as a vehicle to raise funds for its scholarship program. You can find out more and keep up with Team KYC through their Facebook page.