Family and friends celebrated the Ketchikan High School Class of 2019 Graduation Memorial Day weekend. More than 120 seniors were honored at the commencement ceremony.
Most wearing crimson caps and gowns, a few wearing regalia or mortar boards woven of cedar bark, graduates of the Kayhi Class of 2019 filed into the Clarke Cochrane gymnasium.
Principal Bob Marshall welcomed families and guests and told graduates their class was instrumental in the successes of this year's activities programs.
"The first trip to the playoffs for our football team…(applause)…A sweep at the region tournament for the basketball teams, with the girls continuing their amazing six region titles…(applause)…The cheer team earned a region title, our boys' basketball team earned a region title, and the Kayhilights continued their streak of a superior rating. Not too shabby (applause)."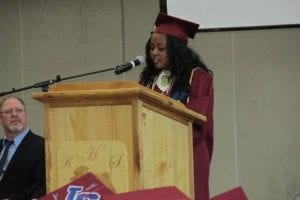 Marshall also congratulated the boys' basketball team and the cheer team for taking home state titles. He acknowledged the athletes' character and how they positively represented Kayhi.
Before her speech, class president Maya Parker apologized for her scratchy voice, saying she lost it while cheering at regions. She says it is difficult to fit four years of the students' lives into a four-minute speech. Parker says senior year is bittersweet. She reminisced about events over the past year, encouraging graduates to remember those times.
"As I stand here looking out at the class of 2019, I'm so proud and honored to represent you all. I've witnessed us accomplish so much, and have no doubts the accomplishments will not stop there."
Salutatorian Franklyn Correa (co-RAY-uh) says much of the graduates' success is due to the support of family and friends. He especially thanked his parents.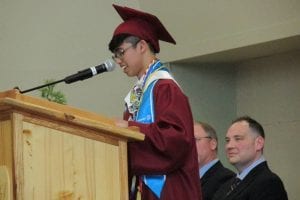 "I really can't think of any other way to show my appreciation and gratitude for the years of juggling multiple jobs, working late-night shifts and taking care of your three children. I know how incredibly blessed and fortunate I am to have you in my life, so I hope this is enough for now, but please, do be patient. Because much later will be a time when I will say, 'You don't have to work anymore.'"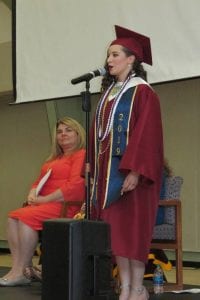 (music in)
Andrea Short, accompanied by Trina Purcell, sang "Today My Life Begins" by Bruno Mars.
(music out)
Valedictorian Stephanie De Leon humorously honored counselor Robert McClory, saying while most teachers have five-minute conversations with students, McClory can stretch those five minutes into an hour.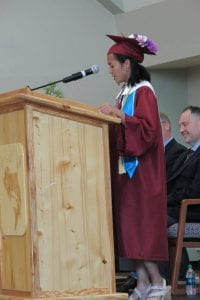 "We all know that getting McClorinated is for your own benefit (laughter). Mr. McClory knows how every single one of us has potential, thus he tirelessly seeks students to offer them numerous scholarships and opportunities."
De Leon also acknowledged teachers and other staff, and told students though they may not realize it now, they will miss them.
Several members of the Class of 2019 joined the Kayhi Wind Ensemble in performing a medley from "How to Train Your Dragon," conducted by Deidra Nuss.
(music)
The commencement speaker was principal Marshall. He thanked the class for choosing him, saying it was a great honor. Marshall says while it may seem like this is a time to reminisce about the past, it is actually a beginning.
"However the word 'commencement' actually means 'a beginning, a starting point, a launch.' And when you understand that a commencement celebrates the new chapter in your life. You can see that today is not about feeling sad and retrospect of all the experiences you've had in these past 13, or 14 years if you went to preschool, but it's a time of celebrating the fact you're at the next beginning of the latest chapter in your life story."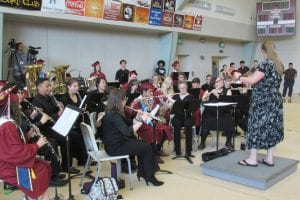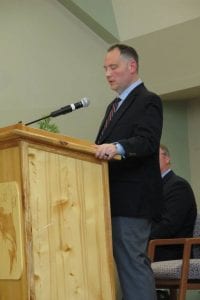 Marshall encouraged graduates to develop a habit of service.
"For some, serving is just a part of who you are and it defines your character. Others may have just begun their service by completing the requirements for graduation. Whatever it takes to get you started, I commend you on taking that first step and encourage you to continue serving others for the rest of your life."
He says committing to service is as simple as A, B, C. He says 'A' stands for attitude.
"Treat people how you like to be treated. When taking the opportunity to provide for others in a service-oriented way, express a genuine attitude of joy, kindness, patience, caring, empathy, love and the list goes on and on. For real service to take place, one has to put other's needs, wants and desires above your own."
Marshall says 'B' is for benefits that occur as a result of serving others. He says these include meeting new people, building new relationships, and growing through new experiences. Marshall says serving others would have no benefits if there is no cost, the 'C' in the A, B, C of service.
"In some cases, serving others will require a monetary contribution. In most cases serving demands a genuine attitude of unselfishness, and a lot of your own personal time. If service did not demand a personal sacrifice, there would be no benefit to the one who serves."
He encouraged students to dream big but start small. Small acts of service can make a big difference. Marshall encouraged parents and friends to support the graduates on their journey.
Marshall then presented the Class of 2019, diplomas were handed out and tassels turned. With cheers and congratulations, students became alumni and officially started the next chapter of their lives.