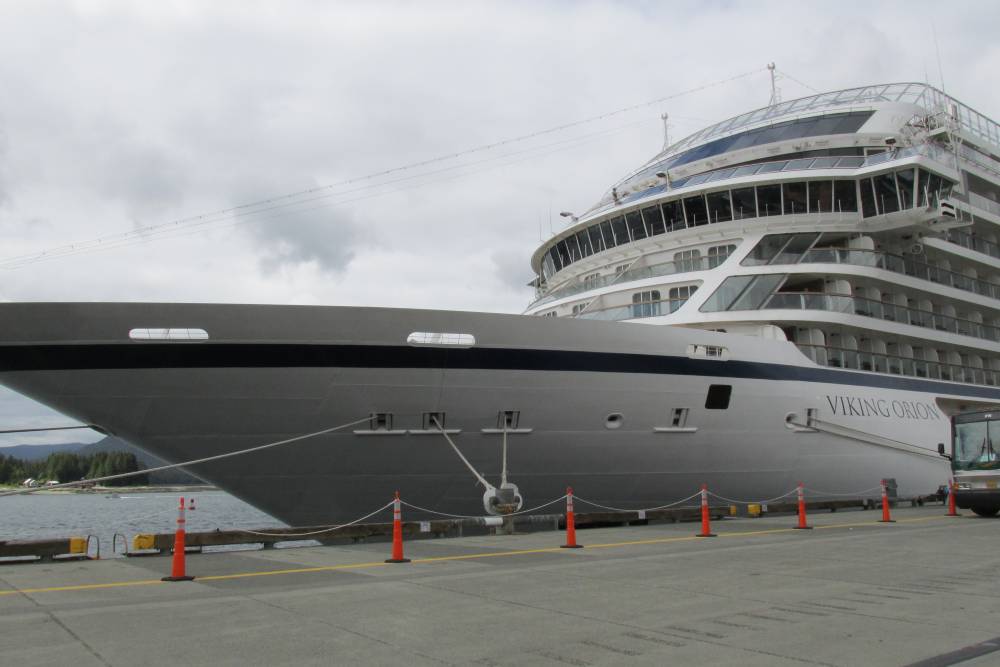 The Viking Orion made her inaugural visit to Ketchikan May 24th. Local dignitaries and guests were invited on board for a tour and plaque exchange.
"Everyone, this is our captain." "Hello, welcome aboard."
Captain Richard Svardmark greeted guests in one of Orion's spacious lounges lit brightly by natural light. Svardmark says this marks his 13th season in Alaska, but his first with Viking. Ketchikan Gateway Borough Mayor David Landis presented a photo plaque of historic Creek Street to the captain, joined by Ketchikan City Mayor Bob Sivertsen.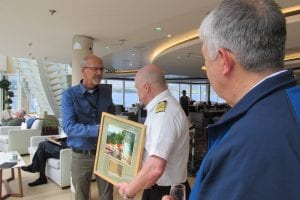 "We certainly are very glad to welcome you here. This is a very important part of our community, to have the cruise industry here and strong, and we view it as a partnership. We, again, thank you very much for having yourself and your ship and all your passengers here for the summer."
In exchange, Svardmark presented a frosted crystal Viking cruise line plaque, and said he hopes to spend many more seasons in Alaska. He invited the group to continue a tour of the ship.
Cruise consultant Mike Coleman led the tour. He pointed out amenities and discussed the history of the company. Coleman says Viking is the number-one river cruise line in the world. It began 25 years ago with four ships in Russia and now has more than 70 river ships. He says in 2015 the Norwegian owner set a goal to add three ocean cruise ships to its fleet. Coleman says the ocean cruises have been so successful, Viking now has six vessels with 10 more to be added over the next decade.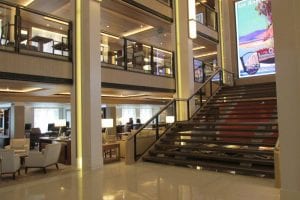 The Viking Orion was christened in 2018, celebrating its first anniversary in June. Coleman pointed out that all Viking ocean vessels have the same floor plan and nearly the same features.
"And what you're looking at here in the atrium is what you will see on every single Viking ship. They are all identical. Nine hundred thirty passengers. The piano is exactly in the same spot on the other ships. The soap tray. The pen in the stateroom is exact specifications on every single ship that we have."
Coleman says repeat guests like the familiarity, being able to cruise to different destinations while easily finding their way around any Viking ship. He says over 70 percent of the passengers onboard that day were repeat guests. Coleman says there are about 450 crew members representing over 40 nationalities.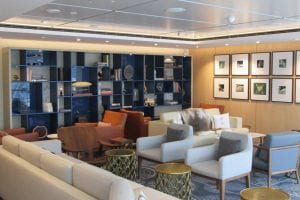 He says Viking caters to an older demographic. It is not a party ship, there are no water slides or rock climbing walls, and children are not allowed.
"What we have are guest lecturers who will bring the upcoming ports and world history to life. And we do not have a casino. Casinos are really popular on other ships. Children, really popular on other ships. You're not going to find it here."
Coleman says the cost of the cruise is all inclusive, including meals at the specialty restaurants, wine and spirits with lunch and dinner, a shore excursion at each port, internet and computer use. Exceptions are the hair and nail salons and spa treatments.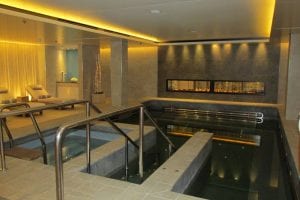 Viking has Norwegian roots which shows in the ship's color scheme and design. There is bright, natural lighting with floor to ceiling windows in many areas, soft colors of sand, blue and green, and simple but comfortable furnishings.
Coleman says the focus of Viking cruises is learning and adventurous experiences. There are small libraries and museum displays throughout the vessel. The Orion has a planetarium, something not found on all Viking ships, and a snow grotto in the spa area.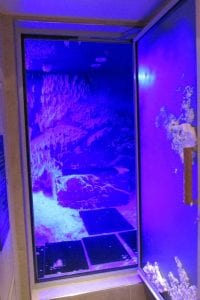 "That is real snow. I know Alaskans and Canadians get to see snow all the time. I had some of our Chinese and Japanese guests who visited, and I toured the ship with them over the last few months as we came up through Asia, (who) had never seen snow before. Had never touched it before. It was just phenomenal watching the experience."
Coleman says most guests dress casually and there are no formal events. There is a main restaurant, a deli, café, pool grill and several specialty restaurants. These include The Chef's Table, featuring five course dinners, and a steakhouse and Italian restaurant, Manfredi's. There is also The Kitchen Table that can be used for cooking classes or private dining. Coleman says in certain ports, chefs will offer special shore excursions where a small group of guests can select local foods to prepare.
"You'll go pick out some wines, you'll go pick out some fresh fish, you'll go to the local markets, you'll pick out the vegetables, you'll come back here. If you feel like you want to join the chef and clean the food and get it prepped here in this venue, great. If not. Go shower. Get changed. The chefs will take what you picked up that day back in the galley here and they will make something really special."
Other features include an indoor pool with a retractable roof, outdoor infinity pool, and theater where documentary films and theatrical productions are held. There also is a game room with puzzles, cards and game boards.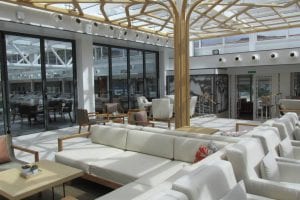 The Orion offers 11-day cruises in Alaska. After the summer season wraps up, she will make the journey back to Auckland, New Zealand, to operate Down Under during their summer season.