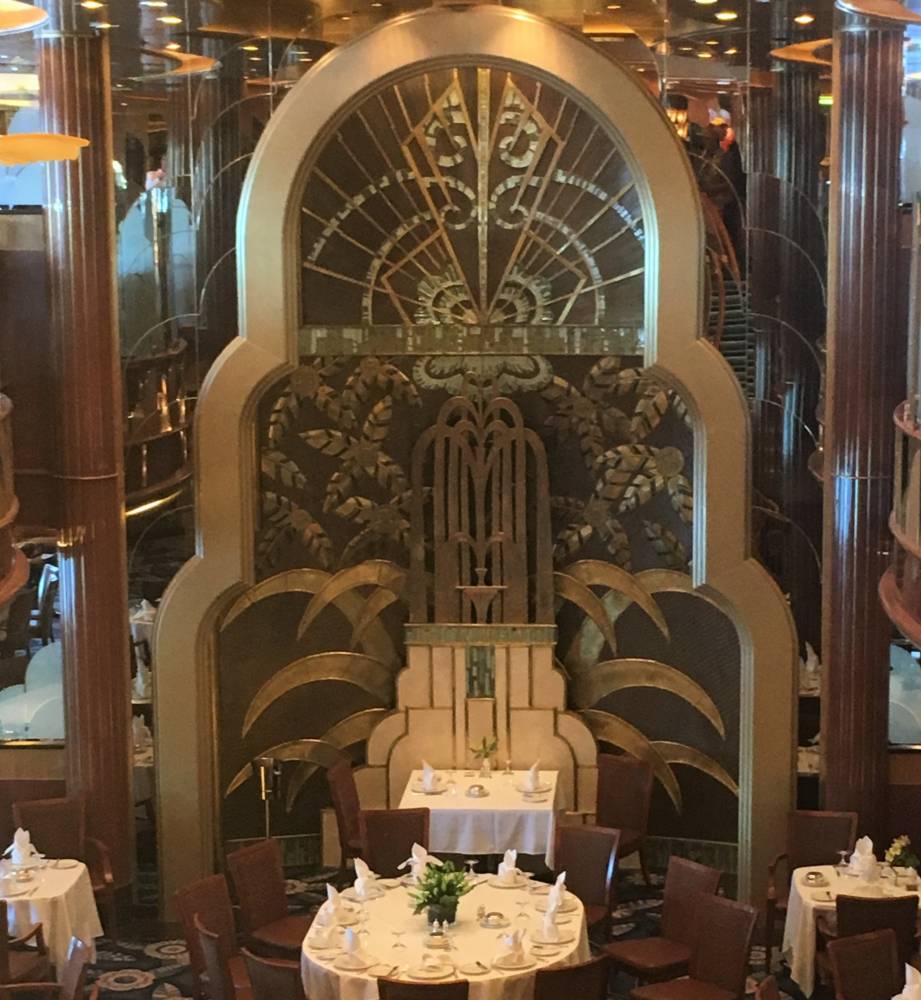 The third in a slew of Ketchikan inaugural cruise ship celebrations took place May 28 on board the Cunard Cruise Lines' Queen Elizabeth.
A group of Ketchikan officials went on board for the ceremony and a tour of the vessel.
One can easily envision Fred Astaire and Ginger Rogers bantering on the promenade of the Queen Elizabeth just before breaking into a tap-dance routine.
The ship has classic old-fashioned cruise features, including an art deco décor that harkens to the British cruise line's past.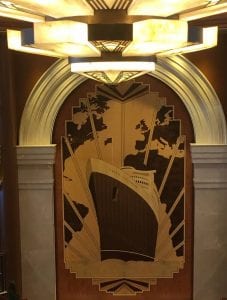 One of those old-fashioned spaces is the Commodore Club, where we meet Captain Inger Klein Thorhauge and other crew members for a short ceremony.
City Mayor Bob Sivertsen and Borough Mayor David Landis presented a framed photo and plaque to Thorhauge, and she presented a plaque in exchange to mark the first visit of the Queen Elizabeth to Ketchikan.
Thorhauge says the Cunard line hasn't been in Alaska for about 20 years. So far, the return has been positive.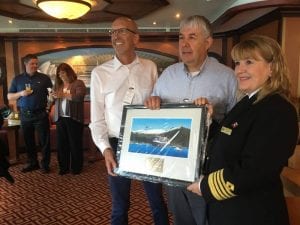 "It has been a fantastic start of the season for us, coming back to Alaska," she said. "The welcome we've gotten in every place has been phenomenal. Coming in and sailing in to every port has been breathtaking."
Joe Williams of the Village of Saxman and Norman Skan of Ketchikan Indian Community offered a traditional welcome for the ship, crew and guests.
Following the ceremony, the ship's entertainment host Graeme Bradley took the group of Ketchikan visitors for a tour of the ship.
While we walked around, the crew practiced a fire safety drill. Crew members in orange life jackets mustered throughout the ship.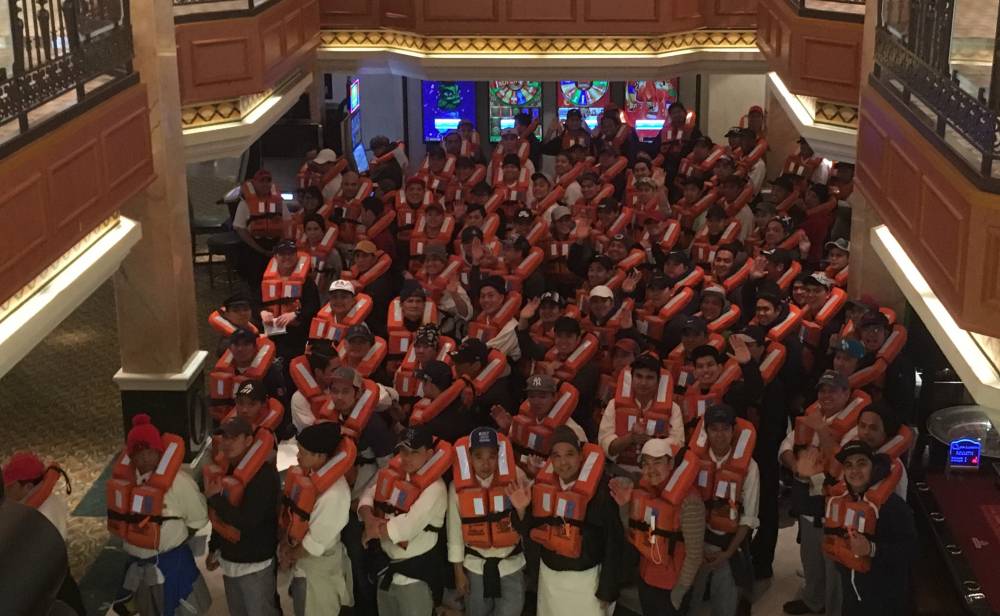 The Queen Elizabeth has a night club, a ballroom with live orchestras, a pool, library, British pub, a theater with box seating, casual dining and fancy dining.
Bradley says the main dining room has a dress code for evening meals, part of that traditional cruise experience that the ship provides. Most nights call for "smart" attire, with a couple of "gala" evenings.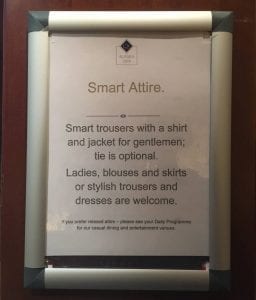 "Smart attire, for ladies, we ask them to wear stylish separates or cocktail dress. For men, a jacket, no tie is required. Smart casual-type attire," he described. "For gala evenings, it's a bit more formal, so for gentlemen we ask for a dark suit or tuxedo with tie or bow-tie. For ladies, a formal dress, cocktail dress or formal separates."
Yep. Fred Astaire and Ginger Rogers.
The Queen Elizabeth is one of eight new cruise ships visiting Ketchikan in 2019. The Cunard Lines ship is about 965 feet long, carries around 2,000 guests and about 1,000 crew members.
The Queen Elizabeth stops in Ketchikan just four times this summer. Its next visit is Friday, June 7. Subsequent stops will be June 12 and June 22.