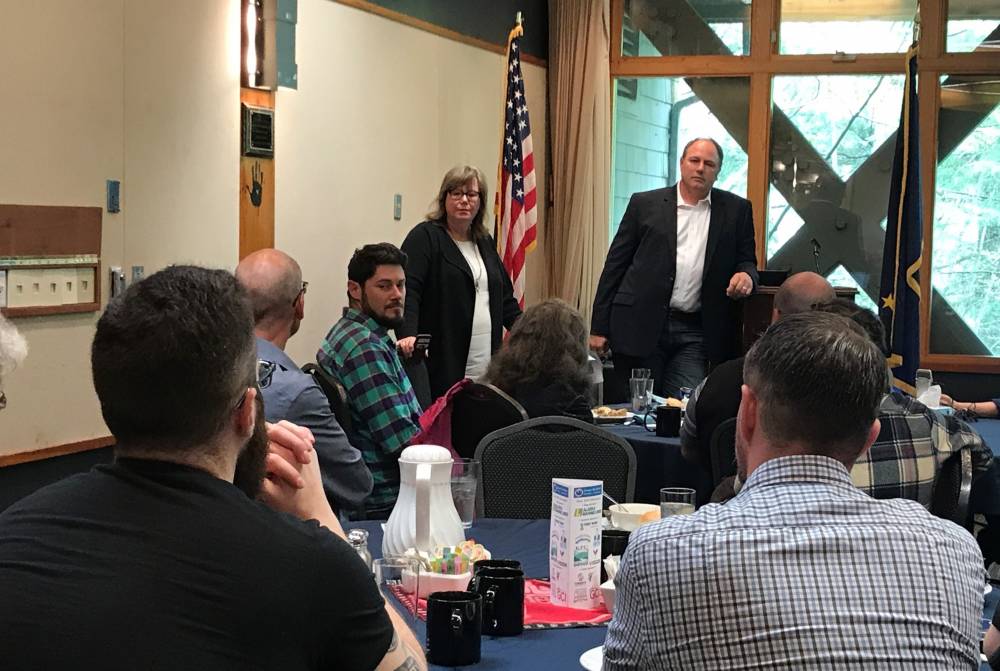 Representatives from Vigor Alaska discussed strategies to increase opportunities for the Ketchikan shipyard and retain and create more local jobs during a recent Chamber of Commerce lunch.
With the ship building market in decline and uncertainties about the fate of the Alaska Marine Highway System, Vigor Industrial is looking for ways to ensure a strong future for the Ketchikan shipyard. Jill Mackie is Vigor's senior vice president of public affairs.
"One thing we do want you to come away (with) today is understanding that Vigor is committed to the success of the Ketchikan shipyard and to jobs here. And going forward we'll look for more opportunities to be proactive about communicating through, and hopefully past, a time of decline in terms of employment."
Mackie says Vigor has two distinct business lines – ship repair and fabrication.
"And in terms of fabrication, we have a diversity of things. We have marine fabrication, such as the Alaska Class ferries that have been built here. But we also have heavy complex manufacturing that goes on at other places within Vigor that are not boats."
In addition to Alaska, Vigor has facilities in Washington and Oregon.
Mackie says Vigor is an interdependent public-private partnership. Other partners are the Alaska Industrial Development and Export Authority, which owns the Ketchikan shipyard; Ketchikan's city and borough; and the Alaska Marine Highway System.
"The Ketchikan shipyard was really built to serve the needs of AMHS. It always has been the single largest customer of the Ketchikan shipyard since its inception."
Adam Beck is president of Vigor and executive vice-president of ship repair. He provided information on hours worked and employment in the ship repair and fabrication sectors. Beck says fabrication increased over the last several years because of the Alaska Class ferry project, but ship repair declined. He says ship repair is cyclical and hard to predict, and Vigor is a project-based business.
"We will have ups and downs as projects come and projects go."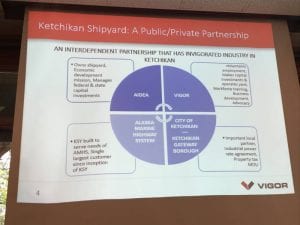 Beck says the Ketchikan shipyard's largest customers over the past several years have been the Alaska Marine Highway System and Fishing Company of Alaska. He says the latter was sold to a new owner and most of its business no longer comes to Ketchikan.
Mackie discussed projections based on cuts to the Alaska Marine Highway System. She says in a best-case scenario, there will be a 30-percent cut in the entire system budget this year. Mackie says this does not equate to a 30-percent cut to the $12.6 million projected work for the shipyard.
"It's our understanding that we're more likely to come out of the coming year with about $10 million available for ship repair and conversion within the Alaska Marine Highway System. So it's not a 30-percent cut and is much better than could have been anticipated when we first saw the proposed budget cuts."
Mackie says there is a lot of uncertainty beyond 2020, and in a worst-case scenario, the Ketchikan shipyard could see less than $4 million in AMHS work. She says the uncertainty has propelled Vigor to work harder to determine how to adjust to changes. Mackie says the company has been looking for new customers in traditional and non-traditional markets.
"What Vigor has been looking at is market opportunities in the Alaska fabrication market that are non-marine fabrication, as well as increased ship repair opportunities in commercial and for the U.S. Coast Guard and together we hope what that will result in is stabilized revenue and employment in Ketchikan."
Beck says the market Vigor primarily serves is the Pacific Northwest. He says that area is estimated to produce about $500 million of work annually, with many shipyards competing for that work. Beck says the industry is evolving rapidly and shipyards need to adapt to those changes.
"Specifically, the vessels that we work on are getting bigger, they're getting wider, they're getting deeper, and they're getting heavier. They're carrying more capacity with less crew burning less fuel, and so they need fewer ships, and they're doing it on larger platforms."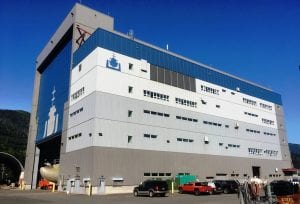 Beck says most of Vigor's shipyards do not have the infrastructure needed to compete for larger projects. He says Vigor is exploring ways to make its facilities viable for decades to come. In the meantime, they are seeking other opportunities for existing facilities.
Vigor has not been able to compete for Coast Guard repair work because its contracts have a small business set-aside. Because it has multiple facilities, Vigor is considered a large company, and cannot compete for that business. Given the large presence of the Coast Guard in Alaska, Beck says representatives have been working to change the way contracting is done so the Ketchikan shipyard can compete for an estimated $5 million of work.
"We're working hard to get some improved language into the Coast Guard Authorization Act for this year. We're seeing a little bit of improvement, as Jill mentioned, we're actually bidding on an Alaska-based Coast Guard cutter (job) right now that we're optimistic on. But the reality is we need to get access to bid (on) all that work."
Mackie commented that Senators Lisa Murkowski and Dan Sullivan have been working to get language in the act that would allow the Vigor shipyard to bid on work for the Coast Guard's Alaska fleet. She says bringing the repair work to Ketchikan not only is beneficial to the shipyard, but to Coast Guard personnel.
"Those crews spend plenty of time away from home on their actual mission, so to take them away from home also when the ships are being serviced is really an imposition on them and their families. Coast Guard folks in the operating side of the Coast Guard understand the benefit of keeping this work closer to home."
Beck says other opportunities include a financing package that would be funded by AIDEA to help seasonal boat operators who don't have cash flow coming in during the off-season. Because AIDEA owns the Ketchikan shipyard, Beck says the loan would require work be completed here. He estimates this could bring $5 million to $7 million per year.
Other opportunities include non-marine fabrication. Mackie says they are working to identify projects in Alaska that the Ketchikan shipyard is qualified to do, but has never explored. Mackie says they believe the new opportunities in this area will emerge over the next few years.