As Team Ketchikan Yacht Club crossed the finish line Tuesday, they became the ninth team to successfully complete the 2019 Race to Alaska.
It took the local team about five and a half days to finish the 750-mile boat race from Port Townsend, Washington, to Ketchikan. They came into Thomas Basin in a typical Ketchikan downpour, and were greeted by local fans. They also were greeted by hugs and back-slaps from Team Dazed and Confused, which arrived just minutes before.
After ringing the finish-line bell, team Captain Mackenzie Dahl said the two teams had been chasing each other for most of the race.
" It was pretty crazy. It was a race up right up until the end," he said.
Living up to their team name, Dazed and Confused got a little confused and headed up the back side of Pennock Island. Dahl says when Team Ketchikan saw that, they were excited, thinking they'd definitely arrive ahead of their closest competitor.
But, the move worked in Dazed and Confused's favor. They arrived almost exactly five minutes ahead of Team Ketchikan.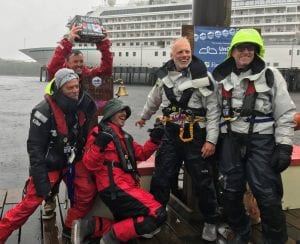 Other members of the local team were Mike Firari of Ketchikan and former Ketchikan resident Brian Lieb, now of Juneau. They sailed up the coast in Kermit, a Santa Cruz 27 monohull built in 1978.
Lieb described one moment on the final day of their race. They were hit by a big wave – he estimated 15 feet.
"It was breaking and it just knocked us down," he said. "We had the jib pulled out. It broke where the spinnaker pole attaches – the track. Broke that. And maybe bent the boom."
That was just a few of the things they broke. But, they made it in.
The first place team was Team Angry Beaver, which came in on Monday and won the $10,000 prize. The second-place team, Pear Shaped Racing, won a set of steak knives.