Mega cruise ships are defined by their size, measuring around 1,000 feet or more. The Royal Princess is 1,083 feet and the Celebrity Eclipse is 1,041 feet. Both ships had their inaugural visits this month.
City of Ketchikan Mayor Bob Sivertsen and Borough Mayor David Landis welcomed the Royal Princess with a plaque. Mayor Landis read a quote from George William Curtis, a contemporary of Abraham Lincoln.
"It is not the ship so much, as the skillful sailing that assures the prosperous voyage," said Landis.
Captain Tony Draper addressed the float plane accident that occurred in May, when six people died. Some were Royal Princess passengers.
"I'd like to thank the community as well for their support following the incident we had on the first cruise up here. Obviously we feel for the community here, and reciprocal for us as well," said Draper.
Princess cruise lines has come to Alaska for 50 years. The Royal Princess started sailing in 2013 as the first and biggest royal class ship. According to Captain Draper, there are over 3,500 guests and 1,350 crew members.
The ship was christened by Kate Middleton, Duchess of Cambridge, who Captain Draper referred to as the godmother of the ship. Aboard the ship is the original bell from the original Royal Princess.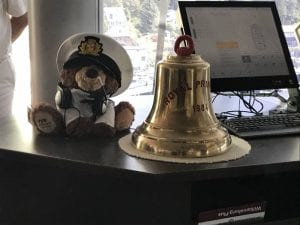 For the new Royal Princess passengers, Draper says they buy fresh local seafood, such as halibut and oysters, in Ketchikan. He says they will be purchasing local salmon once the season begins.
A tour of the ship included views of the sea walk, a see-through walkway that allows guests to look down onto the water. In the evenings, there is a watercolor show on the outside deck. There is also an outdoor theater, which livestreams events such as the Super Bowl.
The Royal Princess will be returning every other Thursday until the middle of September, and will return to Ketchikan for the 2020 cruise season.
The Celebrity Eclipse is also traveling to Ketchikan in its first season in Alaska. The Greek ship can hold 2,850 passengers.
Tanja Scholz is event coordinator. She gave a tour to show the unique dining experiences. The ship includes fine dining and drinking such as molecular cocktails, a wine bar, and a martini bar—or ice bar—which includes countertops made of ice. Entertainment and shopping is located at the front of the ship and restaurants are toward the back.
There's also a virtual dining experience. Guests have the opportunity to watch holograms appear on their plate, showing how their food is prepared. After each preparation is finished, food is served, and the hologram display is repeated for each course.
The luxury suites like the Infinity Verandas include grand entrances. According to Scholz, Celebrity is the only cruise line to have special windows.
"There's a button that you press, and instead of walking out (on) your balcony, basically the room opens the windows, and then you have an open space," said Scholz.
Scholz says they try to keep amenities similar on all Celebrity ships so guests are familiar with offerings on any ship, regardless of the travel route. But she says the Celebrity Eclipse is notable for its hospitality.
"Well we would hope that on every ship it's you know, that the crew enjoys working," said Scholz. "But feedback from guests, they always say crew members are happy here, always smiling. So I think that's a good thing. That's a positive thing."
They also accommodate those with special needs. The ship advertises as Autism friendly, and provides services to people who need assistance, and families.
"We have the youth staff as well who are, how do you say, qualified, who can handle or take care," said Scholz. "Parents leave their kids in the fun factory, then they know how to handle and just be with them. They can come on board and feel like any other kid."
Celebrity Eclipse will return to Ketchikan every Thursday until September.