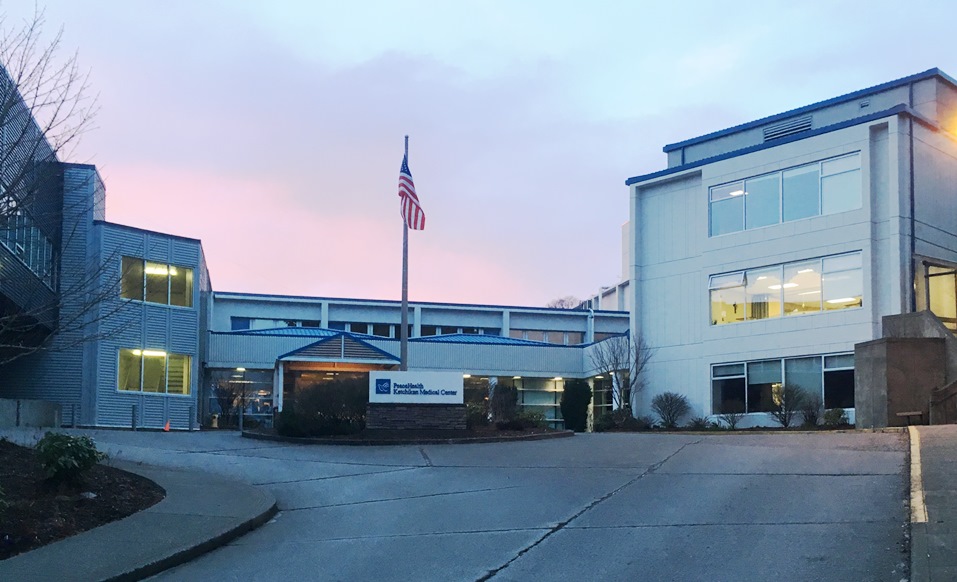 A public forum to discuss what the community of Ketchikan hopes to see in its local hospital attracted about 100 residents. Eighteen people spoke during the Thursday evening event about their experiences with PeaceHealth Ketchikan Medical Center – some good, some bad.
PeaceHealth has provided medical service continuously in Ketchikan since before it ever became PeaceHealth.
The Sisters of St. Joseph of Peace opened a small hospital here in 1922. From that order of nuns, PeaceHealth formed, and managed the City of Ketchikan's hospital on Bawden Street, then later the hospital on Tongass Avenue, built in 1963.
In recent years, there has been growing concern about PeaceHealth – mostly about billing, but some complaints about service, too. So, with the current lease expiring in 2023, city officials hired ECG Management Consultants to help negotiate a new agreement. The firm's task includes reviewing the current lease, and recommending changes.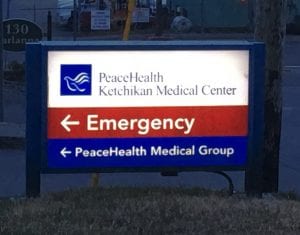 An ECG team attended the public forum to gather input and suggestions.
"We need to understand the good things, bad things opportunities, issues, all of that, going into developing this negotiations strategy," said Kevin Kennedy, one of the project team members.
He said the process will include collecting data, engaging the community through forums, email and direct interviews; and then analyzing all the information. After that, he said, the team will work with the city and PeaceHealth on a new contract.
He said continuing with PeaceHealth as the manager for the city-owned hospital is the preferred outcome.
"If that were to not occur, certainly then there would be the nuclear option, which would be to issue an RFP for potential operators to operate the hospital," he said. "But that is not something that we are pursuing as an eventuality, rather it's something that will happen if there is an impasse going forward, which we do not anticipate."
The review phase of the project will last through September. That's when the city and PeaceHealth can start negotiations. Kennedy noted that the current lease agreement is essentially unchanged from one that was signed in 1981, so it's due for an update.
Concerns expressed by audience members included the ability of PeaceHealth to attract and retain enough qualified staff, ADA accessibility at the hospital, the high cost of local service, a confusing billing system, and delays getting primary care appointments – sometimes up to two months.
Ardis Benson said she called the PeaceHealth clinic for an appointment, and was told it would take eight weeks.
"The next time I called, it was about two months later and I wasn't feeling well, and the appointment was six weeks out. I was told if it was an emergency, go to the emergency room," she said. "Well, it wasn't an emergency. I didn't feel good, I was sick and needed to be seen by a doctor. Not an emergency doctor. That is not any care at all, as far as I'm concerned."
Sherry Bush said some kind of urgent-care facility would allow people with minor ailments get treated without requiring an appointment or an expensive trip to the ER.
"Like a doc-in-a-box clinic here, to take care of people that have last-minute emergencies or things that need to go to a clinic, but there's no room in the clinic because all the slots are filled and they can't take a lady that might have a bladder infection, or guys that come in after fishing and they've had hooks put in, and need to be seen and get antibiotics and things like that," she said.
One audience member suggested the City of Ketchikan take over management of the hospital. Another suggested that a detox center would alleviate pressure on Emergency Room staff. Others simply wanted additional staff members to reduce wait times for appointments.
While there were plenty of concerns about PeaceHealth, there also was praise. Many of the speakers said the staff at Ketchikan's hospital works hard to provide quality care.
Jeremy Bynum said that, for a small community on an island, Ketchikan is fortunate to have a hospital that can respond to emergency needs. He mentioned a few friends who had accidents and were cared for locally, and then referenced the May 13 floatplane accident.
Six people died in that mid-air collision, and 10 survived. The survivors were brought to the local hospital.
"This community experienced a tragedy just weeks ago," he said. "This community came together, and the hospital was on standby and treated those patients with trauma-level care… That's the kind of care we need in a hospital with a community of 10,000 people."
Bynum said there are multitudes of positive outcomes at Ketchikan's hospital, but those patients are less likely to get up to speak.
Consultants with ECG will return to Ketchikan for another public forum before completing the first phase of the lease renewal project. A date has not yet been chosen.