On Thursday, the U. S. Coast Guard Ketchikan Base hosted a change of command ceremony. After serving for 25 years, Commanding Officer Ashley Holt has retired.
In 1994, Holt began his career at the Cape May boot camp training center in New Jersey. After hearing about the coast guard from some friends in Indiana, he decided to join.
"A couple (of) friends found out about it," said Holt. "They joined and they said, 'You've gotta do this. We get to—we get to do a lot of things at a junior level that the other armed services can't.' And that appealed to me and I decided to join up."
Rear Admiral Melvin W. Bouboulis is Director of Operational Logistics. According to Bouboulis, Holt's crew intercepted over 11 tons of cocaine and 563 migrants from five vessels on a cutter in Warrington, California. Holt was also first to lead coast guard cutter Steadfast to stop a self-propelled, semisubmersible drug smuggling vessel named Bigfoot. This resulted in the confiscation of over 4 tons of cocaine and a combined court sentence exceeding 60 years for four people.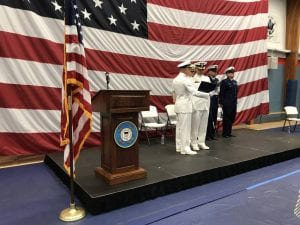 For the past three years, Holt was in charge of 134 active duty and reserve civilian personnel in Base Ketchikan. While serving at the 17th district, he led the industrial production facility, which became the first certified coast guard facility to complete warranty repairs on fast response cutters. Under his leadership, Ketchikan was the first west coast maintenance augmentation team for FRC support, and the first full sized mat in Alaska. Though Holt says his accomplishments aren't what he will remember most.
"Even though I can get fired up trying to earn trophies on our online cyber training, when I think back about my career, those aren't the things that jump to the front of my mind. It's the quality people that have been a privilege to serve with," said Holt.
He thanked his family, Ketchikan Rotary Club, church members, and his mentors. Holt repeated advice from his mentor, retired Lieutenant Chuck Seyfried.
"I still repeat many of his sayings, and the crew's probably heard them," said Holt. "Keep your corner of the world as clean as possible and don't worry about the things you can't control. Teach your crew everything you know because someday they will be you."
Holt was presented with a shadow box that reflected his accomplishments. He also passed on his own advice based on lessons he's learned. Here is one of his suggestions.
"Life is short and your career is even shorter," said Holt. "Give your best every day. What you do as a coast guardsman is very important. Do it well, always. We owe our best to the American citizens we are privileged to serve."
Holt will become a camp caretaker at the Spring Mill Bible Camp that he grew up attending in Mitchell, Indiana. He is relieved by Commander Arthur M. Dehnz. Commander Dehnz says he's honored to become commanding officer of the Ketchikan base.
"I never thought I would be here in my career, but I'm very excited about this opportunity," said Dehnz. "We have a great crew of men and women here who deliver mission support to coast guard throughout Southeast Alaska, so (I'm) just really looking forward to working with them, and getting to know the community and be here in Ketchikan."