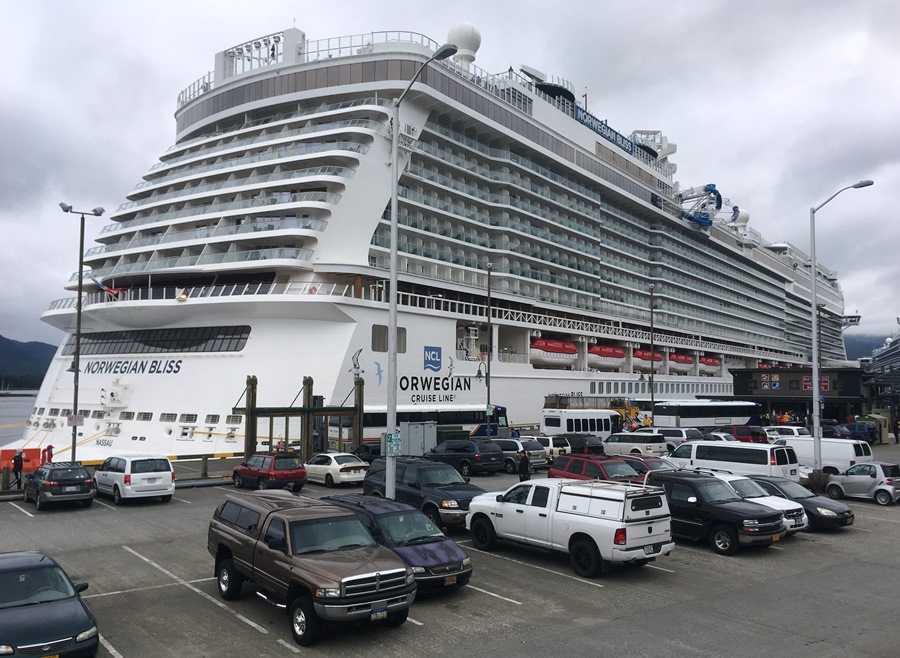 There was a nearly full house at Tuesday's public forum on the future of tourism in Ketchikan. The city-led event offered citizens the opportunity to present their concerns and ideas about the community's ever-growing tourism industry.
Cruise ships are getting bigger, and for most of them, that means they're carrying more people. For Ketchikan, that growth in passenger numbers means an estimated 1.2 million cruise passengers this season for a community of about 13,000 people.
On certain days of the week, local residents are outnumbered by cruise passengers. Many of those visitors flood the streets each day, shopping, sightseeing, taking photos and often ignoring traffic. Add in major road construction next to the port, and, frankly, locals are avoiding their own downtown whenever possible.
So, a recurring theme from the public forum on port development was "enough is enough."
"Do we want more ships? Do we want more people? Are they coming whether we like it or not? I just have all these questions, and I don't know where the answers lie," said Spring Barry, who added that too much tourism affects the quality of life for those who live here. "Personally as a resident, I don't go downtown. I really want to, but even with 1.2 million people, it's too much for how I feel. When do we figure out is there going to be a cap? Is it going to be 1.7 (million)? 1.9 (million)? What does 2030 look like?"
The city has been moving forward with plans to reconfigure the port, so that more of the bigger ships can dock downtown. The estimated cost for the city to take on that project is up to $150 million, so the city is looking into partnering with private industry.
City Mayor Bob Sivertsen told those at the forum that such a partnership with a cruise line, for example, could give that company preferential berthing at the reconfigured dock.
But, he said, the city won't know what kind of interest is out there until it puts out a request for proposals.
"In private business, they're able to say, 'Yeah, we want to partner with NCL. We want to hire this contractor to do the work.' With the city, we have to go through the public process of an RFP," he said. "That's our next step. And we want to know what's out there, what's offered. But we have to come up with some kind of a tentative design to what we're going to do, and we want to make sure that it is public and open."
A private-business partnership recently was announced by Ward Cove Group, based at the former Ketchikan Pulp Co. site at Ward Cove. They are moving forward with plans for a two-berth dock in the cove, in partnership with Norwegian Cruise Lines and the Fairbanks-based tourism company Godspeed, Inc.
That project is outside of city limits, so the City of Ketchikan doesn't have jurisdiction over its development. But, many local residents addressed those plans during the forum. Some supported the idea as a way to shift some tourism out of downtown. Others, though, were concerned about the environmental impacts.
Wayne Weihing gave some background about the site. He said waste from the mill had built up on the bottom of the cove. It was mitigated, but Weihing said the clean-up was minimal.
"There was a sand cap put in to cover some of the material, not all of Ward Cove. The latest estimates at that time was 18,000 sunken logs in Ward Cove, which degrades the oxygen," he said. "So, any development in Ward Cove is extremely problematic, not only from a water-body content, but a public health issue."
The concern is that development and cruise ship activity would disturb the sand cap. Ward Cove Group is going through the permitting process, with the goal of having the dock in place by next cruise season.
Even those speakers who didn't want to limit tourism acknowledged the need to manage congestion. Deborah Hayden suggested that the community explore options for spreading out.
"We keep talking about a cap because we're all scrunched up and our elbows are hitting our ribs," she said. "Well, we can put (the ships) in other places."
Hayden said docks can be built on the north or south ends, or on Gravina Island. She suggests that officials reach out to other cruise destinations for ideas on how to expand without adding more congestion in the city.
Katie Posey, though, said Ketchikan should focus on "better" rather than "more."
"We need to be a destination that's exclusive so that people want to come here and they pay more money to come here, instead of the Wal-Mart mentality where we try to fit as many millions in as we can," she said.
The Ketchikan Gateway Borough is kicking off a planning effort for managing tourism into the future. Planning Director Richard Harney said the idea is to look at the community as a whole.
"This endeavor, this tourism strategy, is to be that vision, to be that strategy for all the businesses as well as the industry and the residents," he said. "To have an expectation. That way, they can know what to expect as we move forward with this tourism industry."
And to do that well, he said, the borough needs community input
The input from many attending the public forum is: Consider local residents' needs before the needs of cruise visitors.
The city is hosting another public meeting on port development on July 10, also at the Ted Ferry Civic Center. That meeting will include representatives from consulting firm Bermello, Ajamil and Partners.