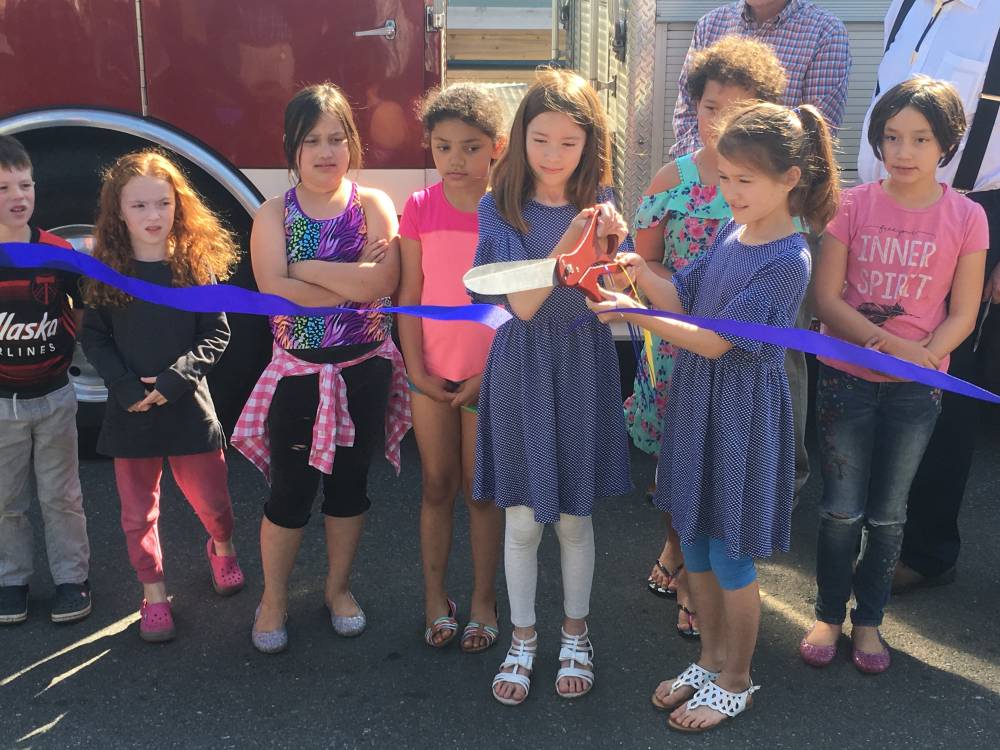 After about three years of roadwork, residents of Ketchikan's Upper Water Street can drive home on a new, open roadway.
A ribbon-cutting ceremony on Friday celebrated the end of the reconstruction project, which involved a complicated rebuild of the trestle structure holding the road up against a rocky cliff.
A "Road Closed" sign has been part of the Water Street décor since 2016. It was still up during the ceremony, but only for a short time while local and state officials toured the finished project.
"It's almost 1,000 feet long. It's 900 feet and change. And it's on really challenging terrain," said Chuck Tripp, design manager for the project. "It's a residential neighborhood, people are going to be living next to this project throughout the entire time of construction. How are you going to build it?"
Some of those residents didn't live there the whole time. Their houses were too close to the street, and maintaining access would have been nearly impossible. So, a handful of families moved out into rental homes – at the state's expense – for a portion of the three years.
Parts of the old trestle were rebuilt. Another part was filled and now is held up with a retaining wall. They also shifted the street lights, moved power lines around, installed new water and sewer lines, and replaced some of the drainage systems.
Tripp had an interesting term for how rain runoff was managed previously.
"(A) lot of what I would say wild and feral drainage paths we had to capture and get it to the downhill side in a responsible manner," he said.
Catherine Wilkins is the project manager for the Water Street rebuild. During a tour of the street, she pointed out some expansion joints. Wilkins said those allow the street to shift if the ground becomes unstable, maintaining the streets integrity.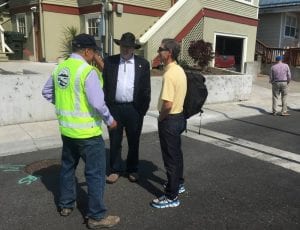 "It doesn't matter. If there's an earthquake during a tsunami and a full moon, this trestle isn't going anywhere, she said. "It's really solid."
One point made repeatedly was how few complaints the project generated. Wilkins credited the contractor, Dawson Construction, for working closely with residents throughout the three years.
"Many a day, (they get) a call first thing in the morning. 'My water line froze again.' 'I'll be right over ma'am.' 'The garbage truck can't get through.' 'I'll be right over ma'am.' That sort of thing," she said.
Groceries have been hauled," added Scott Eastwood, project superintendent. He literally lived on Water Street during the project, above the office in a small house they rented.
The ribbon-cutting ceremony featured a lineup of officials, followed by cake. One of the speakers was DOT Commissioner John MacKinnon.
MacKinnon has been DOT commissioner for less than a year, so he gave all the credit to others who worked to plan and execute the project.
"It's not always the case that project turn out successful. But everyone involved in this project worked together," he said. "The goal was to get it done, get it done within a reasonable budget and get it done on time."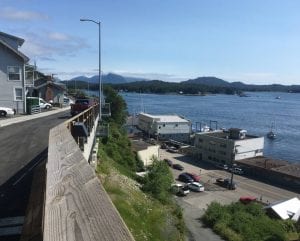 State and local elected officials also spoke, and each commended the Dawson crew and others involved in the project. Kendall Nielsen of Dawson told the small audience that their bid for the job was about $4 million less than the next lowest bid.
"On a complicated hard job like this, when you're 20 percent low, there's generally two reasons: You forgot something, or you had a better solution," he said.
Nielsen said they knew they didn't forget anything. He said Dawson has a long history with the Water Street trestle. That company worked on it back in the 1970s.
"That project at the time was led by longtime Dawson superintendent Jack Hovde and our founder Jack Dawson," he said. "This project, this round, this iteration was led by Gary Hovde and Pete Dawson, who continue to carry forward the legacy of their fathers."
Nielsen said that history and intricate knowledge is what allowed them to come up with creative cost-saving solutions.
The ribbon cutting itself involved some children who live in the neighborhood. Local officials held the ribbon while the kids wielded the large pair of scissors.
DOT is going to do it all again, by the way, with another, shorter section of Water Street and the Gorge-Sayles trestle, one street level above Water. That project won't start for at least two years, though, so residents will have a little break.