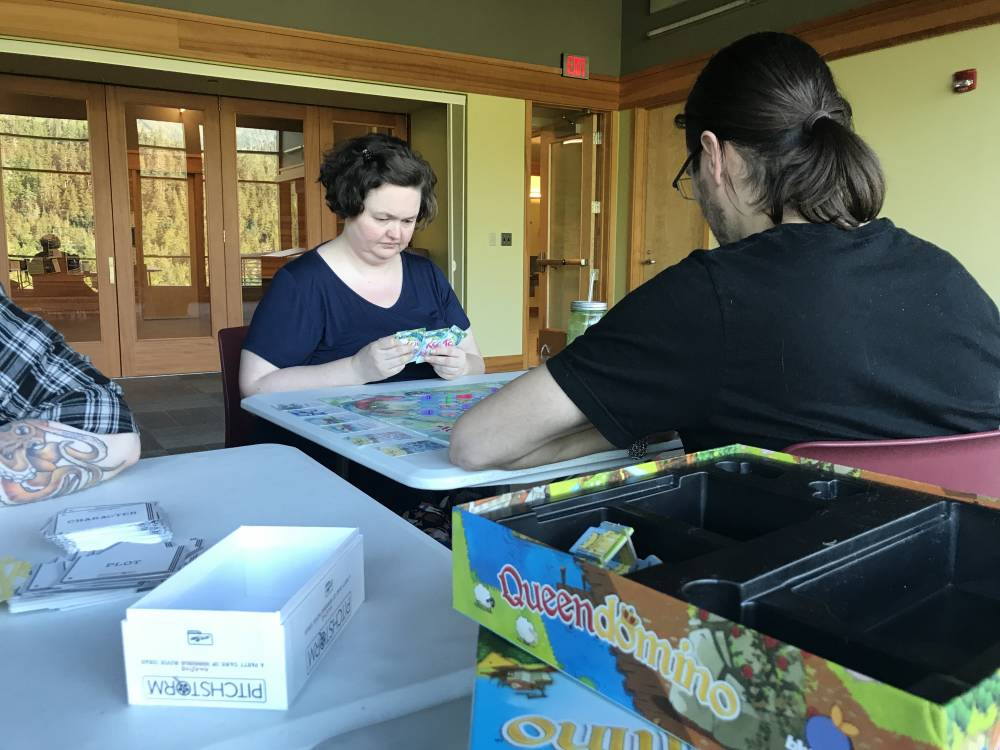 Pride month is over, but events for Ketchikan's LGBTQ community are still ongoing—for now.
Dawn Schlosser has lived in Ketchikan for a total of 16 years. She's been married to her husband for 18 years, but recently came out as a lesbian.
"I had been living in this life for 30-some years and I was resistant to change and resistant to accepting myself or how much change I actually needed," said Schlosser. "I was afraid to rock the boat, especially where my family was concerned."
For her, she said the two and a half year process of coming out was long and agonizing.
"Part of that is that I came out very late in life. And we are still best friends, we are still family even though I am finally comfortable with myself and able to accept that that is definitely not what I wanted out of that relationship," Schlosser said.
Since coming out, Schlosser has run Ketchikan Pride events for three years and has been a member of groups like Transgendered Ketchikan, which hasn't been as active lately. She said there have always been informal Facebook groups or message boards for the LGBTQ community, but there hasn't been a formal organization. In response, she decided to form Ketchikan Pride Alliance: an all-inclusive group for members of the LGBTQ community and their allies.
"I wanted the community to have a sustainable resource for underserved humans—the LGBTQIA plus population," Schlosser said. "We don't currently have any other place to go for help or information or community even, and it can be very hard to find each other here where many people are very highly closeted."
Created a year ago, Schlosser said the group has participated in outreach to increase positive visibility by providing children's crafts at the Winter Arts Fair, hosting a Pride festival, and monthly events. As a boardgame enthusiast, Schlosser said she also wanted a visible re-occurring event that was accessible to all ages in the LGBTQ community and allies. Over the past year, she and two other KPA members have hosted Ga(y)me Night at the Ketchikan Public Library.
"So I thought it was an easy way to create a bonding situation that was open for talk but didn't require talk," said Schlosser. "It doesn't require anyone opening up or talking about themselves in order for them to experience a safe place and experience others that they know can at least somewhat identify, or others that they know [who] aren't going to reject them."
Due to the limited success of previous LGBTQ groups in Ketchikan, Schlosser has taken on the goal of providing community support.
"I believe I am privileged above some of my peers in town because I don't rent so there's no landlord to kick me out if I'm out," said Schlosser. "I don't work for anyone but myself so there's no one to fire me if I'm out. I have security."
She said she knows people who are closeted at their jobs for fear of being fired, and don't have the ability to openly be themselves in public.
"I know of one individual that has definitely had problems with their work place trying to repress their expression and being very like, wanting to take disciplinary actions," said Schlosser. "I don't know exactly how that actually ended. I know that that person doesn't work at that place anymore. I don't know why."
Maintaining local support is going to become challenging soon. A minimum of three committed residents with addresses in Alaska are needed to form an official nonprofit. Schlosser said it's been difficult to achieve consistently because the level of volunteerism involved is something a lot of people are afraid to take on.
"I do know several LGBTQIA individuals who have left the community for places where they feel more welcomed or feel that there are more people like them or that they can be more safely visible," said Schlosser. "I will be one of them. I will be leaving the community and that is actually one of my main reasons."
Two years ago, Schlosser was sexually assaulted at a bar. Schlosser said this incident and her difficulty finding dates are reasons why she's moving to Portland, Oregon.
"Compared to here it sounds like les-topia to me and that's where I'm goin,'" Schlosser said.
But despite her enthusiasm, she is concerned about the future of KPA. After July, she doesn't know if anyone will be available to continue the group, which includes hosting game nights.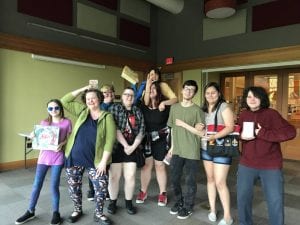 "I would love to hand off the torch to someone who is as secure and as out as I am, but it's hard to find," said Schlosser.
Schlosser said she will try to help things long distance for as long as she can, but she hopes the city will be supportive.
"The more the community accepts that things are happening, the easier coming out and functioning becomes overtime," said Schlosser. "And if I leave and that stops, I am depressed at the thought of what that means for the future of the community here because there will always be queer people in Ketchikan—we're like 10% of the population at least. There are going to be queer people in Ketchikan and they are going to need resources, and unless someone steps in, they're not going to have them."
KPA's next Ga(y)me night is July 23 at the Ketchikan Public Library.