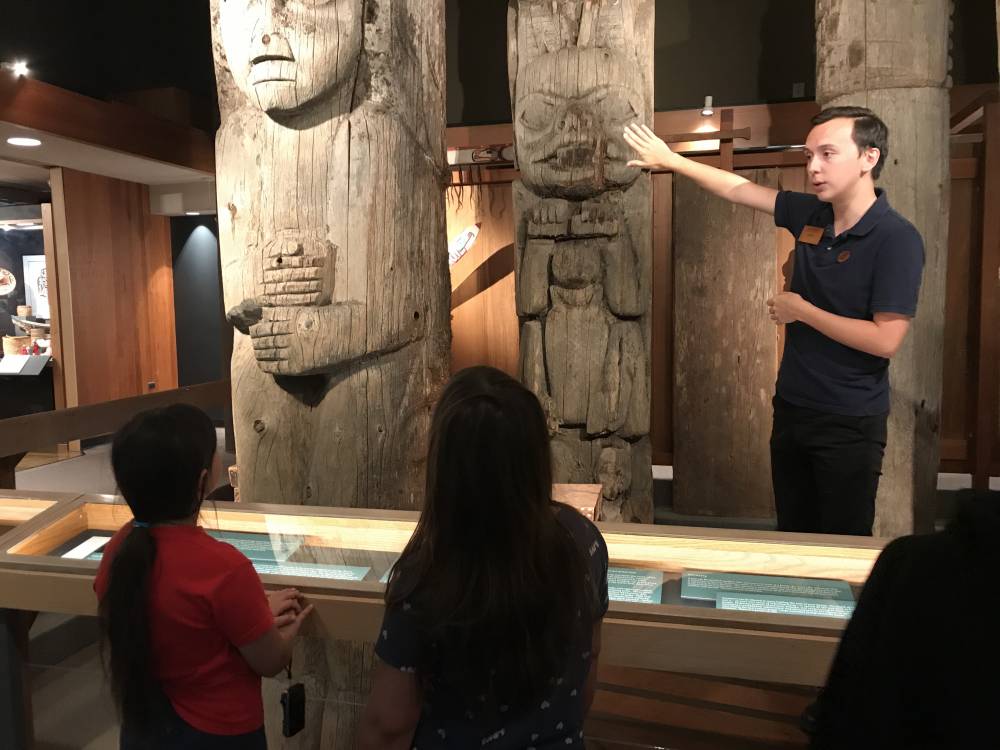 Ketchikan student Brandon Castle is this year's recipient of the annual Tongass Historical Society's Patricia Roppel scholarship.
Through the Tongass Historical Society, the annual Patricia Roppel Scholarship provides $5,000 to a student majoring in the history of Alaska at the undergraduate or graduate level. Tongass Historical Society member Rosie Roppel said this year's recipient was a great candidate for the scholarship created in memory of her sister-in-law.
"He has great grades, he has great momentum in the direction he's moving, and I was absolutely thrilled when I found out," Roppel said. "When we looked at all the scholarships, we didn't even look at the names and he just popped to the top. He was fabulous and I was thrilled to know that he got that."
Brandon Castle is a tour guide at the Totem Heritage Center in Ketchikan, with a bachelor's degree in Anthropology from Fort Lewis College in Darango, Colorado. He was initially a political science major, but switched his degree after his first summer working at the Heritage Center. He said he initially started the position as a fun summer job, but eventually realized his potential to connect with his own Alaska Native heritage and educate the public. 
"I had gone to the Heritage Center like maybe once before in like fifth grade, so I was kinda disconnected from the purpose of it being in the community," said Castle. "It was just the totem pole museum. But I think when I came back and started working here, I really saw just the amount of work they do for the community."
Castle said he's excited to help museums become a space in the community where people can learn and connect with each other.
"Different larger museums collected Native culture, stole Native culture, in really unethical and really racist ways," he said. "Associated people with—misinterpreting things. So I think that museums though, should recognize that history, but should also really work to be better."
Castle was recently accepted into the University of Washington's Museology Graduate program, which focuses on making stronger communities though museum work and heritage preservation. He plans to focus his research on cultural preservation and revitalization efforts. Castle said he's motivated to continue his studies because he believes museums can do a lot for a community.
"I'm excited to be in that program, to have the resources to be able to really pursue that goal of how can we strengthen our community, how can we really give space and voice to different underrepresented voices," Castle said.
He said connecting to indigenous languages opens the door for a different framework of cultural thinking. While in the program, Castle plans to learn the Tsimshian language. Groups have recently made strides to revitalize the language and incorporate it into everyday life. He said his grandmother spoke the language, but didn't teach it to her children.
"A few decades ago, it was something that people weren't interested in," said Castle. "At different points of history, it was illegal to speak indigenous languages. So to have the opportunity as a student, as someone who grew up here, I think to be able—to want to be able to speak the language—that's something that I see as vital for moving forward with museums."
He said he wants to incorporate his indigenous language into his work, as well as speak the language to more people in the future. Castle said he's open to all opportunities, but he would like to continue working in Alaska after he finishes the two-year program. He said it's incredible to be supported in the next step in his career, and validating to be recognized by his home community.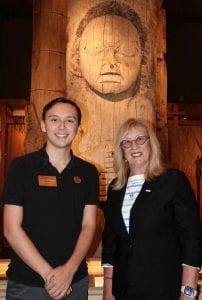 "To know that there's validation, to know that there's people cheering me on, it's definitely a really great feeling," said Castle. "It makes me even more eager and driven to really kind of see that mission out of really coming back home and helping with this kind of stuff."
Roppel said she and her family are glad they can help provide the scholarship.
"I'm really happy that people have applied for this and I'm so happy that Pat Roppel gets to continue educating students into the future even though she's gone. It makes me feel great that she's still here," said Roppel.
Castle will move to Washington in September.