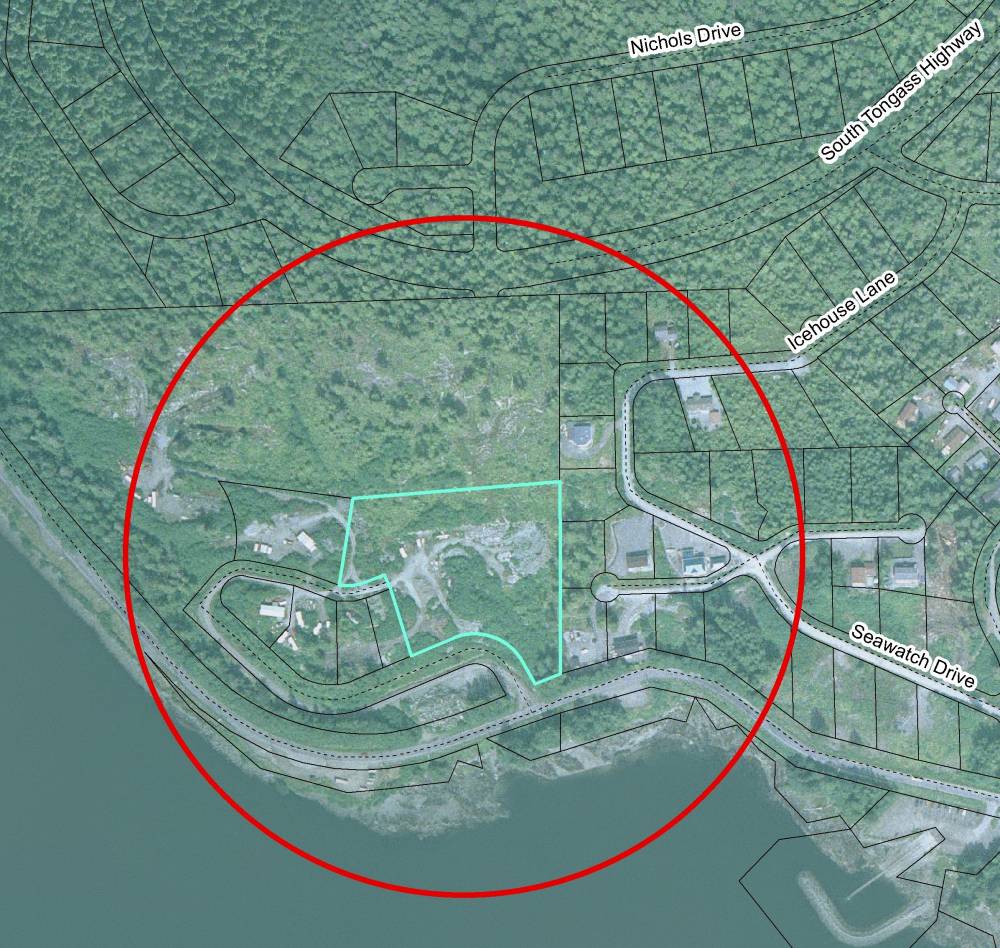 A proposed development of small homes and townhouses near Mountain Point is one step closer to becoming a reality. Monday night, the Ketchikan Gateway Borough Assembly approved introducing an ordinance that would allow rezoning of the 5-acre site. The residential development zone would be the first of its kind in Ketchikan.
The area on Surprise Beach Court is zoned high-density. The proposal is for construction of seven townhouses on the north end of the property, and 13 small homes on the southern lot.
Planning Director Richard Harney says current code does not allow the flexibility for what is proposed – narrow, smaller lots.
The Planned Unit Development, or PUD, he explained, is a type of zoning for a specific area that allows for more flexibility.
"It's different. It's not our standard going from general commercial to light or heavy industrial, or from medium-density residential to low-density residential. Basically they get to create their own ordinance, their own zoning categories, their own zoning map, when they first start out."
Harney says that initial process would be approved by the assembly. Amendments would be reviewed by the planning commission or borough staff and in some cases would come back to the assembly.
Developer Harlon Heaton testified that he was driven, in part, by a recent study that showed Ketchikan needs more housing, and about presentations on tiny homes. He says his concept is single units on small lots.
"The initial concept is 500 square feet. That'll give you a nice-sized living room, kitchen, one bathroom and one bedroom. My hope is that I'm going to either have them built or control how they get built."
Heaton gave details on the proposed designs of the smaller and larger units. He says the cost for the smaller homes would be between $200,000 and $250,000 with the larger units expected to sell for about $250,000. Heaton says he plans to build the development in phases.
Assembly member Rodney Dial applauded Heaton's efforts.
"Having seen what you've gone through for the last couple of years, to try to get a development going, I genuinely appreciate the fact that you didn't give up and that you're trying to get some housing on the market. Because this looks like affordable housing, and I think this is exactly what we need, so thank you."
The ordinance will be brought back for public comment next month and a second reading at the next Borough Assembly meeting.
Also Monday, Borough Finance Director Cynna Gubatayao made a presentation on the self-insurance plan used by the borough and Ketchikan School District which provides health insurance to their employees. Gubatayao says both groups maintain separate accounts. She provided information on how the funds are managed and the status of contributions and expenditures. The presentation was informational only, and no action was taken.
The assembly also approved $50,000 for an athletic field study.
It also approved a joint resolution with the City of Ketchikan, urging the State of Alaska to raise the legal age to buy tobacco products from 19 to 21.
Assembly members Judith McQuerry and Sven Westergard were absent from the meeting. The next regular meeting of the Ketchikan Gateway Borough Assembly is August 5th.