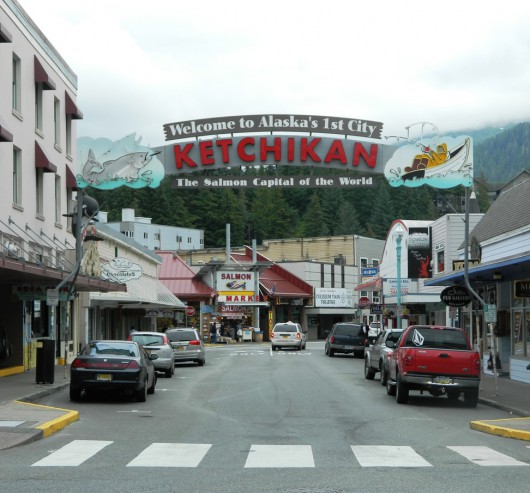 The Ketchikan City Council recently met to discuss options for its downtown port facilities and how to balance the interests of cruise lines with those of year-round residents.
Much of July 24's discussion focused on a draft proposal presented by Council Member Mark Flora. His vision would invest in port development, and Ketchikan's community and infrastructure.
There have been discussions about entering into a partnership with private investors, and Mayor Bob Sivertsen says he's concerned about entering into any agreement that expects a private partner to fix all of the city's problems.
Sivertsen suggested the council narrow its perspective.
"Because I think if we keep it as broad as it is, it's going to be harder and harder for us to come to a decision. I think it's all driven by expanding the port and are meeting the needs of the cruise lines. I think that should be our first bite."
But Flora disagreed.
"Our constituents are not the cruise lines. I don't think this is overly broad based. You can boil this down to three basic topics – the expansion of the port itself, the uplands development in regards to support of expanded tourism, and item 3 – the reason that I asked for this meeting – the rest of the town."
He says seven out of 10 people testifying at two public forums expressed concerns about the condition of the town due to cruise ship impacts. Flora says the needs of the town should be considered, not just the needs of the cruise ship industry.
Another item in Flora's proposal is to fully fund a fiber-optic cable connecting Ketchikan to Prince Rupert, British Columbia. Council member Dave Kiffer agreed there's not enough bandwidth to handle the demand when thousands of passengers and crew are in port and want to get online.
Along with infrastructure improvements, other items in Flora's proposal to benefit the community include funding for first responders, public radio, including KRBD, the arts and other grants.
Council member Sam Bergeron says some of his constituents have told him they don't want a multi-billion-dollar multi-national corporation running the docks. He says the city should take on the project itself.
"And I'm convinced that we could build out Berth 1, do all the things that we want to do, and do it within our own fees and just do it ourselves. We retain ownership. Add another fee (that) we could add on to things like sewer lines, internet, things like that. So that's where I hope this thing goes."
Bergeron suggested the city do its own budgeting and analysis before deciding whether to partner with a private entity.
Council member Lew Williams III says he would like to see a RFP that includes dock building, uplands development and community needs, along with a do-it-ourselves option.
The Ketchikan City Council is slated to meet with its consultants on August 6 to discuss crafting a request for proposals from private industry to develop its port facilities.
And on August 15, the council will hear a presentation from Survey Point Holdings, Ltd., owner of Berth 4, on potential upgrades and expansion.