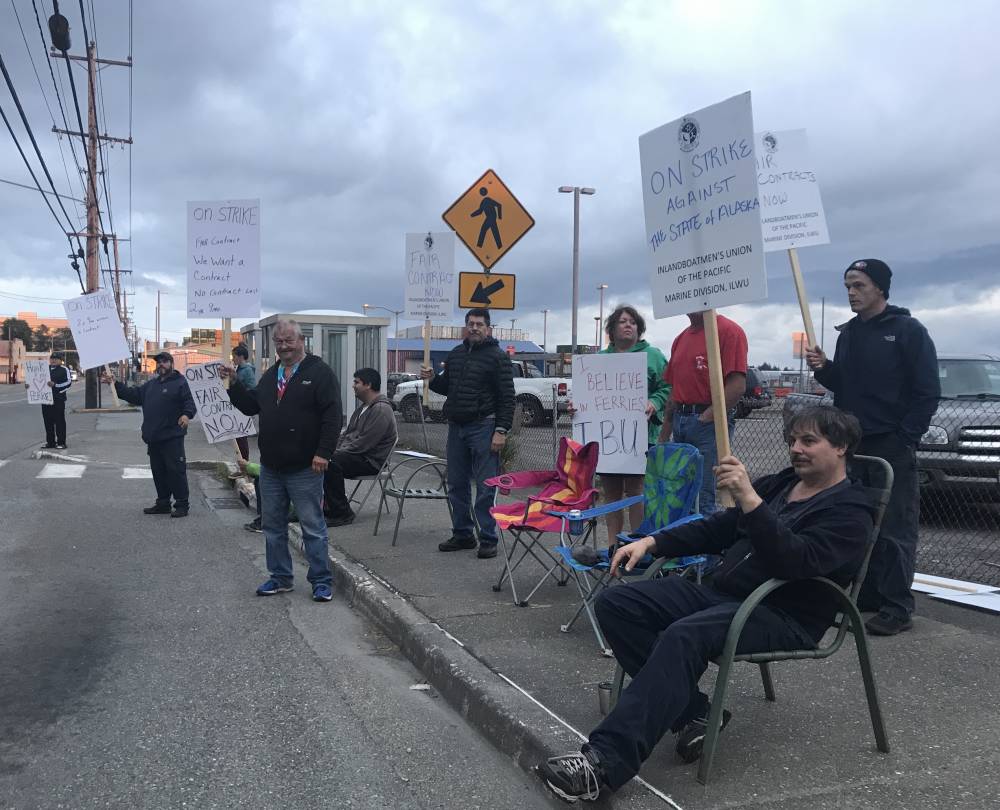 The state's ferry system abruptly shut down Wednesday. Canceled sailings left hundreds of stranded passengers.
As the first day of the ferry strike turned into night, many passengers who were supposed to sail to Bellingham, Washington on the ferry Colombia are preparing to spend the night on board. 
This vessel isn't going anywhere. For now… they'll have to make other arrangements if they want to leave the island.
Melissa is among more than 50 passengers who are stranded. But this latest hiccup is nothing compared to what she's already dealing with.
"We came to Alaska because it's my husband's paternity leave," said Melissa. "Unfortunately, our baby died of SIDS along the way. This ferry section has been booked for months, it seemed like the most efficient way to get home."
She has asked to just use her first name because of privacy concerns.
"We're stuck on an island and I feel like I can't breathe because all I want to do is be home and mourn the loss of my son," said Melissa. "And I'm stuck here because these people decided that on the public highway system—that's supposed to be reliable—that nobody else matters besides their 9% raise and their free coffee."
You can hear her anger. The Inlandboatmen's Union of the Pacific called the strike over a number of issues—including pay. After wages had been frozen for the past three years, they'd asked for 3 percent annual increases over the next three years.
At this point she's given up on the ferry to get her family home to Nevada.
"So we're in the process of trying to ship all of our vehicles home on a cargo and get airline flights out of here for five people plus a dog," said Melissa. "And my son's remains. That's how it's impacted us."
They'll have to fly back to Washington to get their vehicles.
Krissel Calibo is a junior engineer on the Columbia and an officer with the striking IBU union. She says she hope ferry riders understand this wasn't easy to do.
"You know, a lot of us are scared," she said. "We don't want the public to feel like we've let them down."
She says they've been negotiating with the state for two years and nine months for a new contract..
"We've been handing them proposals back and forth," said Calibo. "We've been cooperative, we've been compromising, but, the state won't concede on some of their conditions."
This year, Alaska Governor Mike Dunleavy proposed eliminating 75 percent of the ferry's budget — effectively shutting it down in October. A legislative compromise ended up cutting $44 million from the system with drastically reduced service. Calibo says these cuts hit ferry workers hard.
"So I think a lot of them feel like we have nothing to lose," Calibo said.
For years these disputes over contracts and working conditions have been a world away for most ferry passengers. But the strike sweeps everyone up in its orbit. Melissa says it's important people understand how vital this service is.
"It's not a cruise ship, it's a highway system—it should be operational. It should be reliable," she said. "This isn't a traffic jam, this is not a joke, you know?"
By evening she and her family drove their RV back into town to look into flights.