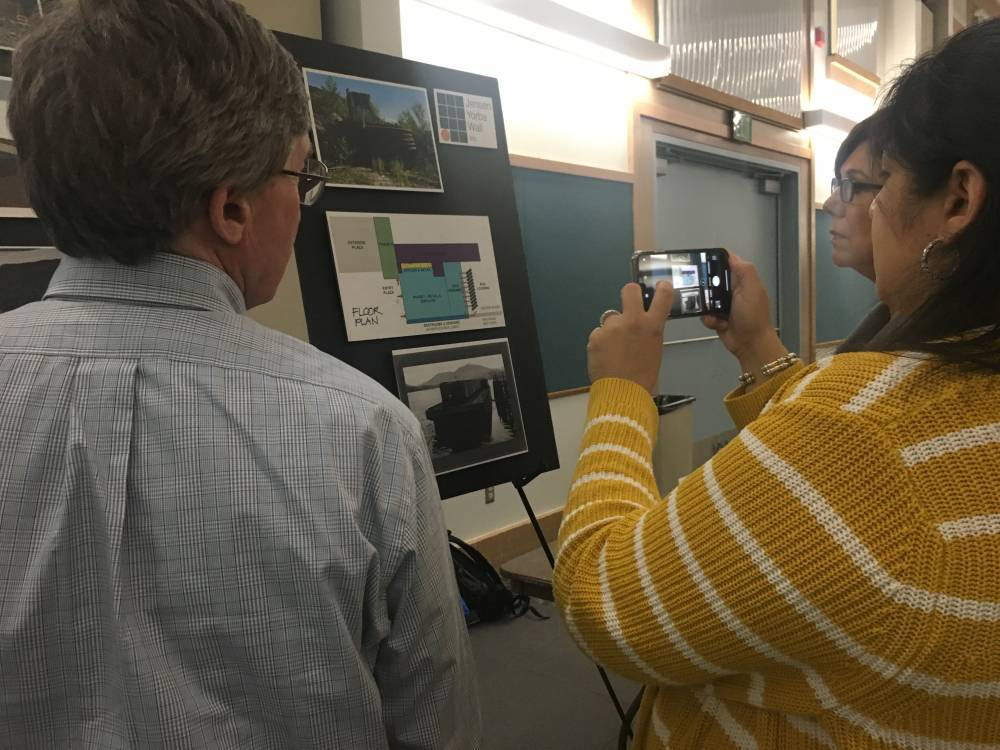 A healthy crowd turned out in Ketchikan to hear more details about a proposed private cruise ship development about seven miles from downtown. The Ward Cove project envisions converting Ketchikan's shuttered pulp mill into a self-contained entertainment complex with two berths for megaships.
More than 170 people stood inside the Ted Ferry Civic Center as they asked developers questions about plans to convert the pulp mill into a private cruise ship dock.
The Ward Cove Group has partnered with Fairbanks-based tourism operators Godspeed, Inc. to expand Ketchikan's carrying capacity for megaships.
Ward Cove Group attorney Stephen Bradford said work could begin as early as November.
"We'll have a privately financed dock that can handle those large ships without a municipal government having to incur great expense," said Bradford. "Or frankly without the taxpayers having to absorb that bonded indebtedness."
Currently most passengers disembark in the heart of town leading to bottlenecks and congestion. But Bradford said passengers docking in Ward Cove could go directly to sightseeing.
"We don't solve any problems if all we do is take them off the boat at Ward Cove and dumps them downtown," Bradford said.
He acknowledged concerns about increased visitors in Ketchikan.
Said Bradford, "The way I look at it is, Ketchikan reached a million visitors a couple of summers ago, and it really prompted a discussion of when is enough, enough?"
As the expected tourist count continues to grow each summer, a larger cruise dock is needed to allow for larger ships. Currently, people have to dock in the Narrows and take boats to come downtown, which can cause backups and delays. Bradford said The Mill at Ward Cove would alleviate some of this marine traffic.
R&M Consultants in Anchorage will be designing the dock. This is also the company who designed Icy Strait Point's expansion in Hoonah.
Phase one of the $50 million project includes building the dock and refurbishing the Ketchikan Pulp Mill. The project includes a 30-year agreement with Norwegian Cruise Lines, which is expected to bring in 300,000 passengers to The Mill at Ward Cove next summer.
Phases two and three will primarily be retail, food, tourism, and entertainment opportunities. Bradford said they will start focusing on phase two and three after phase one is open next summer.
Some attendees raised concerns. Ketchikan resident Hannah Bayles said she's worried Ketchikan is already losing its charm to mass tourism.
"Because right now, we've already pretty much sold the soul of downtown Diamonds International and other agencies that aren't active members of our community," said Bayles. "And granted yes, some of the cruise ships will give like grants to local nonprofits, but it's absolutely not enough in comparison to how much they're making, how they're treating their people, and how they treat our environment."
She also expressed concerns over the environment and what she feels is inadequate oversight by regulators .
And there's just so little that we can do—it's like a slap on the wrist anytime that we catch them. And I see all of that just completely increasing," Bayles said.
Developers downplayed any environmental risks. Trevor Shaw, administrative manager of the Ward Cover Group, said sand covering capping past contamination from the mill site wouldn't be disturbed — there would be no dredging involved.
"The impacts to the cap are minimal at the most. With cruise ships coming in and out and everything, the most it would do is stir up some of the sediment, which will just resettle back onto the bottom of the cove floor," Shaw said.
Developers also addressed concerns that a self-contained destination seven miles away would take business away from Ketchikan's established shopping district. Bradford said downtown merchants would still receive the same number of visitors. And he said there could be opportunities for some established businesses to open a second location at or near Ward Cove.
The EPA stopped monitoring the site in 2009. The project will require federal and state permits. An application with the Army Corps of Engineers is pending with public comment accepted through August 19.
But in the end, the Ward Cove developer's pitch was about revitalization of a long-shuttered pulp mill. Bradford said it would celebrate Ketchikan's timber heritage as well as mining, fishing and the region's Alaska Native culture.
"I think that as the Mill at Ward Cove grows and expands, it itself can be a destination. To where there's enough to do there that people stay on property the whole time," said Bradford.
He said there will be room for expansion in the long-term. The developers hope to have the Ward Cove project ready in time for the 2020 cruise season.