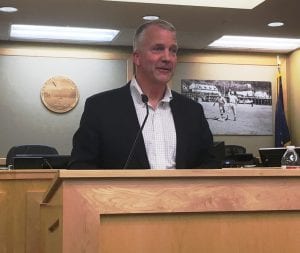 Alaska Senator Dan Sullivan was in Ketchikan for the 44th Annual Blueberry Arts Festival and stopped by to speak with KRBD about current events in the US Senate—specifically his recent efforts to tackle abuse.
On August 2, Senator Dan Sullivan and Delaware Senator Chris Coons introduced the Electronic Service for Effectiveness, Reduction of Violence, and Improved Court Efficiency Act. The E-Service Act is a pilot program to allow up to 10 state or tribal courts to serve protection orders electronically. Currently, Sullivan said the process of serving protective orders against abusers can be difficult.
"The estimates are up to 50% of protective orders in the country don't ever get served because the perpetrator—the abuser—is avoiding service," said Sullivan. "So he can say, 'Wait, I didn't get that order.'"
According to Sullivan, the pilot program would allow more effective ways of serving abusers, such as through the internet, a phone call, or even a text message. He said it's been a top priority for many abuse advocacy groups.
"We think it would get to the issue of—hey, if there's a perpetrator, there's a protective order against him to say, 'Stay away from the woman you've been abusing,' said Sullivan. "And [if] he avoids it, this is a creative way to serve him and say, 'Alright, you answered that text, you've now been served with this order,' and let the legal process kick in."
He said they're still exploring the feasibility and effectiveness of serving protection orders electronically.
"You know, you've gotta make sure you get it right," said Sullivan. "There's some due process elements. Hey, what if there's a text message that's actually sent, but the guy doesn't receive it. How do you know that they've received it? There's some things you need to work out. We don't wanna do some sort kind of broad based initiative and then realize that there's major flaws in it."
The next step for the act is the Senate judiciary committee.
Sullivan said he began advocating against abuse as Alaska's Attorney General 10 years ago. At the time, he was helping create the Choose Respect Initiative to address problems with domestic violence and sexual assault in Alaska.
"I took a lot of those ideas, when I got elected to the senate, national," Sullivan said. "Because I think Alaska knows that we have this problem, but I think the rest of the country in the last couple of years has recognized that we have a big problem with regard to these crimes and domestic violence, and abuse of women."
In April, Sullivan and New York Senator Kirsten Gillibrand introduced the Choose Respect Act. That would help change the culture of domestic violence and abuse by implementing national Public Service Announcements.
Another bill he is working on would provide more legal resources for victims. In June, Sullivan and co-sponsor California Senator Kamala Harris, introduced the Ensuring Representation for Survivors Act which will give victims a right to counsel.
"A perpetrator of these kind of crimes, that person gets a sixth amendment right to counsel—say like an accused rapist," said Sullivan. "That person gets a lawyer no matter what, even if they can. That's what the Constitution requires, okay. But the victim doesn't get anything."
Sullivan hopes to put all three bills in the Violence Against Women Act. He hopes this will help make a difference for the entire country, especially the state of Alaska.
"We're an amazing state with so much potential, but the fact that the studies show that almost 50% of the women in Alaska have experienced some kind of violence or assault," said Sullivan. "We've gotta do better, we have to do better."