On June 21, a new 18-foot totem pole was erected in Metlakatla. Carved in three months by Clifton Guthrie and David R. Boxley, the pole stands in front of the Wil la mootk Counseling Center.
As of April 2014, the program formally known as the Children's Mental Health Center, uses the sm'algyax name Wil la mootk: meaning "a place of healing." Commissioned by Executive Director Kerry Potts, the Gyilks Amaniisgn pole meaning "to take care of yourself," represents the facility's mission to promote healing and change.
In his speech from the totem pole raising, Potts described why he commissioned this pole for Wil la mootk.
"I find myself deeply saddened when I hear about the generational trauma that this community has gone through and continues to struggle with that began years ago," said Potts. "It is my hope that this totem pole will constantly remind of the beauty and strength and the constant needing of holding each other up to look to the brighter horizons up ahead."
Boxley said he started carving when he was 6-years-old and has carved about 25 totem poles. He said he thought he was going to be an illustrator, but is more fulfilled creating art that symbolizes his culture.
"I feel it's a traditional artist's responsibility to represent his people and the objects we make that we use traditionally and things that display our crest," said Boxley. "Those are important old, old things and creating those for our people as something they can wear and be proud of—boy, that's everything."
The bottom of the pole has a message in the Tsimshian language, which was written as a message from the pioneers of Metlakatla.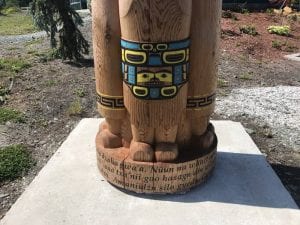 "[sm'algyax] We made this for you. It belongs to you and your children," said Boxley. "Everything you need to live a good life is here. Take care of it. Take care of each other. Take care of yourself."
The bottom three figures represent their ancestors. Two women have basketry designs on their dresses—a style unique to the island. Between them is a man wearing a Chilkat apron.
The three ancestors are holding halibut and salmon, devil's club for medicine, and berries; all representing their wealth. Above them are animals from the four matrilineal clans; Eagle, Raven, Wolf, and Killer Whale.
Above that is a colorful band that represents the island itself. At the top, two children representing the next generation hold the Metlakatla flag. The flag was designed by Boxley's father for the Metlakatla centennial in 1987.
"And all of that—our language, our ancestors, our resources, our clans, our land itself—all of that is what will give the next generation, the boy and girl at the top, what they need to live and what they need to lead the community forward," said Boxley.
Boxley said the pole is meant to represent their interconnectedness. He said even though Tsimshian people can trace their roots to different communities, they now belong to one group of people.