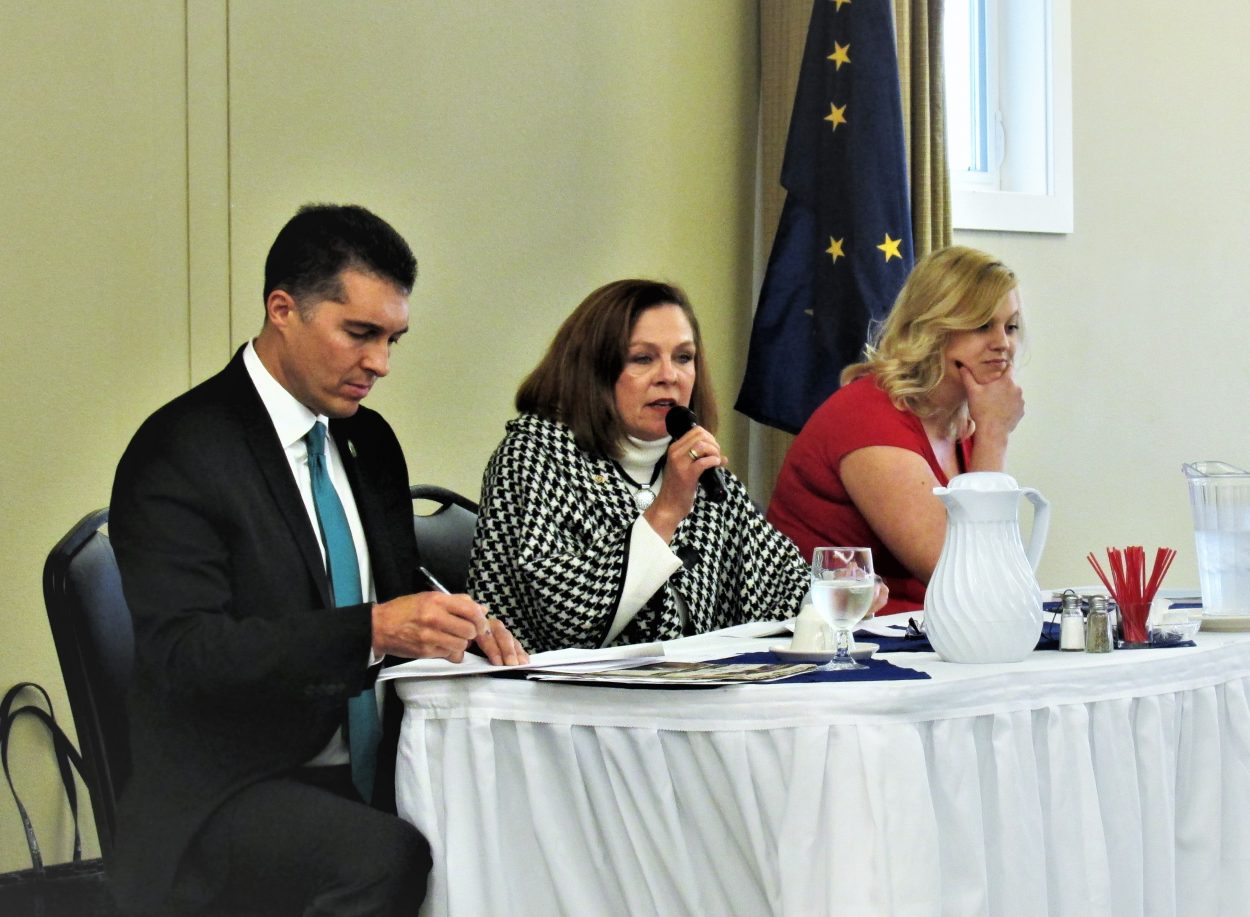 The three candidates running for Ketchikan Gateway Borough Mayor fielded questions during a recent Chamber of Commerce luncheon.
The candidates vying for borough mayor are Rodney Dial, Michelle O'Brien and Sidney Hartley.
Assembly member Rodney Dial has lived in Ketchikan since 1991. He joined the military at 17, studied business management in college and later retired after a career as an Alaska State Trooper. He says he was a legislative liaison for the troopers for 10 years and is finishing up a term on the Ketchikan Gateway Borough Assembly.
"I was the first person to ever get the borough to the White House. We were told for many years that the federal government wasn't going to budge on our issues, so what we did was, we essentially went above their heads."
He's a member of the National Association of Counties' Rural Action Caucus that lobbies the federal government.
Michelle O'Brien is former president of Ketchikan's school board. She says she's from a military family and has lived in Alaska for a decade. She was appointed to the state's public broadcasting commission by Governor Sean Parnell, and was the Rotary District Governor for Alaska in 2000.
"I believe that I bring a very diverse, in-depth experience and knowledge of the community through all of the things that I've done and participated in. And I think that that's very valuable to the position in terms of serving our community and making sure that Ketchikan has a better future."
Sidney Hartley introduced herself in Tlingit, a language she's in the process of learning. She is a paraprofessional with the Ketchikan School District.
Hartley moved to Ketchikan shortly after her mother died. She says she intended to spend a summer but that stretched into a decade.
"I absolutely love this place. I'm well-vested into this beautiful home. And I'm here to help preserve the gem that it is."
Hartley says she cares about global and national issues, having written letters to the White House, took training on parliamentary procedures in high school, and advocates for Alaska Native issues. She has five Native children.
The three candidates were asked how they'd juggle challenges from state cuts to education and local government funding. O'Brien says she'd strive to work closely with state and local leaders.
"(With) the things that are happening in our local community right now, it's perhaps more important than ever before to not only collaborate with those that work at the state level, but, as Rodney (Dial) mentioned, at the federal level, and even more so than ever before, with our city council."
Hartley says she has experience lobbying for local interests.
"I have advocated on issues numerous times, and I love to be aggressive in a healthy way. I would love to go and talk to state and federal leaders to seek funding to support our schools primarily. I'm a huge advocate for our school district and education."
Dial says working with everyone is key. He says he's confident he can reach out to the Dunleavy administration.
"I think that's extremely important. I've not come out negative against the governor, I've not come out and advocated for his recall. Because I realize the mayor position is non-partisan. We have to work with the governor no matter what we do."
They were each asked at the forum what sets them apart.
Rodney Dial touted his experience on the Assembly and as a legislative liaison.
"I think we have a bright future, but it's going to take a lot of hard work. And I would argue that, don't lose the experience. Don't love all the progress that we've made. Let us build upon that."
Michelle O'Brien spoke of her school board experience and leadership as board president. She says she knows the community.
"I literally have contact with hundreds of people every year, and it's not just one group or another group, it's everyone."
Sidney Hartley pointed out that, being under 30, she brings experience as a member of a younger generation.
"I think that our borough and any government office would highly benefit from a diverse group of ages. I have no hidden agenda and I'm just itching for experience."
Absentee voting is underway. Election Day is Tuesday, October 1st.