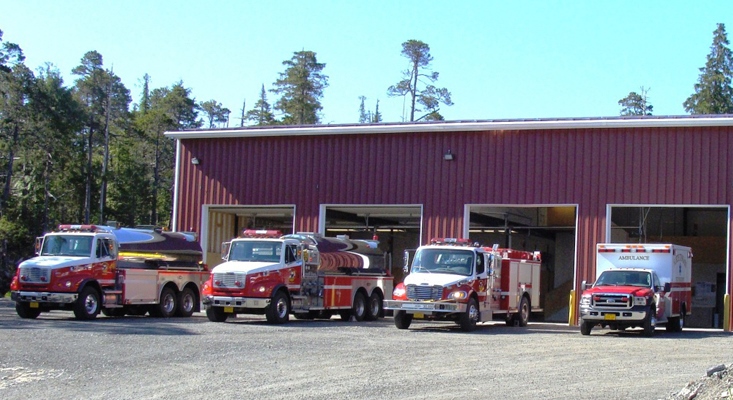 A woman was injured on Sunday night after she rolled her SUV and was ejected from the vehicle on North Tongass Highway. Her passenger received minor injuries in the crash. North Tongass Volunteer Fire Department chief Jerry Kiffer says the two were heading north when the vehicle went off the road.
"The driver lost control, entered the ditch on the land side, went behind a guard rail, travelled 100 to 150 feet in the ditch line and then over a 30-foot embankment."
The SUV was not visible from the roadway. Kiffer says the driver was trapped underneath one of the SUV's tires but her passenger was able to climb up the embankment to call for help. Rescue crews arrived shortly after 10 p.m. Freeing the woman from the vehicle was difficult.
"The location of the vehicle being so far off the road, (with) heavy brush down at the bottom of the ditch line, down at the bottom of the ravine. And the ground was awfully soft. (It was) not easy to jack the vehicle up."
Firefighters used fiberglass pole rescue jacks.
"We can put one on each side of the car with a strap that goes underneath them with wide plates to support the vehicle in softer ground. And we're able to lift the rear of the vehicle straight up."
Kiffer says the woman had lower leg injuries, was put in full spinal immobilization because she had been ejected from the vehicle, and transported to PeaceHealth Ketchikan Medical Center for evaluation and treatment. Neither the driver nor the passenger were wearing seatbelts.
Road conditions were dry at the time. Kiffer says it's unclear why the SUV went off the road. Authorities have not identified the woman or her passenger. An update on the driver's condition was not available.