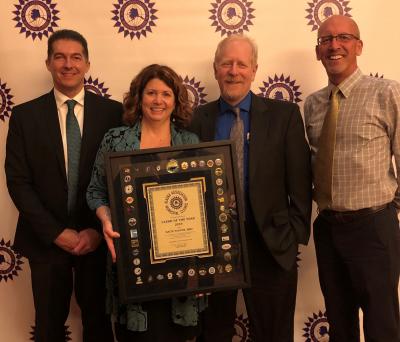 The Ketchikan Gateway Borough's clerk has been honored around the state for her work with local government.
Former borough mayor David Landis put borough clerk Kacie Paxton's name forward to the Alaska Association of Municipal Clerks.
"She just is really outstanding in conveying the caring and the thoroughness and the overall customer service that you would expect from someone at a very high level. She is just really an outstanding clerk."
Landis says he received early word that she'd won, so he rearranged his schedule so he could attend the municipal clerks' banquet in Anchorage.
"It was fun to sit and watch Kacie's reactions as it gradually unfolded and then it was obvious that she was the one. It's just a neat experience to see that realization wash over someone and then the joy and humility and all the emotions wrapped up in the acceptance of that award."
Also attending the November 19th event were past-and-present Ketchikan borough mayors Dave Kiffer and Rodney Dial.
Paxton told KRBD she didn't expect it.
"I was surprised. I was very pleased, very honored, very humbled and a little emotional. It was a little overwhelming but a very good feeling."
She was originally hired in 2002 as deputy clerk. She moved up to the clerk's position in 2009. Paxton's also served as president of the Alaska Association of Municipal Clerks and helped create its mentoring program.
Municipal clerks have varied official responsibilities including maintaining official records, running elections and keeping track of meeting documents.
"It's a big job. It's a hard job. I love my position. I love this job. I love working with the elected officials, borough officials, other government officials, the public, the election process, everything that we do. It's nice to be recognized and just to get right back into doing it."
The Alaska Clerk of the Year Award is typically awarded each year in what's been nearly a 20-year tradition. The last recipient from Ketchikan was then-city clerk Katy Suiter in 2013.