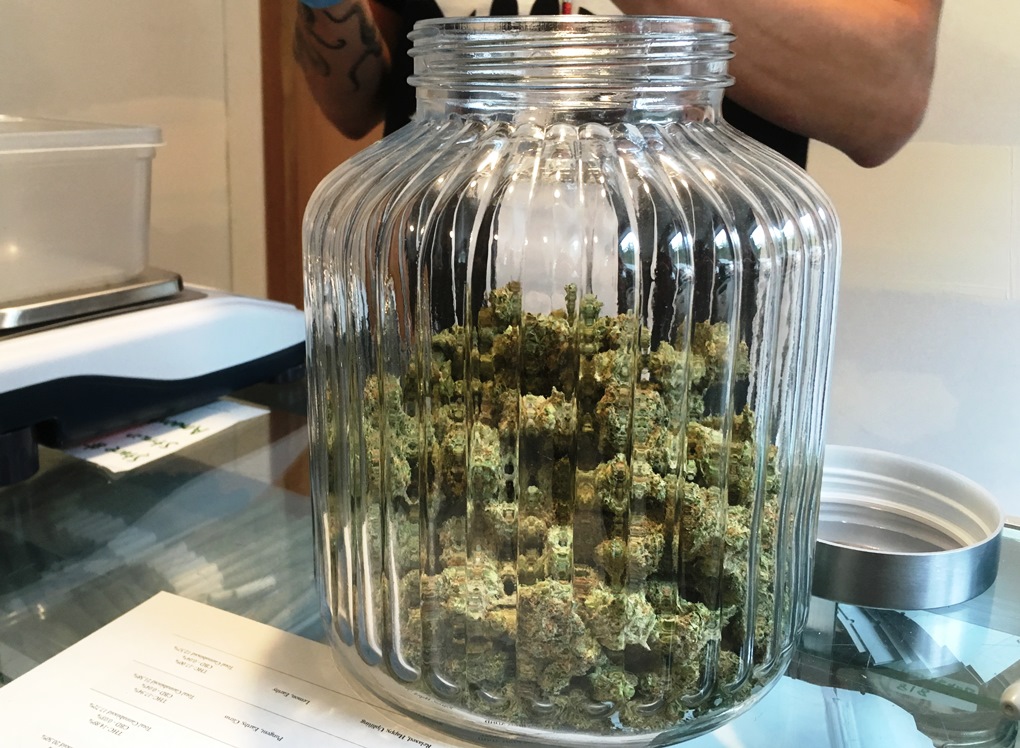 The Ketchikan borough assembly Monday night rejected a call for new marijuana regulations after hearing pushback from pot retailers and manufacturers. It also voted to ask the state to put land on the south side of the borough up for auction.
Marijuana regulations
Assembly Member Alan Bailey sponsored the request for pot regulations. He said the borough hadn't reviewed its marijuana regulations since the drug was initially legalized by Alaska voters in 2015.
"There has been no review whatsoever by staff or this assembly," he said Monday. "There has been no discussion by this staff or assembly."
Bailey proposed having borough staff draft new ordinances to cap the number of marijuana businesses in Ketchikan, restrict or eliminate onsite consumption, limit pot businesses to industrial zones, and enforce a 200-foot setback from residential properties.
Bailey said he was concerned that too many pot-related businesses were popping up in the Ketchikan area. There are currently 16 retailers, manufacturers, and testing facilities in the borough.
"For a town of 14,000 people, what that means is one for every 867 people," Bailey said.
But local cannabis entrepreneur Mark Woodward disagreed. Woodward owns Stoney Moose Kitchens, a business that exports cannabis-infused foods all over Alaska.
"That doesn't make any sense to me because we sell statewide," Woodward said. "And it's like we're being punished for being successful."
Assembly member Austin Otos also was concerned about imposing new limits on the marijuana trade so soon. He thought the proposed regulations were too broad.
"I'm just cautious that we would restrict this blossoming industry that's only a few years old," Otos said.
Other assembly members, including Felix Wong and Amanda Pierce, agreed that a conversation about new marijuana regulations was appropriate, but stopped short of supporting this proposal. Instead, they consented to schedule a future work session on the subject.
The proposal failed 2-4 with only cosponsors Susan Pickrell and Bailey voting in favor. Assembly Member David Landis was absent.
Mountain Point land auction resolution
In other business Monday night, the assembly approved a resolution asking the Alaska Mental Health Trust and the Alaska Department of Natural Resources to put several lots near Mountain Point up for auction. The lots are in a largely undeveloped area of the island about six miles south of downtown Ketchikan.
Last year, the borough agreed to sell 18 borough-owned lots to developer Harlan Heaton in an effort to create more housing in the Ketchikan area. But that sale was contingent on the developer acquiring additional lots currently owned by the state.
But disagreements over the asking price of the state-owned lots have stalled negotiations.
Heaton said sending the resolution to state Rep. Dan Ortiz and state Sen. Bert Stedman could jumpstart state action.
"We just need the political pressure from our representatives to get this thing built," Heaton said.
The Alaska Mental Health Trust funds services for patients with mental illnesses, developmental disabilities, brain injuries, and memory loss. Its land portfolio generates revenue for the trust.
Mental Health Trust Southeast Lands Manager David Griffin answered questions from the assembly over the phone. He emphasized that the fund isn't obligated to act in the interest of the general public.
"We manage our land on behalf of the trust's interests and trust beneficiaries," Griffin said. "We're required by statute to maximize our revenue."
He told the assembly the trust likely would be willing to put the properties up for auction, but the sale would have to include additional tracts that Heaton said can't be developed.
The assembly approved the resolution 5-1, and copies will be sent to the borough's state delegation. Assembly Member Sven Westergard opposed the resolution, saying it might damage the borough's relationship with the Mental Health Trust.