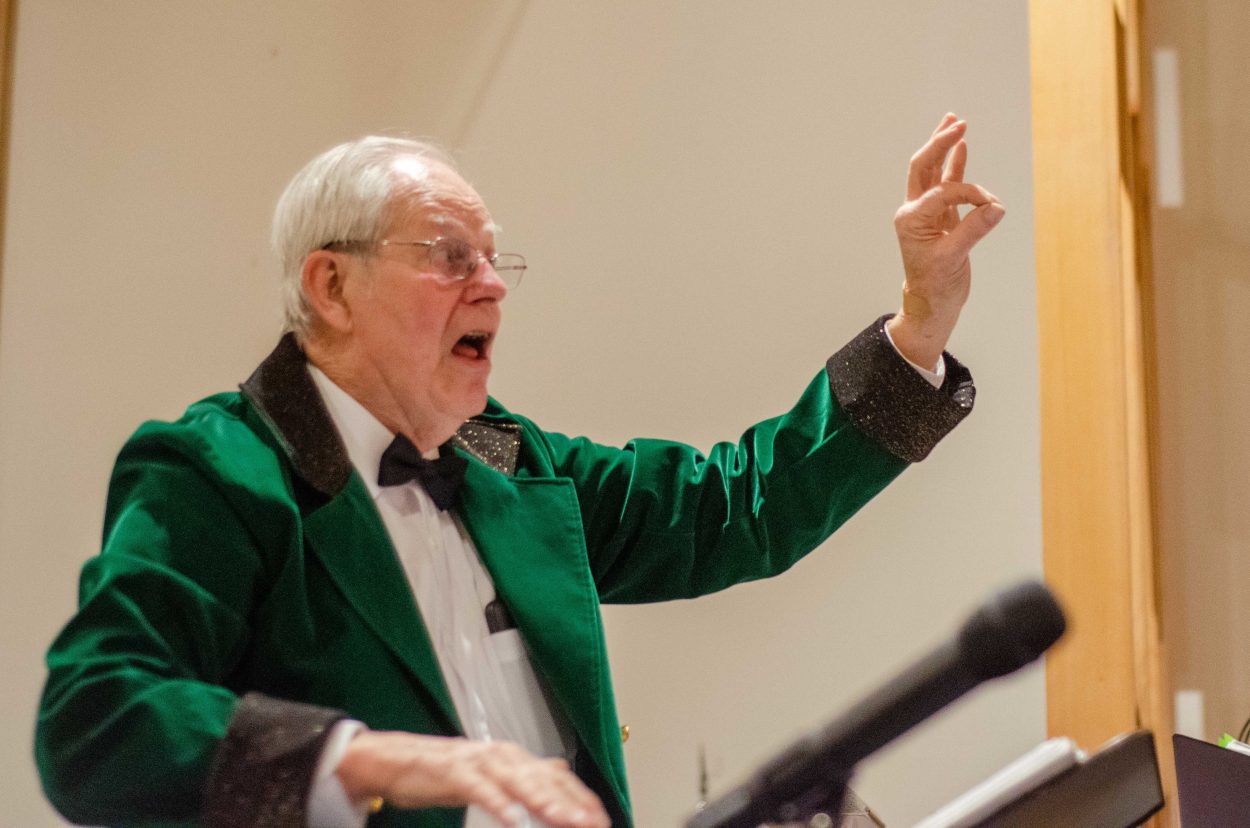 The head of Ketchikan Community Chorus is stepping away after more than 50 years with the choir. Steve Kinney says he's ready to hand over the reins to someone new.
"I've been singing since about the time I could walk," Kinney said in a Tuesday evening interview. "Music has always been a very important part of my life."
Kinney nurtured that passion in his early life, playing cello with his family in a community orchestra in Bangor, Maine.
When he got to college, though, Kinney decided to major in biology.
"It's hard to make a living being a musician," he said.
But music remained an important part of his life — he continued to take voice lessons throughout college and ended up minoring in music.
"By the time I graduated with my bachelor's, I knew that music was going to be my avocation and that I would use science for my vocation," he said.
Kinney says that's helped him strike an important balance — he can enjoy his favorite creative passion without relying on it for a paycheck.
After arriving in Ketchikan in 1965, he sang in the community chorus for nearly 30 years before stepping into his current role as director in the early 1990s. Until then, the program was run through the local University of Alaska Southeast campus. But the chorus lost its director when the university dropped the program.
"Somebody called me up one night and said, 'Why don't you direct for us?'" he said.
Kinney says his role has allowed him to grow as a musician and as a director. He says one of the most important tasks for the director is balancing an artistic vision with the needs and abilities of the members.
"You know, there's always a difference between what you feel you'd really like to do to present the best possible sound of the music and what you would really like to do to help your singers grow as best that they can grow," he said. "And sometimes those are at odds. And I tend to go with the people."
But after more than 50 years, Kinney says he's ready to take a step back. He'll remain on the group's board, but stepping away from the director's podium will give him a chance to travel without worrying about rehearsals or performances.
Tonya Antonson is set to take over Kinney's position. She's a retired music teacher transitioning to a new career in nursing.
"But my passion for most of my life has been choir," she said in a Wednesday interview. "My master's degree was in choral conducting in 1990, and I've had lots of experience in the world of choir."
She says she wants to expand the audience by getting other arts organizations involved in the choir's work.
"Visual arts, media arts, dance, the band and orchestra — I'd like to collaborate with them," she said.
Beyond that, she says she wants to get more young people involved in the community chorus. She'll conduct her first concert in April.
But before she gets started, outgoing director Kinney will conduct one more concert titled European Noel.
Kinney says he'll miss leading the chorus. Much of the job is technical, simply getting people to sing the right notes at the right times.
"But when you get within about a month or three weeks of a concert, suddenly it's music that you're making," he said. "That music is living and you're allowing it to release itself, to get free. And that's what's exciting. And I will miss that."
Ketchikan Community Chorus performs its final shows under Kinney's direction at Ketchikan Presbyterian Church Thursday, Dec. 5 at 7 p.m. with a matinee performance Sunday, December 8 at 2 p.m.