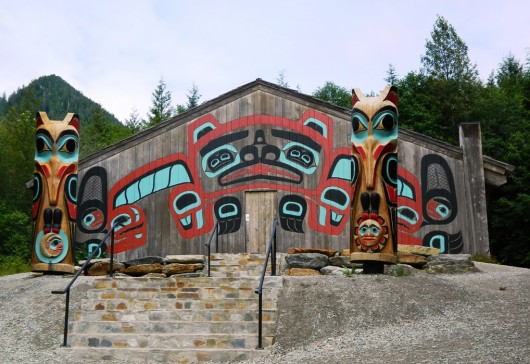 Ketchikan's borough assembly will consider whether to protest a liquor license application in Saxman during its Monday evening meeting. It'll also consider a resolution asking Canadian authorities to address transboundary mining pollution and a few items dealing with land use in the borough.
Saxman liquor license
The liquor license application comes from a subsidiary of Saxman's Cape Fox Native Corporation. Dockside Galley, a restaurant near Saxman's city hall and community center, would like to serve beer and wine and open a package store.
If approved by the state Alcohol and Marijuana Control Office, it would be the first liquor license for the small, mostly Alaska Native community.
The Saxman City Council found no legal reason to protest the application in November, despite pleas from residents who said they didn't want to see alcohol sold or served in their 400-resident community. That's led to talk of a local option election — a voter-led initiative that could restrict or ban the sale of alcohol inside Saxman city limits. Saxman City Clerk Lori Richmond says a petition to start the local option process has been picked up, but it hasn't been returned.
Borough staff recommend that the assembly advance Cape Fox's application. The state Alcohol and Marijuana Control Office will have the final say on whether to issue Saxman's first-ever liquor license.
Transboundary mine pollution resolution
In other business, the assembly will again consider a resolution asking Canadian authorities to protect the Unuk River and its watershed from transboundary mine pollution.
The assembly sent the resolution back to borough staff at its Nov. 25 meeting after Assembly Member Alan Bailey took issue with its tone. It was originally submitted by Heather Evor of the Southeast Alaska Conservation Council.
The revised resolution asks the government of British Columbia to take steps to protect the Unuk watershed from mine pollution, which could have negative consequences on the river's salmon population.
However, references to specific actions — like the earlier resolution's call for a new environmental assessment for the proposed K-S-M open pit copper and gold mine — have been removed.
The City of Ketchikan passed a similar resolution in November.
Land issues
Elsewhere in the assembly's Monday meeting, the assembly will consider a request to rezone an industrial parcel in the Ward Cove area. The applicant would like to publicly rent out an apartment currently used as employee housing.
Both the resident-led planning commission and the borough's professional planning staff recommend denying the rezone. Staff members say in a memo the proposed rezone would situate residents near a helicopter tour business and a rock crusher. Staff say that could expose those existing businesses to complaints from residents.
The assembly will also consider a request from developer Bruce Hattrick. He wants to defer property tax payments on an undeveloped tract of land on the west side of the city of Ketchikan. A 2012 state law allows cities and boroughs to delay property tax payments on undeveloped, unsubdivided lands in an effort to encourage housing development.
Monday's borough assembly meeting gets underway at 5:30 p.m. in Ketchikan's White Cliff building.