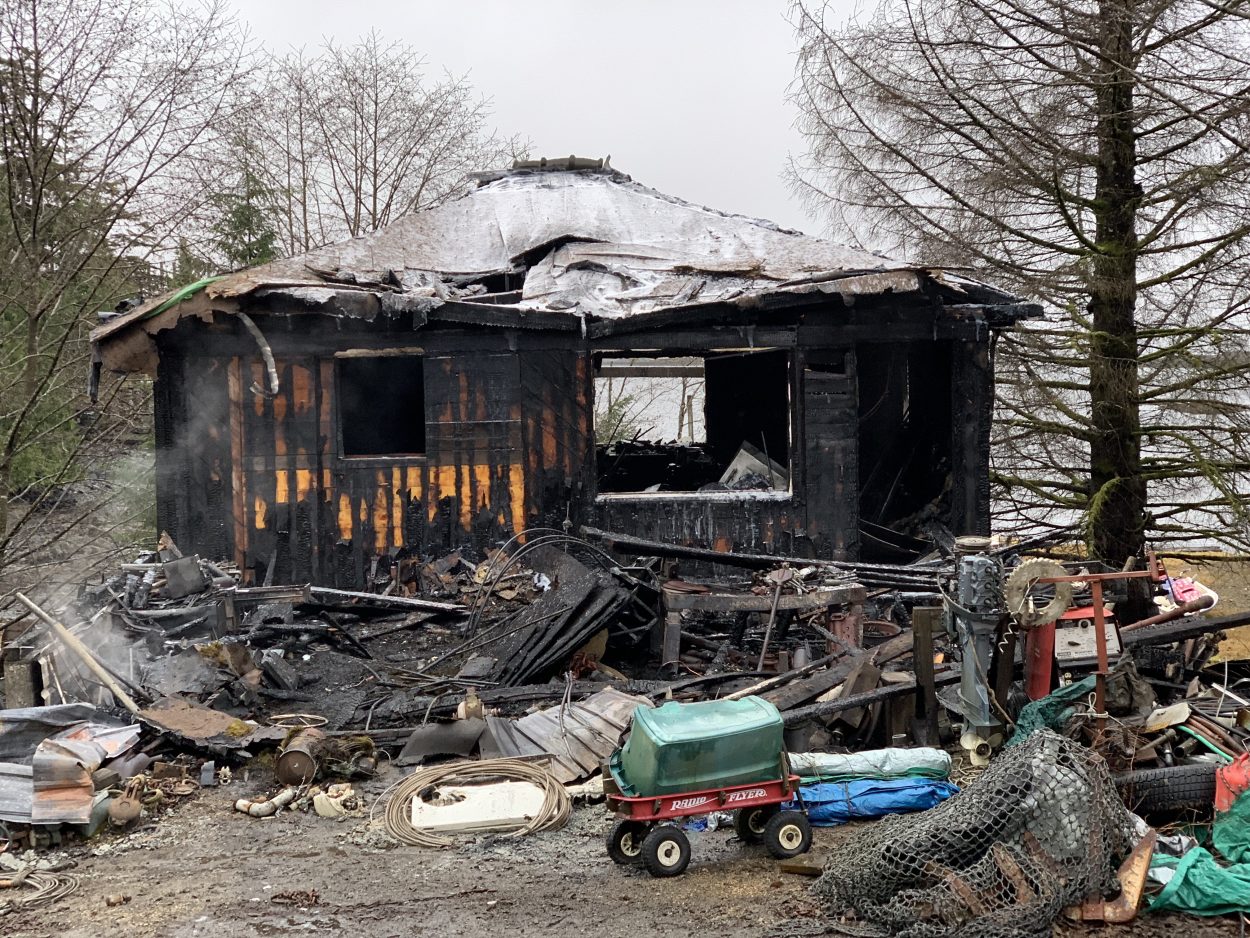 JANUARY 2, 2020 UPDATE:
Alaska State Troopers have filed a second sworn statement that alters key details.
The initial statement says Kami D. Riley made a threatening call from a trooper's state-issued cell phone. But Trooper Lt. John Brown says that isn't what happened at all.
"A mistake was made and so we've written a new affidavit to fix that," Brown told CoastAlaska on Thursday.
The second statement filed Thursday says the threatening voicemail actually came from another number. There was a call from Trooper Joey Beaudoin's cell phone. But that was when the trooper tried to contact the owner of the North Tongass Highway property which was Riley's listed address.
"She didn't immediately say that that's where she wanted to go. So Trooper Beaudoin gave her a couple of options," Brown said.
Those included WISH — Ketchikan's shelter for domestic violence victims — but Riley wasn't accepted there as she'd been drinking.
"And she didn't want to go to the warming shelter," Brown added. "So he went to the residence where she's been living off and on for the last five years. And he wasn't able to talk to the owner but was able to figure out a safe place for her to stay."
She told troopers she'd sleep in a truck parked on the rural property.
The homeowner says he woke up the next morning and saw Riley hitchhiking towards town. Minutes later he smelled smoke and a neighbor called 911. The fire destroyed the structure.
Riley was arrested later that morning after a motorist who had given her a ride, called police reporting that she smelled of diesel and made suspicious statements about the fire.
Riley has denied any knowledge of the crime. As of Thursday she's in Ketchikan jail on $10,000 cash bail. She faces a single count of felony arson.
ORIGINAL STORY:
A Ketchikan woman has been charged with felony arson. That's following an early Tuesday morning fire that heavily damaged her ex-boyfriend's rural home on North Tongass Highway. And a sworn statement by troopers that indicates that an Alaska State Trooper may have driven her to the scene of the crime.
About a dozen trucks from the North Tongass, South Tongass and Ketchikan city fire departments responded to the suspected arson. From the outside it was clear the house was severely damaged with blackened walls and holes in its roof.
North Tongass Fire Chief Jerry Kiffer was on the scene coordinating the effort.
"It was found by passerbyers," he said. "Engine crew was called, did an initial attack through the open side of the garage. Obviously, the fire extended into the inside structure."
The fire slowed traffic as firefighters blocked a lane of the highway for about an hour to fight the intense flames.
"Given the seriousness of the fire, the size of the fire, we did have exposures we were concerned about," Kiffer said.
Hours later, 44-year-old Kami Dawn Riley was in custody facing a felony charge of arson.
Court records obtained by KRBD contain a sworn statement by a senior Alaska State Trooper that sketches out a timeline leading up to the fire. And, it indicates that a fellow trooper was with Riley early Tuesday morning.
The homeowner told troopers that at about 2 a.m., he heard banging at his door and saw his ex-girlfriend outside with a man he didn't know. He didn't open the door. Then, he got a call from a state-issued number and a threatening voicemail. A woman's voice claimed to be with the FBI and said she was going to burn the house down.
An affidavit from the officer who arrested Riley says the call came from the state-issued cell phone of State Trooper Joey Beaudoin. But it didn't explain why the caller had Beaudoin's phone or whether he had any knowledge she was about to commit a crime. Initially, troopers released a bare bones account online.
Alaska State Troopers published the following in their daily dispatch for Dec. 31, 2019.
"On 12/31/19 at approximately 0708 hours, Alaska State Troopers in Ketchikan responded to a residential fire on North Tongass Hwy. Investigation revealed the residence was only used for storage and the adjacent residence was the primary residence. Investigation and interviews identified Kami Riley, age 43 of Ketchikan, as a suspect. Riley was subsequently arrested and lodged at KCC for one count of Arson II (DV). Alcohol is believed to be a factor in this incident. Investigation is ongoing."
Court filings go into more details. They describe the homeowner reporting waking up later in the morning and seeing his ex-girlfriend hitchhiking away on North Tongass Highway. Minutes later, he smelled smoke from the burning carport.
A motorist who picked Riley up was interviewed by troopers. He says she smelled of diesel fuel and made bizarre statements about revenge. He dropped her off in town and called police. She was arrested at a nearby bus stop.
Riley told troopers that she'd spent the night in her ex-boyfriend's truck before leaving in the morning. She told fire investigators she didn't have any knowledge of the fire. She's being held in the Ketchikan jail while she awaits a court hearing.
As of Tuesday afternoon, Alaska State Troopers haven't made any statements about the case. An agency spokesman said he'd reached out to the Ketchikan post for more information.
This story has been updated to reflect an additional sworn statement by troopers that contradicts their earlier account. It also reflects that the structure that burned was a house with an attached carport, not a garage. It's also redacted the attached court filings which included the full names of the homeowner and witnesses interviewed by police. It's also expanded the definition of WISH, Ketchikan's domestic violence shelter.