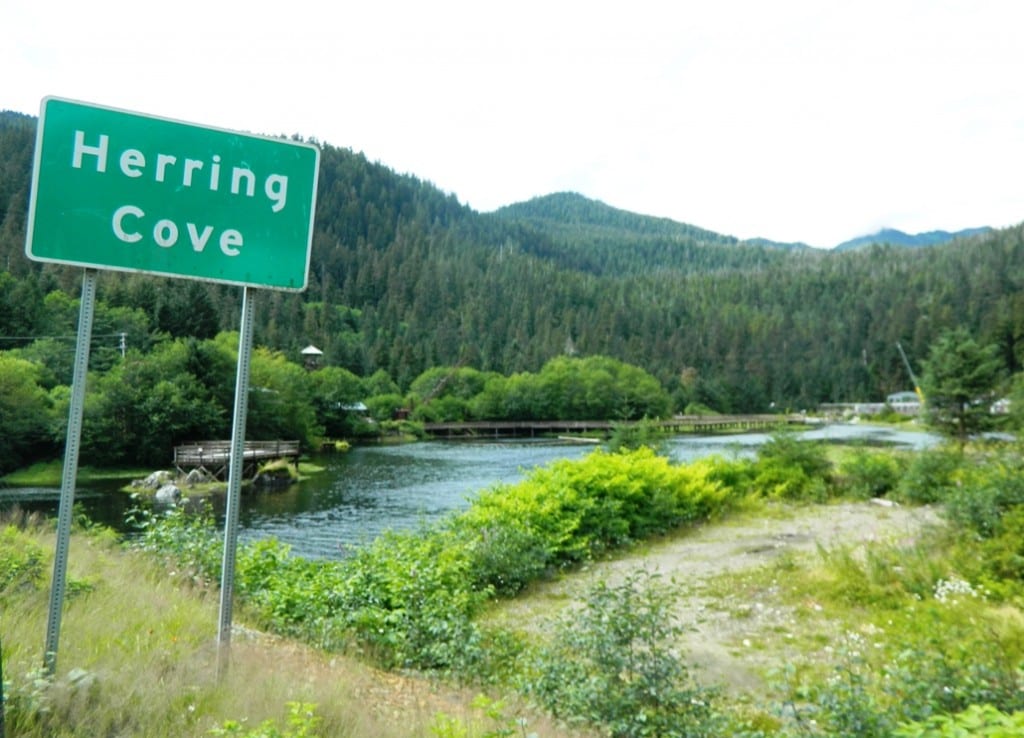 Across Southeast Alaska, growth in the tourism sector has outpaced other industries. But take a town like Ketchikan where the former timber town's neighborhoods are being transformed as businesses catering to visitors move in. As part of CoastAlaska's Shelter series, we took a look at how city planners try to balance the rights of business owners with residential neighbors.
Anytime there's a big change, there are usually growing pains. And it's hard to get bigger than a shift in a town's dominant industry.
Richard Harney heads up the planning department for Ketchikan's borough. He's been with the department for over a decade, and in that time, he's seen the town change dramatically.
"The tourism industry, going from kind of a secondary industry or tertiary industry to now being the primary breadwinner for the community," he said.
That's led to inevitable conflicts. Take Ketchikan's Knudson Cove.
Nadra Angerman is a homeowner who applied to transform her waterfront home into a base for excursions on the water.
Ketchikan's borough assembly has the final word on these types of conversions. And lately it's been hearing from neighbors like Larry Jackson. He says he isn't anti-business or even anti-tourism.
"What I'm opposed to is spot rezones that essentially are little ambushes on communities and people that have invested in a particular area," Jackson told the assembly earlier this year.
In this case, the planning commission agreed and recommended against the rezone. That was contrary to Ketchikan's planning staff who pointed out that it actually complied with the community's land use plan. That's the master document that's supposed to guide zoning decisions. Angerman and her husband appealed to the Assembly who ultimately approved the rezone.
In another case, an owner was denied permission to rezone a property on Gravina Island after neighbors objected. So it can go either way.
So how does the borough navigate the competing interests of property owners and neighbors?
"Carefully," said chief planner Richard Harney as he cracks a smile. "That's my answer. That's how you navigate it."
One area where tourists and residents collide is Herring Cove. The small divot on Revilla Island's southeast side is home to the Alaska Rainforest Sanctuary.
"They have a zip line tour. They've got a raptor center. They've got reindeer," Harney said. "They've got, I think, a carving shed and the old sawmill, some other some other things, but they've got a big facility out there."
So naturally, tour operators often bring visitors out to Herring Cove for a taste of nature.
"They walk them out to the end of Powerhouse Road to look at the bears, look at the creek, look at the birds, whatever else," Harney said.
Which also happens to be narrow residential streets.
"They park in people's driveways. They park in front of people's houses, they park in people's property and they offload all their tourists, and then they walk them around," Harney said.
Tour operators often bring groups onto a narrow bridge to view marine mammals like seals and whales
"And they don't necessarily control their tourists all that well," Harney said. "And so, you sometimes get these very large groups of tourists standing in the middle of the South Tongass Highway."
As many as 70,000 tourists visit Herring Cove each year.
"People use it as a destination, and there's residences out there that are being impacted from this place being being utilized as a destination without being identified as one," Harney said.
There have been efforts to regulate the crowds — with limited success.
In 2014, the assembly imposed a permitting system that set rules for tour operators who bring visitors to Herring Cove.
But enforcement was difficult. The borough doesn't own the road or property in the area. And the program was axed in early 2019.
So Ketchikan officials may try something new. An area-wide tourism strategy is in the works, a program that Harney says would likely include a plan for Herring Cove. The city and borough each chipped in to fund a privately-developed plan.
"It's a strategy for our community to figure out what we want to do," he said. "Not just for the residents, but also for the industry and how the two can coexist in a more peaceful manner."
Bids for proposals to accomplish this are expected to go out in early 2020.
It's all part of an ongoing balancing act in Ketchikan as residents seek to manage the effects of the mushrooming tourism economy that brings wealth to the community, but also presents an entirely new set of challenges.
---
This report is part of CoastAlaska's Shelter series which examines short- and long-term housing issues across Southeast Alaska. Read more from Haines, Peterburg and Wrangell.