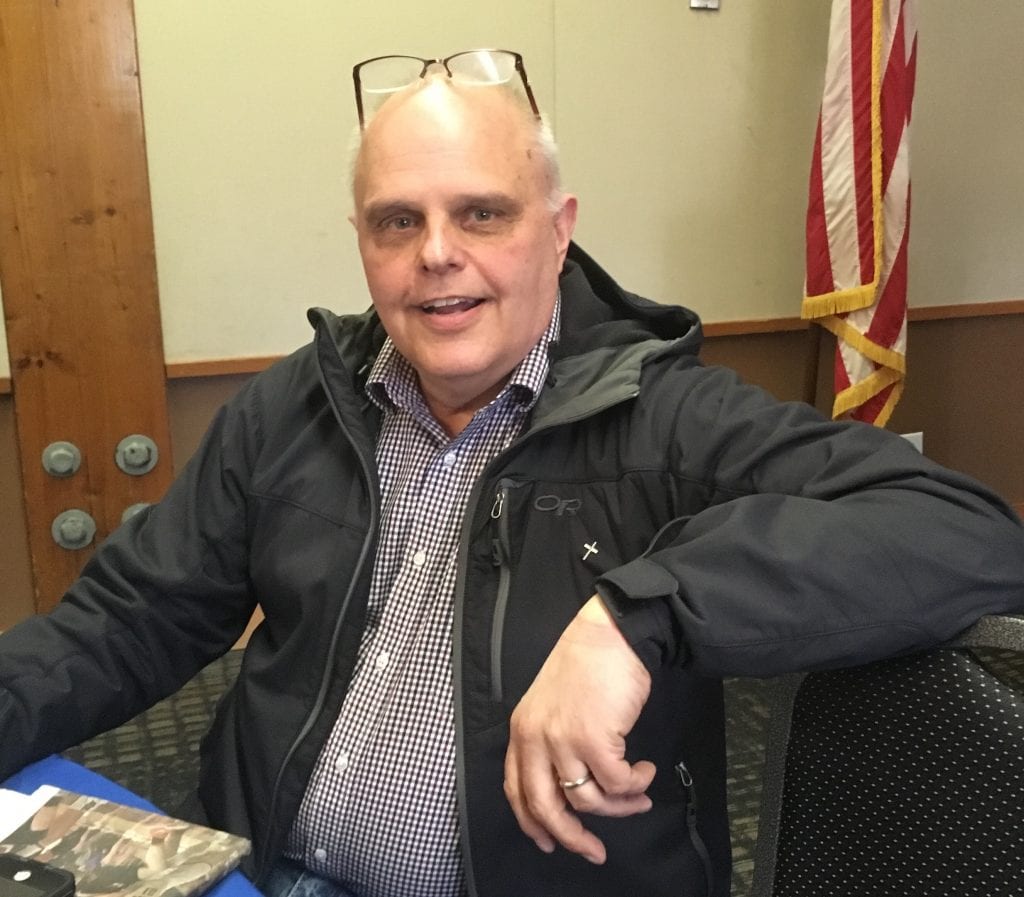 Longtime city mayor and councilman Lew Williams, III died Saturday at his Ketchikan home. He was 62.  Some of his friends and fellow council members share stories about his career and impact on the community.
Llewellyn (Lew) Morris Williams III was a third-generation newspaper man and co-owner of the Ketchikan Daily News.
Williams was first elected to the Ketchikan City Council in 1987, and later served three terms as mayor. He was diagnosed with cancer in 2017, and continued to serve as mayor, but decided not to seek reelection the next year due to his health. Feeling better, he filed to fill a vacant city council seat in 2019, but stepped down in December as his health declined.
City council member Dave Kiffer met Williams more than 50 years ago when they were both in the youth basketball league. In addition, Kiffer started working at the Ketchikan Daily News in 1981 as sports editor. Williams took over that role the next year, and a few years later decided to move over to the business side.  
"Lew in his heart was a natural business person. He really was. That was what he gravitated to. That is what I think he really enjoyed. I think he liked those sort of interactions with the people of Ketchikan, more so than he liked being a reporter for the people of Ketchikan."
For a time, Kiffer was borough mayor when Williams was city mayor. Kiffer says he fulfilled more of the ceremonial role – meeting with dignitaries and speaking publicly – while Williams was more comfortable spending time one-on-one with community members.
"He was always willing to sit and talk to people and go to their meetings and explain what the city was doing on certain situations. It was fascinating. He did a lot behind the scenes that I don't think a lot of us, even on the council, realized what he was doing."
Kiffer says he was always impressed with how well Williams handled the challenges of serving in local government, never showing frustration or anger.
Marty West previously served on the Ketchikan City Council. Even though they didn't always agree on issues, she believes he always made decisions that he thought were in the community's best interest.
"He was such a good, decent, genuine man and I'm so sorry for his family that he has passed far too soon. And he'll leave a hole in the community that will be hard to fill."
West says they would often speak about their families and that family was very important to him.
KRBD's general manager Leila Kheiry previously worked as a reporter at the Ketchikan Daily News. Though she was in news and Williams was in advertising, they interacted regularly. When she left to become news director at KRBD, Kheiry says Williams would often call the day after a council meeting to talk.
"He liked to call us up and use a fake voice and pretend to be somebody else in order to complain that we weren't quoting the mayor enough."
She says he would usually fool whoever answered the phone, but as soon as she took the call, she would know it was Williams.
"I'd let him get through his spiel and then just kind of say, 'Lew…" And we'd have a good laugh and then go on with our conversation."
Kheiry says they usually discussed, off the record, what happened at the meeting.
Bob Sivertsen is the current city mayor. He says he's known Williams for a long time, but really got to know him when they began serving on the council together.
"It was a fantastic experience. I learned so much from Lew. He was so dedicated to the community and family and friends that I learned a lot about life lessons from Lew. He was just a great mentor."
Sivertsen says he admired Williams' patience and was impressed with his knowledge of the community.
"One of the things that I admired about Lew was his dedication to his faith, his family, his children. He was just a great person to be around."
Williams served in public office for almost 32 years. He loved sports and a memorial fund has been established in his name to help renovate the Walker baseball field.
____________________________________________________________________________
A memorial service is scheduled 2 p.m. Saturday, January 11th, at First Baptist Church. A celebration of life reception follows at 4 p.m. at the Ted Ferry Civic Center.  Donations in Williams' name can be made to First City Council on Cancer, or the Lew Williams III Baseball Field Memorial Fund at Wells Fargo Bank.