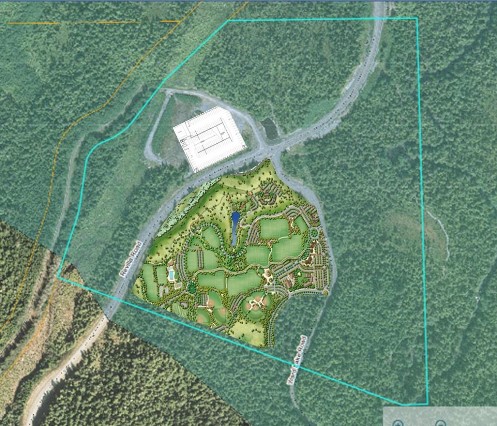 Ketchikan's borough mayor says he wants to use cruise passenger funds to help build a 40-acre park in the Ward Lake area. He likened it to New York's Central Park.
Ward Lake is an outdoor recreation area about eight miles north of downtown Ketchikan. The lake itself is on federal land — part of the Tongass National Forest — but the area just outside the federal boundary is also a popular destination for local hikers.
"The plan will essentially protect a prime recreational area from commercial development," Dial said in a Friday phone interview.
That's Ketchikan's borough mayor, Rodney Dial. He unveiled his vision for the site at the intersection of Ward Lake Road and Revilla Road in a Facebook post Thursday evening.
He says that with commercial growth in the Ward Cove area on the horizon, now is the perfect time to take that land off the table.
"If people hadn't had the vision to set aside land in Central Park, that whole area would be nothing but buildings right now," Dial said.
The borough already owns the land. Ketchikan's lone dog park takes up some of that land. The rest is undeveloped.
"The plan would be to work with a professional park design firm, and solicit public input, develop a vision for the area," Dial said. "And then once we have a plan, we'd look at funding options and determine if this is something we would do in phases over time or all at once."
Dial says he'll present the plan at the Borough Assembly's upcoming policy session. He hopes to pay for the estimated $50,000 cost of designing the park with local sales taxes and fees paid by cruise ship passengers that visit Ketchikan.
But whether cruise passenger funds could be used for a park remains a big question. There are clear limits to how the funds can be used: generally they are supposed to directly support the ships and to a lesser extent, the passengers.
Dial says he's yet to approach cruise lines about his vision. But…
"We have cruise lines now that have been expressing an interest in investing in our community," he said. "So I would be asking them to do exactly that."
The City and Borough of Juneau last year settled a cruise industry lawsuit brought in part over how it spent local head tax funds. That makes cruise industry support important.
For his part, Dial says the park would be a boon to both residents and tourists. Locals could use the space to hock their wares.
"It's a resource for people who can't afford rent downtown who, you know, and we see so many creative people through this island, you're able to build all kinds of artistic things, but they really — except for the Blueberry Arts Festival and Winter Arts Faire — they really don't have that opportunity to get out," he said.
And Dial says he envisions a park that's year-round. Though the state doesn't plow Revilla Road in the winter, he says he's confident that won't be an issue if the park is developed.
Dial's sketch of the planned park would turn the existing dog park into a parking lot. But he says if the public wants to keep its dog park, he'll listen.
"We could put a world class dog park out there, I mean, far better than what's there now," Dial said.
Dial says he hopes to hear public feedback on the idea at the borough's policy session on Jan. 17.