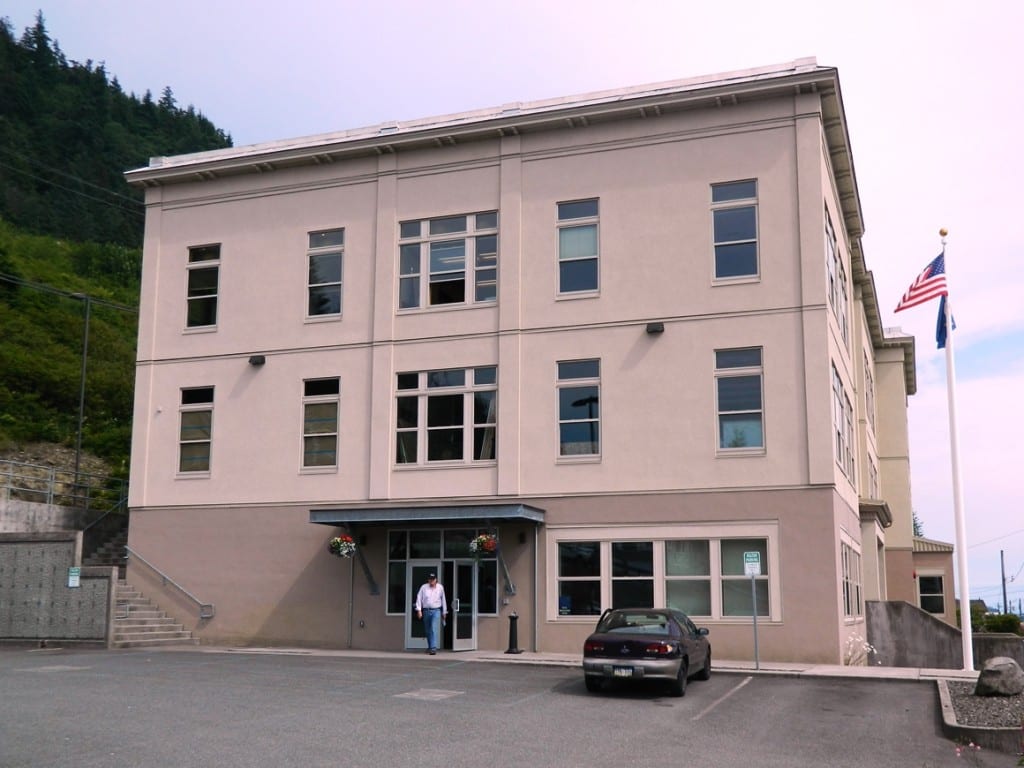 Ketchikan is a step closer to allowing street food in its downtown core. But a final decision may have to wait until spring.
Food trucks and mobile vendors
As it stands, trailers and mobile buildings aren't allowed in downtown Ketchikan. And that includes food trucks. But back in August, Ketchikan's borough assembly voted to develop a plan to legalize them.
It took its first step toward accomplishing that Monday night. The assembly gave preliminary approval to a code amendment that would allow food trucks and other mobile vendors downtown.
Chief planner Richard Harney says the proposed rules would only allow street food vendors on private property.
"This does not address city streets or parking lots," he said.
So residents don't have to worry about hordes of taco enthusiasts clogging up city thoroughfares.
Prospective entrepreneurs would need conditional use permits to set up shop in their desired locations. That would give neighbors a chance to weigh in.
The Assembly has green-lit the plan. But the planning commission will take a second look and get more public input. A vote is expected in early March.
Gun range permitting
In other business, the Assembly will soon consider new permitting rules for shooting ranges in the borough.
The planning department currently notifies residents within 1,200 feet of a proposed outdoor gun range. In December, a resident asked the Assembly to increase that distance to two miles. He also asked that the Assembly, rather than the borough's Planning Commission, determine whether the permit should go forward.
He says both of those changes would allow more people to weigh in on whether they'd like a range in their community.
But that'd be expensive: borough staff estimate that the two-mile notification radius would cost 10 to 20 times more than the current system. To make up the difference, planners recommend charging an application fee. That was a dealbreaker for Assembly Member Sue Pickrell.
"I'm going to vote against this because it includes an application fee. I think we throw up enough red tape in front of people as it is, and I can't support that," she said. "I like it except for that."
Without an application fee, though, the increased cost would come out of the borough's general fund. Assembly Member Austin Otos said he didn't like that idea.
"People that are applying for gun ranges should pay for it and not incur that onto the taxpayer," Otos said.
The motion passed 5-2 with Pickrell and Assembly Member Sven Westergard opposed. Borough staff didn't say when they'd bring an ordinance back to the Assembly.
Property tax deferral
And finally, the assembly gave preliminary approval to a plan that would allow developers to defer property tax payments on subdivided property for up to five years. Borough officials say that would allow developers to keep cash freed up to build things like roads and bring utilities to a new neighborhood.
Assembly Member Felix Wong said he thought it was a good way to address Ketchikan's housing shortage.
"As we've learned in the Comprehensive Housing Assessment study, we as a body should take whatever incentives and steps we can take to move our housing situation in a positive direction," he said.
The borough's finance director says that because the tax plan only delays tax payments — it doesn't make the taxes go away — the costs are anticipated to be minimal.
The tax deferral proposal passed unanimously. It'll be up for final approval Feb. 3.