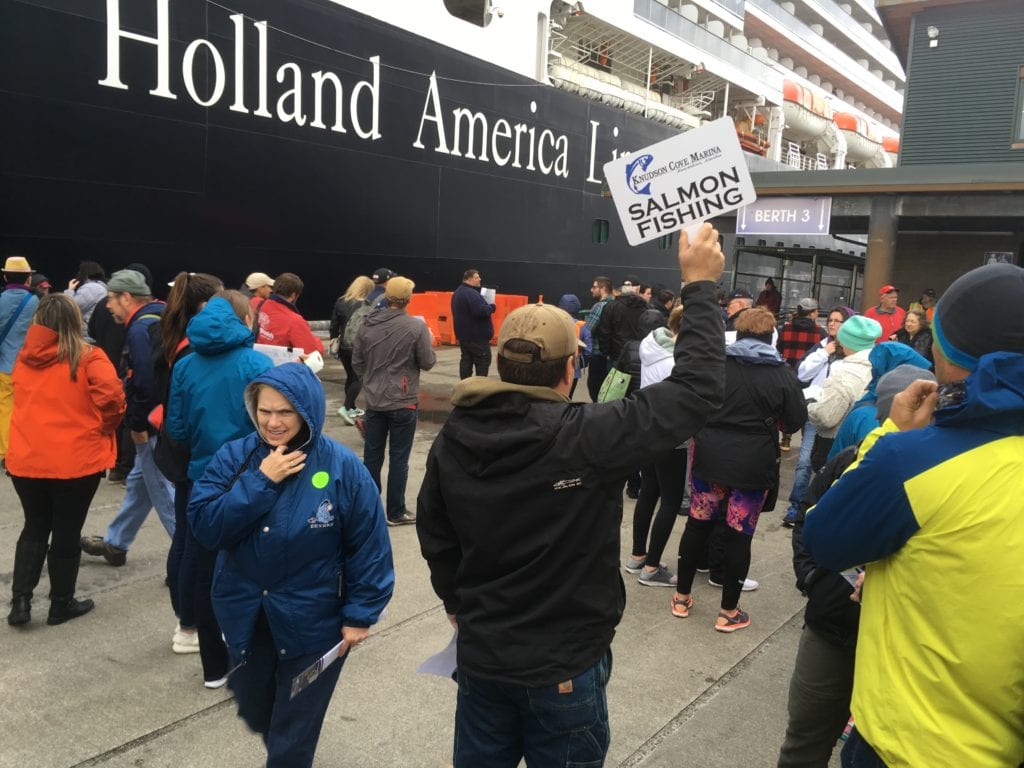 City Council members got their first look at three proposals to revamp Ketchikan's city-owned cruise ship docks Tuesday evening. Though officials released some details, there's still a lot that remains out of public view.
After the council emerged from a two-hour closed door meeting, Ketchikan city mayor Bob Sivertsen shared some details on the firms seeking to manage the downtown cruise docks.
"There were three proposers, all of them were for concessions," he said.
That is, all three proposals came from companies that would like to take over management of the docks — ship scheduling, dock operations, things like that.
The city is pursuing a public-private partnership to finance dock improvements and infrastructure upgrades. City officials say the port needs an overhaul to handle an ever-increasing volume of tourists coming on ever-larger ships.
The three proposals come from port operating companies. Global Ports Holding, a U.K.-based cruise port operator owned largely by a Turkish investment firm, partnered with Anchorage-headquartered firm ConRAC Solutions to submit its bid under the name Ketchikan Port Solutions.
Seattle-based SSA Marine worked with cruise line Royal Caribbean in a partnership they're calling Ketchikan Waterfront Partners.
Sivertsen says Ketchikan-based Survey Point Holdings submitted its bid without a partner. However, both SSA Marine and Survey Point are owned in part by the same parent company, Carrix, Inc.
The exact nature of the partnerships remains unknown. State corporate records provide little information beyond the mayor's statement.
City attorney Mitch Seaver also provided some clarity on when the public would be able to examine the full proposals.
"Proposals, tabulations and evaluations shall be open to public inspection only after the issuance of an intent to award," he said.
So the public won't see the full bids until the City Council decides on its best option. Seaver said disclosing the contents of the proposals prematurely could compromise the city's ability to negotiate with the three bidders.
Council member Sam Bergeron said he was interested in seeing how the proposals compare to the status quo.
"When the City Council evaluates the RFP [request for proposals] from three separate entities, we should also include ourselves," he said.
Sivertsen said in a Wednesday phone interview that the council hadn't given city management any direction either during or after the closed-door session.
"Well, the council members have to get through this information, digest it and make a comparative estimate," he said.
As the process continues, council members will score the bids against several criteria. Those include the amount paid to the city, the companies' experience managing projects of this nature and the companies' commitment to meeting environmental standards.
Sivertsen said the city won't take any other action on the proposals until the council's Feb. 17 meeting.
An earlier version of this story incorrectly reported that Global Ports Holding partnered with Conrad Solutions of Pennsylvania. Ketchikan city management says that in fact, Global Ports Holding partnered with ConRAC Solutions, a firm headquartered in Anchorage.