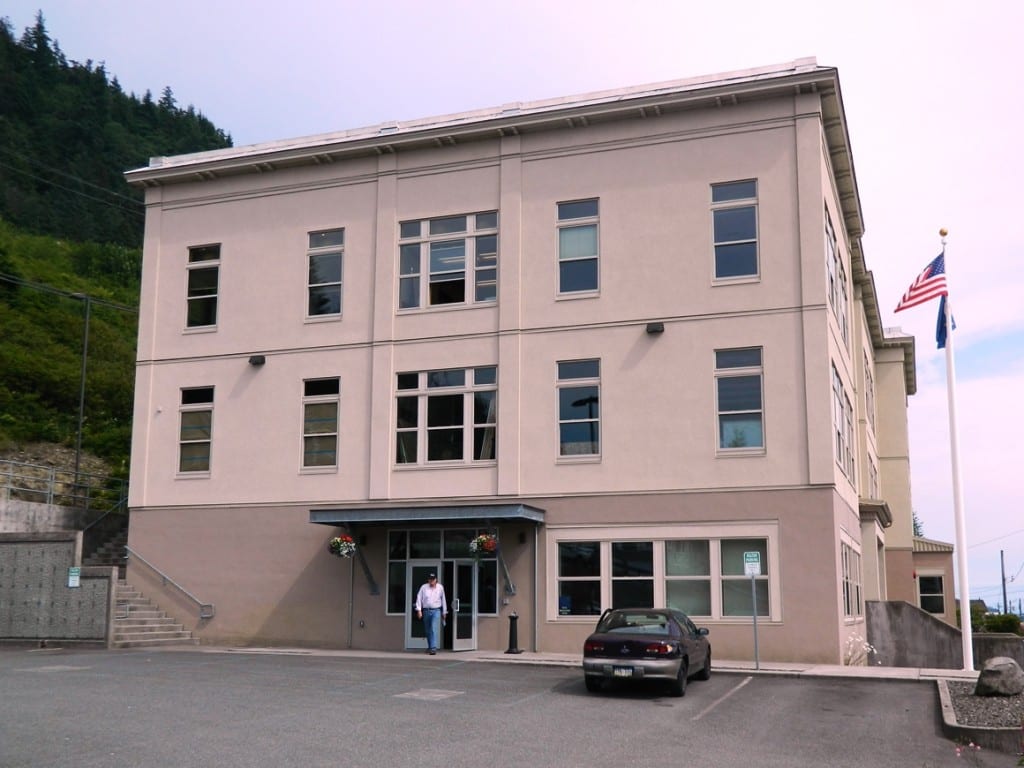 Marijuana regulations top the agenda for Monday night's Ketchikan Gateway Borough Assembly meeting.
Pot regulations
The assembly isn't considering any particular changes. Instead, it's holding an informal work session to discuss what new regulations, if any, assembly members would like to see brought back for formal consideration.
In a memo, borough planning staff list a number of discussion topics centered on one theme: What does the assembly want the community to look like?
Officials outline a few potential policy changes. Those include restricting the locations where marijuana businesses can set up shop and increasing the required distance from residential zones, among others.
Assembly member Alan Bailey said during an early December assembly meeting that he thought there were simply too many pot-related businesses in the borough. He proposed asking staff to draft ordinances that would cap the number of marijuana establishments, restrict them to industrial zones and restrict or eliminate onsite consumption.
That proposal failed, but assembly members agreed to revisit marijuana regulations in Monday's work session.
The work session comes as Ketchikan's Cannabis Corner looks poised to be the state's first dispensary to offer onsite consumption. In late January, regulators issued the Mud Bight-area shop one of the first onsite consumption licenses in the state. The owners say they hope to open in February.
Potholes
Also on Monday's agenda, the assembly is set to discuss the crumbling South Tongass Highway.
Assembly member Austin Otos lives south of town, and he says he's seen potholes more than a foot deep on the south end's only route into downtown.
"It is wrecking and popping tires and holes — in smaller cars, of course," Otos told KRBD.
He says people are swerving around the potholes into the oncoming lane to avoid damaging their vehicles. He says that makes it especially dangerous.
"It's going to get to the point where we're not going to be able to drive on it, unfortunately," he said.
But it's a state road. So borough mayor Rodney Dial drafted a letter to state transportation officials asking for emergency repairs between Saxman and Ketchikan's Coast Guard base.
"We know that the DOT is aware of this, but one of the things we feel like they're doing is they're trying to invest as minimally in the road as possible realizing that the road is slated to be replaced in about a year," Dial said in a phone interview.
The letter won't require a formal vote of the Assembly. Dial says if no one objects, he'll deliver the letter next week while on a trip to Juneau.
Ketchikan city officials have also asked the state to address South Tongass Highway.
Taku River resolution
The assembly will also consider whether to ask the state to urge Canadian policymakers to clean up the long shuttered Tulsequah Chief Mine in British Columbia. Assemblies in Petersburg and Wrangell passed similar resolutions.
The agenda item was submitted by Rivers Without Borders, which says the mine is polluting the Taku River, an important salmon spawning ground. In December, state officials forecasted that low returns would likely prevent a king salmon opening on the Taku.
The assembly passed a resolution in December asking the B.C. government to protect the nearby Unuk River watershed.
The assembly meeting is scheduled for 5:30 p.m. Monday in Ketchikan's White Cliff building.