Haida master weaver Delores Churchill was named a 2020 United States Artists fellow. She was one of two Alaskans chosen for the honor.
Delores Churchill is an expert weaver, gathering and preparing her own materials for cedar bark and spruce root works, and is known internationally for her skills. She is one of 50 individuals named as a 2020 United States Artists fellow.
Her mother was master weaver Selina Peratrovich who taught her daughter the craft. She says her mother would make her redo her work and burn baskets that were not perfect. But, she says her husband was very supportive and encouraged her to continue.
"She used to say k'ahngáa — Haida for 'poor thing' — to my basket. And he said, 'No it's not k'ahngáa, I'm going to keep that one.' 'Oh, okay, so she's okay now.' So from then on she allowed me to keep my baskets and sell them."
Churchill stopped weaving while she was raising her family, but took it up again in the 1970s, continuing to study different techniques. She says her mother offered several pieces of advice to keep in mind when weaving, including forgiveness.
"You forgive everyone, even yourself for mistakes you've made, so that it's not woven into your work."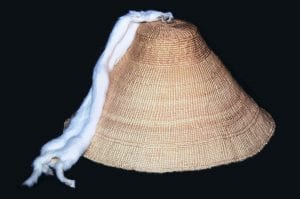 Churchill has travelled around the country and abroad as a researcher and consultant, and has been commissioned to create numerous works, including a reproduction of the Long-Ago Man hat for the Sealaska Heritage Institute.
Whitney Stoepel-Brewer is communications manager with United States Artists. She says each year, a diverse group of arts professionals are invited to submit anonymous nominations. Nominees are then invited to submit applications which are reviewed by a panel.
The fellowships are annual $50,000 unrestricted awards. Stoepel-Brewer says artists have used the money in many different ways.
"We have one fellow who, for example, used the money to get IVF (in-vitro fertilization) with her wife and they had a baby. Some people pay off school loans, lots of debt. Some people fund their next film or make a new book. And they usually are pretty good at telling us how they spent the money. And it's always really exciting to hear. So I'm excited to hear how Dolores is spending hers."
Churchill hasn't made a final decision, but says she hopes to use the money to self-publish a book she's written about Haida basketry that also includes life stories. She found an interested publisher, but says there were too many stipulations.
"…to give up all the copyrights to all the stories. That's why I'm thinking of self-publishing. I might still go to them too. Who knows. Maybe I'll find out self-publishing is too much."
Churchill says she's not currently working on any new projects, but would like to finish a hat her mother was unable to complete before she died in 1985. Churchill's children and grandchildren are also weavers, and she hopes all generations of her family will help.
"But she had all the material ready so we don't have to prepare the material, which is hard. So we're very fortunate that she had all the warps and weavers. Everything is ready just to weave it."
In June, USA Fellows attend a three-day retreat at the Cranbrook Academy of Art outside of Detroit, Michigan. Stoepel-Brewer says there are some workshops and presentations, but the main purpose is to bring staff, community partners and awardees together in a relaxing, care-free environment.
____________________________________________________________________________
Lani Hotch from Klukwan was also selected as a 2020 fellow for her contributions in the field of traditional arts. She plans to put her award towards retirement.