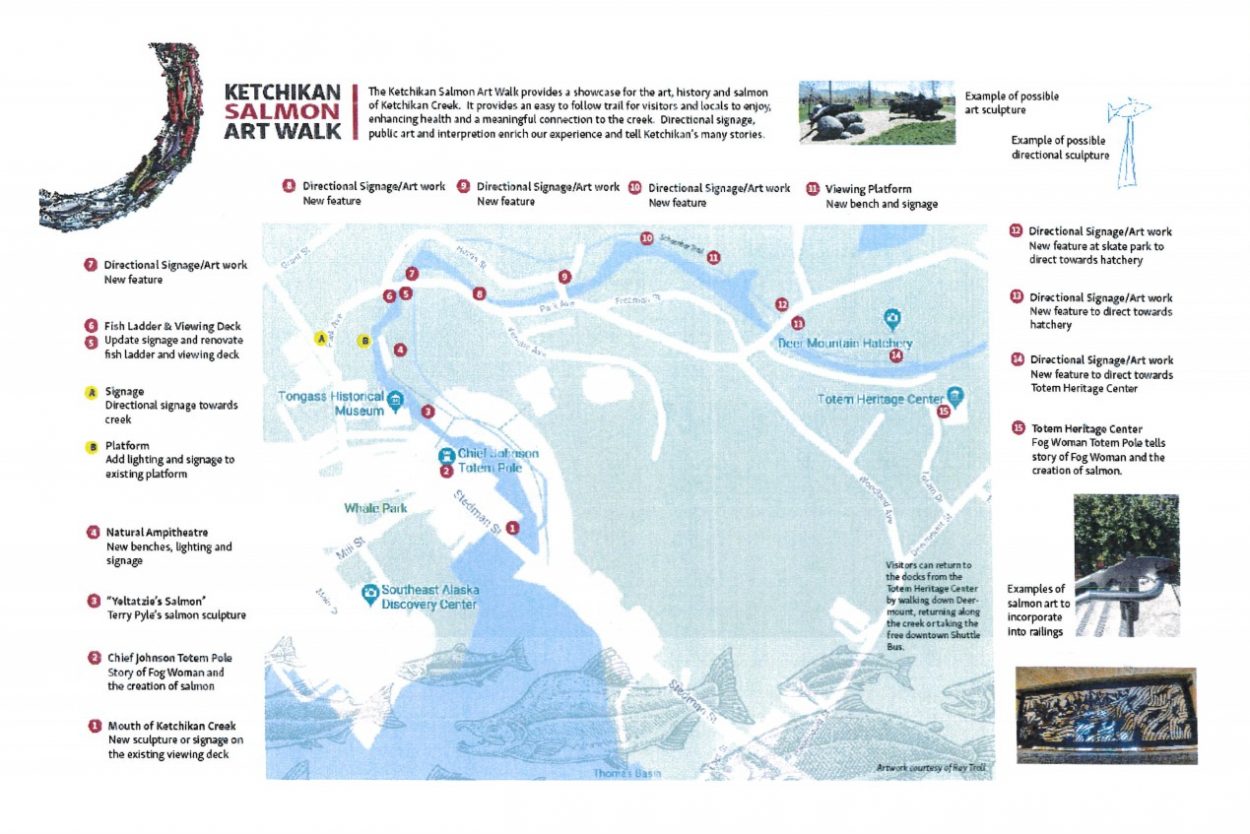 Ketchikan will move forward with three projects aimed at making downtown more attractive for tourists. That's one result from Thursday's City Council meeting. The council also endorsed restoring Ocean Rangers: independent environmental monitors on cruise ships.
Downtown projects
The council unanimously approved $320,000 for the first phase of the "Salmon Walk," a planned exhibit along Ketchikan Creek meant to showcase the community's ties to the anadromous fish.
The council also approved spending a little more than $100,000 on design work for an extension of downtown's Thomas Basin promenade and a new waterfront restroom on Stedman Street.
Some council members said they were concerned about the cost of the projects — the Stedman Street restroom alone is forecast to cost more than $1.5 million to build next year. All three projects would be paid for with state head taxes. But with a privately-owned cruise ship dock north of city limits set to open this summer, the city could see its share of commercial vessel passenger taxes diminish in the years to come.
But City Manager Karl Amylon said that if the city hopes to draw visitors away from the new dock on Ward Cove…
"Simply stated, you can't afford not to do these types of projects," he said. "What we gave you tonight was low hanging fruit. There's gonna be a lot more that's going to have to be done if they develop Ward Cove with the way I think they're going to do."
Ocean Rangers
In other business, the council will ask the state government to reinstate the Ocean Ranger program. That's a program that stations state-funded monitors aboard cruise ships to ensure that the vessels follow environmental regulations. The program was created by a 2006 ballot measure. But its funding was vetoed by Gov. Mike Dunleavy.
Council member Janalee Gage said it didn't make much sense to can the program.
"I think, in this case, the Ocean Ranger program needs to stay in effect," she said, "due to the fact that it's not the taxpayers paying for it."
Ocean Rangers were funded through a $4 fee on cruise ship passengers. The Dunleavy administration has proposed replacing the program with periodic inspections but that plan would need approval by lawmakers.
Carlanna Lake Trail tours
And, finally, the council voted 4-2 to ask the Bureau of Land Management to conduct a "thorough and strategic review" of a local business's proposal to guide tours on the Carlanna Lake Trail.
"The letter doesn't say don't issue a permit," said council member Dick Coose. "The letter says we're concerned."
He said he hoped that the city's comment on the pending permit application would draw the federal agency's attention to the city's concerns — including a lack of trailhead parking — when it considers whether to issue a permit.
Council member Mark Flora opposed the comment.
"We have a responsibility to give equal weight and measure to those in business, and those who just want the quiet enjoyment of their community," he said. "It's really tough. It's a difficult task. But it's our job."
Council member Dave Kiffer suggested that the city needs to have a larger conversation about how to manage the growth of the visitor industry.
"Rather than try to put out these fires as they occur, we need to be thinking long-term ourselves: 'Okay, where do we want the industry to go?'" he said, "rather than every time someone comes up with a creative idea, going 'Oh, god, no, not that!'"
Council member Gage joined Flora in opposition, saying guides would likely keep tourists safe.